Manufacturers are prioritizing transparency and resiliency as focus shifts from sourcing in China and just-in-time manufacturing.
By Ann Marie Uetz and Vanessa Miller, Foley & Lardner LLP
The degree to which COVID-19 continues to impact supply chains around the world is illustrated in findings from a recent survey by Foley & Lardner LLP, including the 93% of manufacturing executives who confirmed they are implementing or strengthening contingency plans to prepare for future disruptions.
Foley's Global Supply Chain Disruption and Future Strategies Survey Report offers a broad view into how companies expect their supply chains to emerge from the COVID-19 pandemic. The results suggest a potentially transformative shift – from a primary focus on low costs and lean inventory to one that prioritizes more stability and resilience.
Among the manufacturing executives surveyed – more than 60% of whom are members of their company's C-suite and who work in a wide array of industries – there is also new thinking when it comes to sourcing in China, as well as a far greater emphasis on supply chain visibility.
Post-COVID Focus on Resiliency
When asked if, as a result of COVID-19, companies will focus less on sourcing from the lowest-cost supplier and instead place greater emphasis on a supplier's ability to provide more resilient and flexible processes, 70% of respondents agreed. In addition, 62% expect the pandemic to lessen companies' focus on just-in-time (JIT) manufacturing models.
It is not uncommon for major events to bring about calls for sweeping change. Whether the hoped-for changes bear fruit in the wake of this crisis will depend on how much weight manufacturers ascribe to continuity of supply over pricing and cost concerns.
Many manufacturers still rely on a single source for the supply of various materials and components. Indeed, the process to qualify an alternate supplier, particularly for specially designed and validated products and systems, can be too difficult and time-consuming depending upon the industry. However, where dual sourcing is a viable option, companies can better mitigate potential interruptions by multi-sourcing products – as nearly 40% of survey respondents are planning to do or already doing — and working with customers to develop a preapproved list of alternate suppliers.
The first step in this process entails mapping the entire supply chain, including suppliers and sub-suppliers – as well as tracing inputs from raw materials to finished goods. Then companies must assess critical risks at each step, from natural disasters to tariffs, power outages to labor issues, and any number of other potential hurdles to continuity of supply.

Evolving Approach to China
Nearly 60% of respondents reported they have either withdrawn operations from China, are in the process of doing so, or are considering it. Some companies – those that had diversified in response to the U.S.-China trade war – were well positioned to do that even before the pandemic. In fact, a survey by AmCham China, AmCham Shanghai, and PwC China found that 90% of large American companies operating in China said they had been affected by the U.S.-China trade dispute.
These findings don't mean that moving production and sourcing out of China altogether is necessarily the right approach; some companies could benefit from retaining certain processes there while strategically relocating elsewhere to minimize possible disruption. Of course, any company pivoting from China will need to determine where to go next.
Logistics is the top consideration in determining the region from which to source goods or services, including shipping costs and lead times for deliveries, according to Foley's survey. Perhaps not surprisingly, 74% of respondents who are leaving China are moving, or considering moving, production or sourcing of goods and services to the United States. Other regions being explored are Mexico, other parts of Asia (Vietnam, Thailand, Philippines, India), and Latin America.
For manufacturers, this shift may lead to improved coordination and control over processes and products, as well as increased infrastructure and intellectual property protections – which could outweigh higher labor costs, the lack of skilled manufacturing workers and heightened regulation.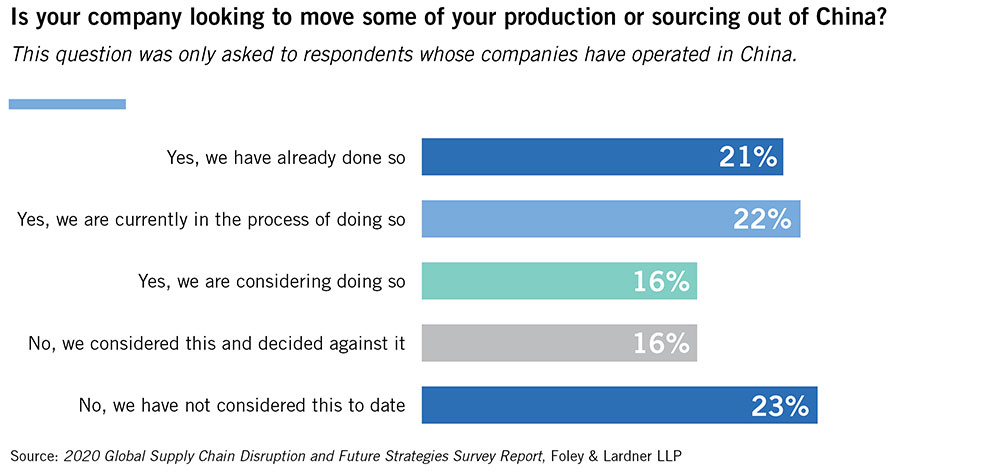 A Focus on Supply Chain Visibility and Transparency
Just as 93% of manufacturing executives are undertaking contingency planning to prepare for future disruptions, the vast majority (92%) also are taking at least some action to create more visibility within their supply chains, including requiring more information on suppliers' risk management and continuity strategies.
These findings reflect a key change resulting from the pandemic: customers are no longer accepting of suppliers who are uncommunicative, and companies are sharing more information about their capacity with customers. When asked which supply chain risk mitigation strategies they are implementing in the next year, almost half of manufacturing executives were focused on strengthening relationships and increasing transparency with suppliers and buyers. For companies with more than 5,000 employees, that figure was closer to 60%.
At the core of the survey findings is a begrudging acceptance of the reality that, in this global manufacturing environment, disruptions like what we've lived through over the past several months are an unshakeable reality. Companies have accepted this reality and are implementing proactive strategies to ensure continuity of supply when faced with future issues.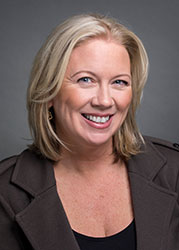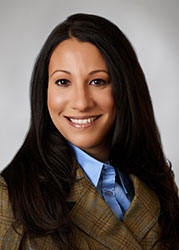 About the Authors
Ann Marie Uetz, head of the Coronavirus Task Force at Foley & Lardner LLP, has nearly three decades of experience counseling manufacturing companies on issues that arise within the supply chain, particularly in financially or operationally distressed situations. Vanessa Miller, co-chair of Foley's Supply Chain Team, advises manufacturing clients on a wide array of supply chain disputes and the development of supply chain agreements and related negotiations. To read Foley's survey report, please click here. The authors can be reached at auetz@foley.com and vmiller@foley.com, respectively.