Assessing three critical considerations can help protect against economic uncertainty.
By John Yoler
It was Stephen Covey who said, "if there's one thing that's certain in business, it's uncertainty." Added to the challenges of Covid, geopolitical events and supply chain issues, companies are coping now with the uncertainty of recession. The Federal Reserve has indicated that it will continue raising interest rates to cool the economy and tame unexpectedly high inflation, the highest in 40 years. Some economists and analysts say a recession is coming, others not, with the universal consensus that no one really knows what lies ahead.
The economic indicators as of July paint a decidedly mixed picture. The June jobs report came in much stronger than expected, with the economy adding 372,000 jobs, down slightly from 384,000 jobs added in May, according to the Bureau of Labor Statistics. The June number handily beat forecasts, demonstrating that the labor market is still robust. The unemployment rate was 3.6%, unchanged from May and in line with estimates.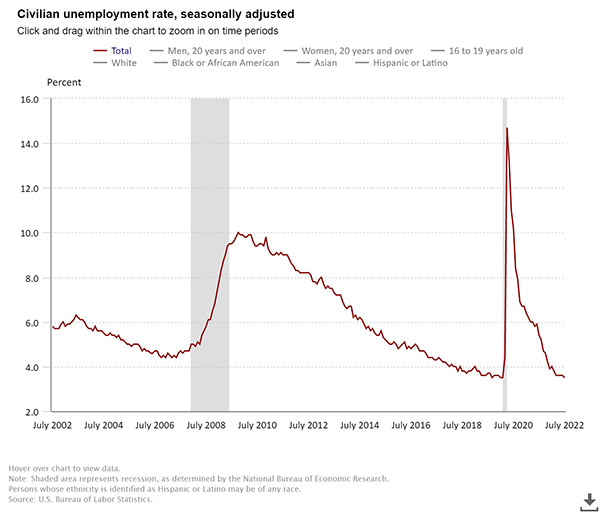 Yet other indicators show some weakness and a contraction in the economy. First quarter GDP released at the end of June by the Bureau of Economic Analysis showed a 1.6% decline in economic growth for the first quarter of 2022. It was the first drop in GDP since the onset of the pandemic in the second quarter of 2020. By comparison, GDP increased 6.9% in the fourth quarter of 2021.
Despite inflation, consumers have kept spending, albeit at a slower pace. Spending increased 0.5% in the first three months of the year, down from the government's earlier estimate of 0.8% and the 0.6% growth figure in Q4 2021. Retail sales did fall 0.3% in May, the first drop in 2022, according to Census Bureau data, reflecting the impact of inflation and high gasoline prices.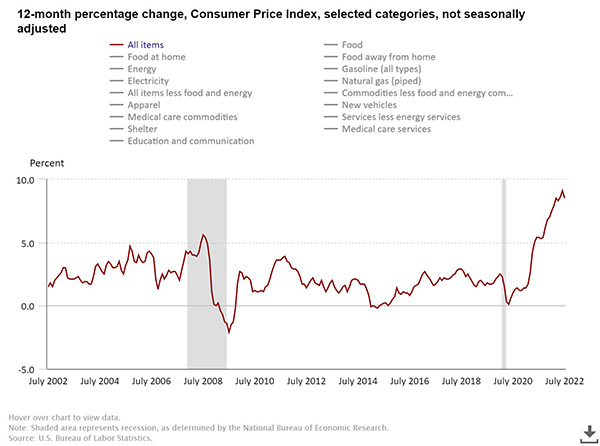 Anecdotally, our clients report that they haven't seen any deterioration yet on the demand side. We work primarily with middle market companies and what we have heard is that there has not been a significant impact on revenues, at least not so far. Moreover, we have also not seen any meaningful deterioration with the first quarter statements, and companies continued to perform.
One bright spot that clients have noted is an improvement in the supply chain, as companies have ordered more goods and increased inventories. According to the Ocean Timeliness Indicator from logistics company Flexport, the time it took for goods to go from Asia to the US dropped from 110 days in October 2021 to 95 days in the week of July 10.
Overall, the questions posed by this ambiguous economic scenario mean that companies need to be ready for anything going forward. Particularly for middle market companies, there are strategic backbones of your business that you should assess to bolster your enterprise's resilience against potential headwinds. Here are three key factors you should examine that are critical regardless of the economic climate.
The state of your company's balance sheet – As someone who spends a great deal of time reviewing financial statements, I can attest to the importance of a solid balance sheet, especially if you're going to be in the market for financing. Is your company currently over-leveraged? Will you have sufficient cash flow to meet unexpected contingencies? It is important to develop projections and cash flows through year-end and update your forecast regularly. It was reported in July that given the current economic uncertainty, Levi Strauss has upped the frequency of the financial forecasts it submits to its board from annually to every six months.
Relationships with suppliers – Clients have told us that when the clips were down, companies that maintained stronger supplier relationships generally were better able to make it through the worst of the supply chain challenges. It is key not to neglect the supplier side of your business equation. If you can offer support to them, it is more likely they will be willing to come through for you when the situation calls for it.
Talent retention and acquisition – While the tight labor market and "Great Resignation" won't last forever, talent retention and recruitment will remain crucial in this market. The caliber, loyalty and dedication of your team can be a hallmark of your company's success in both good and challenging times.
You can't connect the dots looking forward; you can only connect them looking backwards, according to the philosophy of Steve Jobs. The pattern of the future business climate remains unclear. If you keep your eye on the big picture and work on reinforcing these strategic facets of your company, it can help mitigate any possible disruption to come.
John Yoler is Executive Vice President and US Head of Commercial & Industrial for commercial bank BHI, the U.S. division of Bank Hapoalim. Bank Hapoalim provides its clients access to a broad array of products and services available through its bank and non-bank affiliates. Not all products and services are provided by all affiliates or are available at all locations. All credit products are subject to credit approval. Nothing contained herein should be construed as a commitment to lend by BHI or any of its affiliates. The matters discussed herein express the personal views of Mr. Yoler and are not necessarily those of BHI or its affiliates.