Best practices for actionable data intelligence.
The post-pandemic industrial environment remains rife with supply chain disruption and a lack of available workers. Additionally, manufacturing executives, that might have once been dragging their feet in the face of digitalization initiatives, are now putting that accelerating digital transformation more than ever before.
Today's newly hybridized workforce means that it's never been more important to give staff access to the data they need to do their job efficiently. Whether remote or in the office, employees need a way to access a holistic view of the data that's relevant to get the answers they need, while still allowing the organization to maintain control of data security.
Now, manufacturers that were already staring down a staggering amount of data before the pandemic are tasked with the challenge of choosing which data sources to tap and how to integrate them into powerful and efficient knowledge management systems.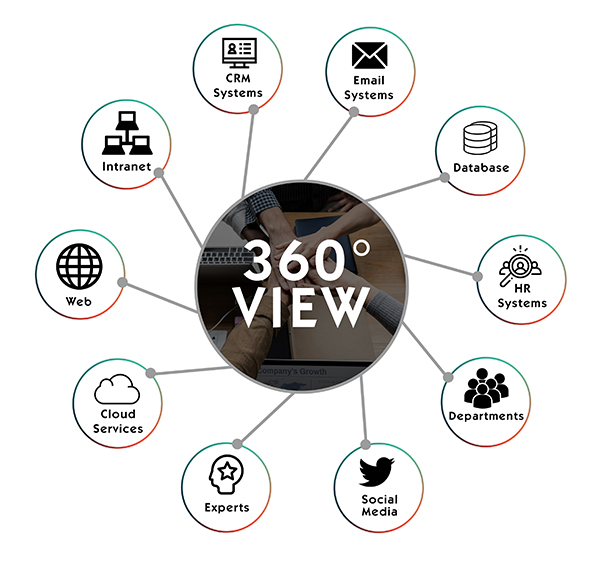 Is your manufacturing company using a hybrid workforce?
When it comes to business continuity, a deliberate and proactive hybrid approach to staffing – combining the best of an in-house workforce with employees who work remotely – can give you a competitive edge. This advantage gives manufacturing executives access to the best talent regardless of location, while also reaping the benefits of a stable in-house workforce.
Combined with an unpredictable environment, this approach demands better visibility over every aspect of your business, and a technology infrastructure that's aligned with that objective – which is where knowledge management systems come in. These systems (cloud, on-prem, hybrid) use applied artificial intelligence, like machine and deep learning, to make key enterprise insights accessible to employees when they need them and provide clearly presented, context-aware information.
Manage a hybrid workforce
When it comes to managing a hybrid workforce, executives face a unique set of challenges. Not only is the necessary data to complete essential tasks often difficult to locate, the technology can be outdated and cumbersome. To meet your workforce needs, you'll need a solution that can bridge a patchwork of data silos and bring cohesion to conflicting data − and present clear, holistic views in a single environment that positions the right people to perform the appropriate processes successfully.
Knowledge management systems deliver real, usable answers to queries from multiple data sources, tailoring the information to the user's role. With an easy-to-use UI, all the information available together in a single view, making it easier for executives and staff to spot patterns and trends, track tasks by location, and approves changes on the fly.
The benefits of AI in the manufacturing industry
Holistic views of data are a core element of AI that are proving their worth in production. As manufacturing companies increasingly turn to big data to optimize their operations, holistic views have emerged as a way to compile information about production and supply chains. When a company's entire supply chain can be viewed holistically with a 360-degree view, workers can obtain up-to-the-minute information on the status of different products that are on the way to their destination.
AI-based knowledge management systems that follow industry best practices and employ machine learning to extract information about manufacturing processes give you greater visibility into every aspect of your operations, from yield rates to supplier performance, production efficiency, products, components, availability, and inventory levels. This gives you and your production engineers invaluable data that you can integrate with what you already know. The result: real data management and optimized processes that help you respond effectively to sudden disruptions and improve speed to market, while dramatically lowering costs.
With the right data delivered to the right person in real time, you connect processes and data across the company to reveal areas of opportunity to improve operations and position yourself to make effective real-time changes that can immediately improve your bottom line.
About the Author:
Daniel Fallmann founded Mindbreeze in 2005 at the age of 23 after completing his studies in computer science. With many years of experience in the computer and information technology sector and as the CEO of Mindbreeze, Daniel is a living example of high innovation and quality standards. From the company's outset, Fallmann, together with his team, laid the foundation for the highly scalable and intelligent Mindbreeze InSpire appliance. His passion for enterprise search and machine learning in a big data environment inspires Mindbreeze employees and Mindbreeze customers alike.
Contact:
Mindbreeze Corporation
E-mail: office@mindbreeze.com
Web: www.mindbreeze.com