August 15, 2019
By David Reid, Program Director, Leading Edge Forum
In recent years, the term Digital Transformation has pervaded the business press, becoming one of those buzzwords that's almost impossible to avoid. But while it's easy to mock and dismiss the catchy phrases of the day, their rise and fall is usually telling us something about developments in the real-world marketplace. The question is: what?
For more than a decade, large manufacturing organizations have been migrating to cloud computing, software-as-a-service (SaaS), and other internet-based services. But the technology community now anticipates a much more powerful wave of change based upon various combinations of smart products, machine learning, industry-specific business platforms, algorithmic processes, robotics, and more self-service, data-driven operations. Taken together, these capabilities provide a vision for transformed, 21st century organizations that look much more like today's digital giants than the traditional global firm. It's hard to over-estimate the potential of these changes.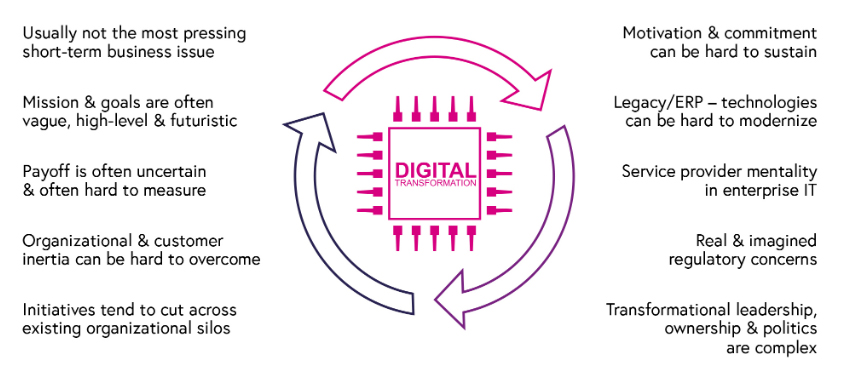 The transformation challenge
But both IT modernization and, especially, business transformation can be very hard. Although most companies can easily imagine a highly transformed digital future, day-to-day priorities, politics and norms tend to get in the way. A recent LEF report interviewed executives on this topic and found the most common reasons for making digital transformation hard were given as:
Usually not the most pressing short-term business issue
Mission and goals are often vague, high-level and futuristic
Payoff is often uncertain, and often hard to measure
Organizational and customer inertia can be hard to overcome
Initiatives tend to cut across existing organizational silos
Motivation and commitment can be hard to sustain
Legacy/ERP technologies can be hard to modernize
Service provider mentality in enterprise IT
Real and imagined regulatory concerns
Transformational leadership, ownership and politics are complex
Looking at the definition of digital transformation, the same report found organizations held a wide range of divisive opinions. For some, it's a useful way to describe their major change initiatives. Yet, others see it as either vendor-driven hype that distracts them from the real challenges they face, or even as a potentially demeaning way to portray how things are currently done. Digital transformation is very broad, so to make it more tangible, we segment it into three concrete areas:
IT modernization is far and away the most prominent form of change observed, as just about every firm wants to build a more agile and efficient digital foundation, or core.
Business transformation is considerably less common, as it occurs when an incumbent organization successfully makes a major shift in strategy, business model, organization or culture.
Industry disruption is often described as the displacement of incumbent industry leaders by a new technology-led rival. While we typically think of disruption as being led by start-ups with new business models, it can also come from sources such as China, various political/economic shocks and/or natural disasters.
Get an action plan
For manufacturers, successful digital transformation requires a considerable amount of faith, confidence and perseverance at the highest levels of the organization. While some industry and technology forecasters have better track records than others, no one really knows how societal tastes and pressures will change, how quickly machine intelligence will advance, what new platforms will emerge, how China and India will alter the competitive playing field, or how different the organizations of the future will ultimately be. No amount of data can answer these questions.
What we do know is is that information technology has already transformed or disrupted huge parts of the global manufacturing industry. We also know that the current wave of automation and intelligence technologies holds at least as much – and we think even more – potential than anything we have seen thus far. While there are many uncertainties regarding timing, it's hard to bet against these developments over the long course of the 2020s. Today's digital business leaders understand this intuitively.
It is this tension between highly significant expected changes and highly uncertain timing that shapes the digital transformation mission today. We recommend an integrated strategic, technical, organizational, leadership and cultural agenda, pursued in two main phases:
First, companies need to modernize their core IT foundations so that they are prepared to respond to market changes whenever they come, while sharpening their sense-making and anticipatory skills so they can guage the rate of change better than their rivals.
But, more fundamentally, they need to believe that over the next decade, digital technologies are likely to reshape just about every industry, as data, intelligence, connectivity and automation are brought to bear on virtually every business and human activity. And once an organization embraces this view, the phrase "digital transformation" is no longer just a glitzy buzzword; it's the term we use to describe the process through which 21st century global market leadership will eventually emerge.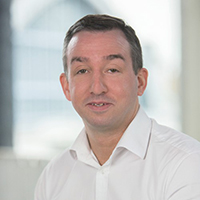 David Reid is responsible for the day to day operations of LEF and plays a lead role in the shaping and delivery of the research agenda to clients. He has significant experience in helping business and technology executives re-shape their plans to exploit the opportunities offered in the digital world. Alongside his general leadership role, David has driven research into business and digital transformations with C-Level leaders and is heavily involved in the delivery of advisory work and facilitation of LEF Study Tours.
Before joining LEF, David spent a decade with GlaxoSmithKline in a wide variety of UK and International roles. He latterly led global cross-functional teams to define and implement product and technology roadmaps. He also spent time as Director for IT Strategy in the GSK Commercial Business, where he led the development and approval of strategies to support CRM and sales force mobility in over 70 countries.