by Scott Stone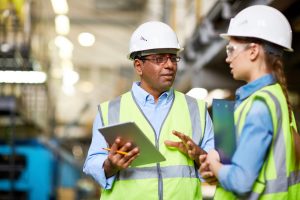 A recent Industry Today article suggests that by 2018 only 30 percent of manufacturers investing in digital transformation will be able to maximize the outcome. The remaining 70 percent are hindered by outdated business models and technology.
It's a striking prediction – and one manufacturing professionals should pay attention to – but it's not set in stone. What steps can manufacturers take to make sure they are in the 30 percent? Or how can we – as an industry – move the needle so more of us are succeeding in the era of digital transformation?
It's a complex question. In order to take full advantage of industrial technology, manufacturers need to think beyond singular and isolated investments in "the next big thing" – whatever that may be. In order to fully embrace the new era of digital and technology, in many cases manufacturers need to rethink how they approach their business.
Consider these four steps to get your digital transformation on the right path and maximize your investment in industrial technology – and the future.
Think long-term.
Bringing your warehouse or production line into the digital age isn't an overnight process – and it's a process that's never going to be done. Begin by defining specific business goals and the key performance indicators (KPIs) for 1, 5, and 10 years in the future. What can you achieve this month to feed this year's goals? What can you achieve this year to feed your objectives five years from now? These are complicated goals at times, but breaking them down makes it possible to systematically move forward.
Within this framework, mobilize internal teams to develop strategy and tactics to achieve those goals. As they work backward, the shortfalls within existing systems and processes will be illuminated. You'll see which actions can yield results today—and next year.
This process, which should happen across and between departments, will help leaders determine priorities for investment.
For example, a manufacturing plant makes a strategic goal to increase production levels within an existing plant by 20 percent in 2 years' time. In order to achieve this goal within the existing footprint, they need to invest in new technology, automation, and software that can help them operate in a faster, more efficient manner.
Leverage your data.
The Industrial Internet of Things (IIoT) has revolutionized the industry's ability to gather and analyze data. Manufacturers need to use this data (and other sources) to make smarter decisions about their digital and technological investments.
Some questions to ask to get your mind working: Where is the facility seeing bottlenecks in their processes? Where are employees most prone to make errors, and in which task set? What are the variables that make a difference for each department? Each department should analyze the data available to them to make a case for change and investment.
Choose your investment wisely.
As mentioned previously, digital investments need to be carefully considered and planned. An investment in a new, faster, more efficient conveyor system won't get the results you're looking for if the other elements of your upstream and downstream processes aren't ready to match its performance.
In addition, consider cross-departmental issues and challenges. For example, it's exciting if your warehouse can process 20 percent more orders per day with new technology, but if sales are stagnant, then you have a business problem. Many companies examine order fulfillment upgrades only after they are behind the curve meeting sales.Make sure every investment of time, energy, capital and technology is a step toward a defined business goal. Progress and change in key performance indicators should be tracked and evaluated every step of the way.
Don't do digital in isolation.
This isn't an easy process, and like other difficult things, the companies who persist and pioneer will gain significant advantages over their competition. All businesses, across all industries, are struggling with digital transformation. The manufacturing space is not unique.
Seek out partners, mentors, and experts to help guide your own internal processes and strategic initiatives. Don't be afraid to ask questions, admit you don't know the answers, and seek out alternatives. Find inspiration from other business models and industries. Find ways to incorporate great ideas into your own business and processes.
Also, tap into another fountain of knowledge – one that knows your business intimately: your employees. The goal of digital transformation is to change the way your company does business, enable innovation, and open new avenues for growth. These are goals that take will not only impact every employee, but take the hard work of every employee. Engaging this valuable resources is essential.
Final Thoughts
Manufacturing has come a long way and is changing faster with each passing year. Many of us who have been in the industry for decades, understand the pace of change is only accelerating. Keeping up is a business necessity, but make sure your business takes the time to evaluate investments and change against business goals. It's essential to put a digital transformation plan in place to help guide the next iteration of your business.
About the Author
Scott Stone is the Director of Marketing for Cisco-Eagle, Inc., a provider of integrated material handling and storage systems for industrial operations. Scott has 25 years of experience in industrial operations and marketing.