Here at IDC, we believe that business leaders who recognize the real impact of digital technologies on their industry, customers, partners, suppliers, and business practices stand to gain substantial advantages over their competitors. Aspects of DX fall naturally into the domain of certain business leaders, but DX is a "team sport" that requires collaboration across all business domains. Those that do will find wellsprings of value in a number of critical business areas, including:
Redefining how businesses generate revenue and monetize products and services
Focusing on contextualized and customized customer experiences
Harnessing customer (or consumer) innovation to drive product development
Changing the nature of work and how it is accomplished
Sourcing and managing a globally dispersed workforce 24 x 7 x 365
Linking value chains virtually
Many of the technologies and concepts that underlie DX are so new that they require iterative strategic discussions between business leaders and their IT counterparts (or IT service providers) to fully understand the transformative potential they possess. Not surprisingly, only a small number of manufacturers have been leading-edge explorers and successful to date in DX. Most are now faced with the challenge to catch up and deliver DX to change their business models, processes, tools, and customer-facing applications.
To take a closer look, IDC benchmarked manufacturers worldwide in IDC's 2015 Digital Transformation MaturityScape Benchmark Survey, and some of our key findings include:
Most manufacturers are still digital explorers, in the stage IDC identifies as opportunistic.
As an industry, manufacturing is just slightly behind the average of all industries in DX, with 20.5% of manufacturers having reached the managed and optimized stages versus 21.5% for all industries.
The manufacturers that are most advanced in DX stand out for their leadership and omni-experience, or how they empower their employees, customers, and partners to work together and collaborate.
In Figure 1, you can see that many manufacturers have a way to go in their DX journeys. Highlights of the stages include: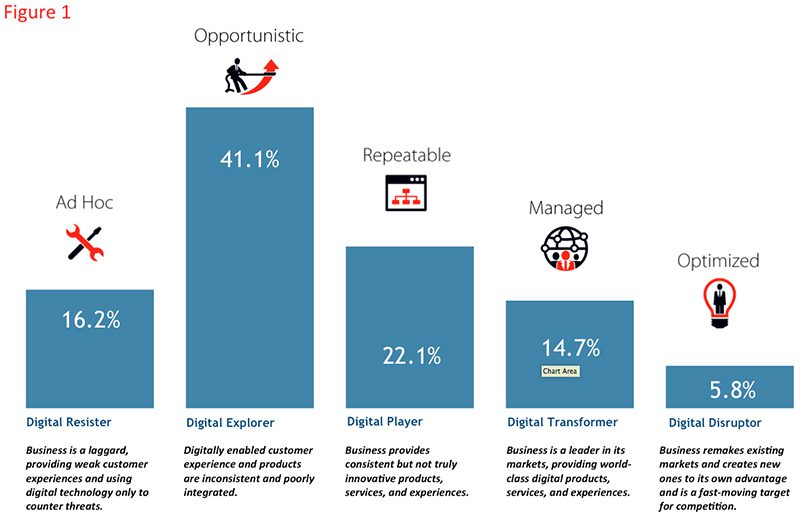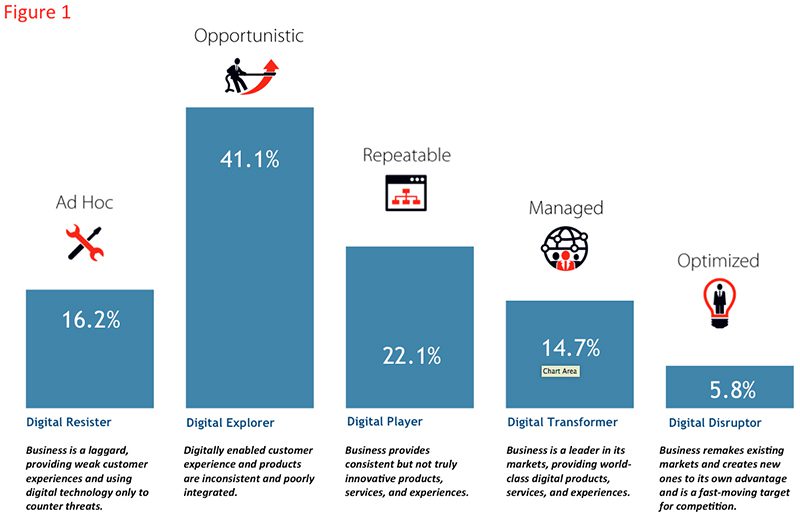 Optimized: Manufacturers have mastered the alignment of their digital strategies with long-term business goals. More importantly, they actively try to remake existing markets to their advantage through disruptive digital innovation.
Managed: Manufacturers are delivering digital products, services, and experiences on a continuous basis. While they may lead within their respective markets, they are vulnerable to disruptive innovation from competitors if they don't continue to innovate.
Repeatable: Manufacturers' Business and IT goals are aligned at the enterprise level to near-term needs and include digital initiatives for product or service delivery and customer experiences. There's still significant room to improve through long-term planning and greater focus on disruptive innovation.
Opportunistic: Business recognizes a need to develop digitally enhanced business strategies that directly impact the customer, but execution is project based and not repeatable or predictable.
Ad hoc: Business and IT digital initiatives are disconnected and poorly aligned with enterprise strategy. These manufacturers need to start with more systematic adoption of digital technologies.
(For more details see IDC MaturityScape: Digital Transformation, IDC #254721, March 2015).
Migration from one level of maturity to another is a journey that needs dedication and commitment across the entire enterprise, with partners and customers. DX is a moving target – what might be considered optimized this year will change in the future as technologies (and their use) become more sophisticated and transformative.
One of the biggest challenges for executives is to restructure their businesses. Larger corporations and organizations, in particular, will find it hard to invest in new models that may negatively impact currently successful businesses. They may find it easier to create smaller DX spin-offs and skunkworks initiatives and acknowledge that the new business may be the only way to achieve long-term success.
Regardless of size or location, DX is critical to manufacturers' long-term survival. Some ways to get started or move forward with digital business transformation include:
Don't lose sight of the interplay and synergies that are needed for true DX. It's not just about a series of initiatives targeting specific digital competencies.
Work with supply chain and external partners (including customers) to develop intelligence and feedback loops to drive rapid product/service enhancements.
Pursue operating models that build off digital framework that are highly aware, autonomic, and contextually aware. Underlying this is an integrated network of IT and OT (operational technologies).
Implement a strong information architecture with governance at the senior executive level so you can treat information as an asset that can generate revenue and improve the customer experience.
Challenge the organization to maintain a culture of innovation and experimentation, and reward and incent leading-edge thinkers in DX R&D.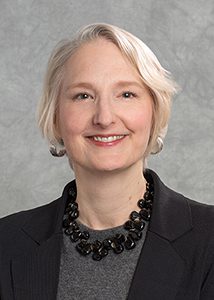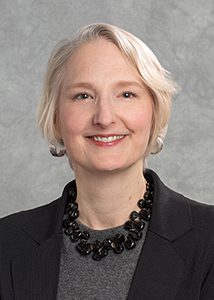 Kimberly Knickle, Research Vice President, IDC Manufacturing Insights
As a research vice president, Kimberly Knickle is responsible for research and analysis of business and IT issues for manufacturers. She leads the IT Priorities & Strategies program, which focuses on hot topics that are changing the way manufacturers buy and use IT, such as big data and analytics, cloud, IoT, mobility, social, and sustainability. The program also includes research based on IDC survey data related to manufacturers' IT investment priorities and plans. Knickle also manages the Product Innovation, Service Innovation, and Connected Products research. Ms. Knickle contributes regularly to the IDC Manufacturing Insights Community (https://idc-community.com/manufacturing) and tweets (@kimknickle) about business issues relevant to manufacturers.