June 17, 2019
by Jamie Howard, President of Ultimaker Americas
As a deadline-oriented industry, the industrial sector has historically been one of the first industries to embrace emerging technologies to boost efficiency and streamline processes. From steam engines to the Ford assembly line, invention has always had a significant role in manufacturing.
We are now entering the fourth industrial revolution and manufacturers are realizing the advantages of technologies like mobile robots, artificial intelligence (AI) and perhaps most notably, 3D printing. Particularly, desktop 3D printing, which allows users to print right on the factory floor, is making an enormous impact by enabling cost reductions and elevating productivity.
Desktop 3D printing allows manufacturers and engineers to replace jigs and tools overnight, customize parts on demand and improve quality and performance of products through greater collaboration. With time and cost as defining factors in this competitive landscape, manufacturing engineers can look to desktop 3D printing to improve workflow and production cycles to stay on top.
Today's Profit Margins Demand Innovation
Based on public data sets from the Bureau of Labor Statistics and manufacturing industry economic data, the industry's operating cost in the United States is estimated to be $4,258,341 per minute, with a profit margin of only $22,480 each minute. Consequently, it is paramount that engineers keep productivity levels high and save money wherever possible.
Engineers are already starting to utilize 3D printing to help do this, and forecasts show the trend is not slowing anytime soon – 3D printing revenue will reach $23.9 billion by 2022, and $35.6 billion by 2024. However, engineers have yet to maximize on the opportunities of desktop 3D printing.
Shrinking Time Investment with Desktop 3D Printing
Traditional manufacturing processes are arduous and notoriously stiff, but as growing customer demands drive manufacturers to produce larger quantities at faster cadences, industry workers will need to find ways reduce process duration while maintaining quality standards. One way to streamline production is to eliminate the need to ship parts and tools from overseas.
With desktop 3D printing, in-demand parts or malfunctioned tools can be replenished on-site in hours, not weeks, allowing production outputs to scale seamlessly and manufacturers to keep production running.
Volkswagen Autoeuropa, for example, produces approximately 100,000 cars each year and has recently brought desktop 3D printers into its workflow. The company previously outsourced its tools, jigs and fixtures, which had a significant impact on its production as part delivery took several weeks. Now, with desktop 3D printers, Volkswagen Autoeuropa has seen a savings of 91 percent in tool development costs and 95 percent in development time.
Producing and replacing parts and tools with desktop 3D printing also allows for personalization. Jabil, one of the largest manufacturing service providers in the world, incorporated 3D printers into the workflow at its Auburn Hills facility help to produce one-off products that were unnecessarily expensive to outsource. Printing fixtures within the factory simplified the product testing phase for ensuring quality and part performance. Within hours, the engineers created a working and validated assembly, a process that would have previously taken months to complete.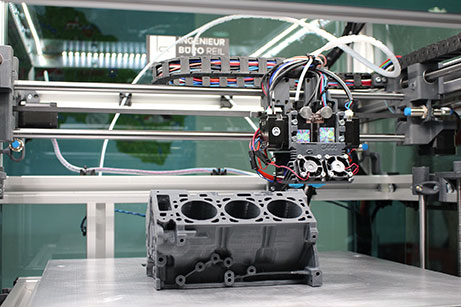 Improving Tools and Parts Through Collaboration
A recent study examined the effects 3D printing on school curricula. The results showed that classrooms saw a 71 percent increase in creativity, a 64 percent increase in design thinking and a 58 percent increase in critical thinking.
While focused on elementary and high school curricula, the study indicates the broader impact of desktop 3D printing. With desktop 3D printers positioned right on professionals' desks, designers and engineers can more easily collaborate in real-time to improve products. The ability to print and test prototypes within hours gives users the opportunity to be more responsive to feedback from manufacturers and even end-users.
Desktop 3D printers are also uniquely accessible. An automotive manufacturer, for example, might typically call on hundreds of specialized engineers to design one car – a few focusing the wiper blade, while others work solely on the steering wheel. In this scenario, the traditional, centralized 3D printing room is inefficient as it requires to leave the production or design area, making the technology largely inaccessible to engineers who prefer to be hands-on.
With desktop 3D printing, engineers are not required to share a single centralized printer with a hundred others. The have access to multiple printers, encouraging more frequent printing. Being able to collaborate among a smaller group is also more effective and helps turn designs around faster.
While the 3D printing market has already shown significant growth, manufacturers have still not fully realized the technology's benefits. As production cycles become increasingly complicated due to heightening customer demands, it is paramount that engineers shrink investments wherever they can to bolster the bottom line while continuing to innovate and deliver quality products. Desktop 3D printing provides local, on-demand capabilities that allow manufacturers to save time, collaborate and build efficient processes.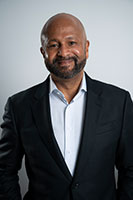 Jamie Howard, President of Ultimaker Americas
Jamie Howard is President of Ultimaker Americas, the global leader in desktop 3D printing, where he is responsible for the company's commercial strategy and business execution in the Americas region. He has more than 25 years of GM, engineering and technology management experience with a track record of leading the business strategy behind innovative companies with game-changing technologies, products and platforms. He joined Ultimaker in 2018 to work alongside an impressive executive team and strategic partner network to fulfill the company's mission of accelerating the world's transition to distributed local digital manufacturing. Prior to his role at Ultimaker, Mr. Howard served as Managing Partner, Strategic Client Acquisition at Impressico Business Solutions, EVP of Product for Kymeta, and CEO and president of Imagine Communications. He holds a B.A. from California State University, Long Beach and M.A. from Fuller Theology Seminary.