April 12, 2019
By: Bob Daymon, Senior Vice President of Operations, Transplace
There has been a tremendous amount of buzz around "big data" in manufacturing in recent years. Data analytics can help manufacturing organizations (of any size and type) obtain historical benchmarks and extract insightful information that can increase supply chain visibility and improve performance. But knowing the importance of data is only the first step. In order to truly put data to work (and have it deliver meaningful results), organizations need to have the right processes and strategies in place to access that information, analyze it and then make it actionable. Here are steps to get the most out of data within your organization.
Gather the Right Information
In order to effectively leverage data to drive meaningful results, organizations must first gather the right information. Start by identifying the critical areas to measure. It is important not to confuse key performance indicators (KPIs) with data analytics: KPIs provide you with history, while data analytics will help tell a story that will lead to smarter, faster decision-making.
Determine what data (out of everything that is available) is most beneficial to gather, and why – this will set your organization up for success. But it's still just the beginning.
Make Data Actionable
What makes data truly valuable is how an organization uses it to drive meaningful change and create an agile supply chain. Business Intelligence (BI) tools and advanced reporting enable organizations to improve supply chain performance and quickly identify and address any operational concerns. Here are some key ways to leverage these tools within your logistics operations and the benefits that can be realized:
A Comprehensive View of Transportation Operations – Today's logistics technology helps track important operational data and leverage it in order to improve the flow of goods throughout the supply chain. For example, a transportation management system (TMS) can provide precise inbound and outbound statistics to track shipment frequency, on-time pickup and delivery performance and more. This comprehensive view of a company's transportation operations can help them anticipate future shipping patterns, secure necessary capacity and ensure optimal inventory levels.
Greater End-to-End Visibility – Tracking and tracing the end-to-end movement of goods is critical in order to maintain a smooth, efficient supply chain. A TMS can provide enhanced supply chain visibility, allowing companies to track shipments in real-time. Additionally, these systems can highlight shipments that need attention so key personnel don't have to waste time simply trying to find those activities that require intervention. Knowing about potential delays in advance allows shippers to proactively make adjustments before a delivery or pick up is impacted – helping maintain a smooth, on-time supply chain and maintain a high level of service to customers.
Advanced Planning and Forecasting – Preparing for the future is critical for successful supply chain operations. Using data to enable advanced planning can help shippers anticipate what may occur in 12 to 18 months. Conducting "what if" scenarios can help organizations mitigate risk when disruptions arise, such as inclement weather or a capacity shortage. Additional value can be realized by sharing this information with your transportation providers so they can forecast future constraints and begin positioning equipment and drivers ahead of the demand. This collaborative approach allows shippers to be more proactive and strategic in managing their transportation than just "dialing" for daily capacity.
Enhanced Customer Service – Data analysis creates transparency with customers – helping them gain insight into any shipment statuses or fluctuations of cost or service – and can make the world of difference when it comes to improving customer service. Additionally, using predictive analytics to automate processes improves appointment scheduling and delivery tracking – ensuring that your customers receive goods on time, and helping them deliver better service to their customers. In today's high-demand shipping landscape, when two-day shipping to end customers is often the standard, this can be a true differentiator for any organization.
Make Data Work for You
Data can have a tremendous impact on an organization, but accessing and effectively using that information is not a simple task. Companies must take a strategic approach and thoughtfully map out a plan for accessing and using data. This includes establishing KPIs to continuously measure supply chain performance and implementing processes to analyze real-time (or near real-time) data in order to make immediate changes when necessary. It is also critical to compare final shipping results with initial goals and KPIs and make necessary changes moving forward.
Additionally, partnering with a logistics provider can help organizations better access data and glean deeper insights into their supply chain. Combing industry expertise and market insights with data can better help validate, anticipate and predict future outcomes. This helps shippers more effectively leverage their data to optimize their transportation strategies, increase efficiency, reduce costs and enhance customer service.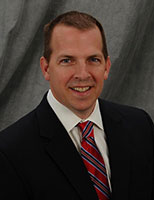 As senior vice president of operations for Transplace, Bob Daymon has responsibility for the Transplace Centers of Excellence in Oakville, ON, Montreal, QC, Edison NJ, Philadelphia, PA and St. Louis, MO. Prior to joining Transplace, Daymon held positions with Roadway Express/Caliber Systems (which became FedEx Supply Chain Services) Cap-Gemini, G-Log (now Oracle OTM) and Penske. He holds a bachelor's degree in Business and Organizational Development from the University of Akron.