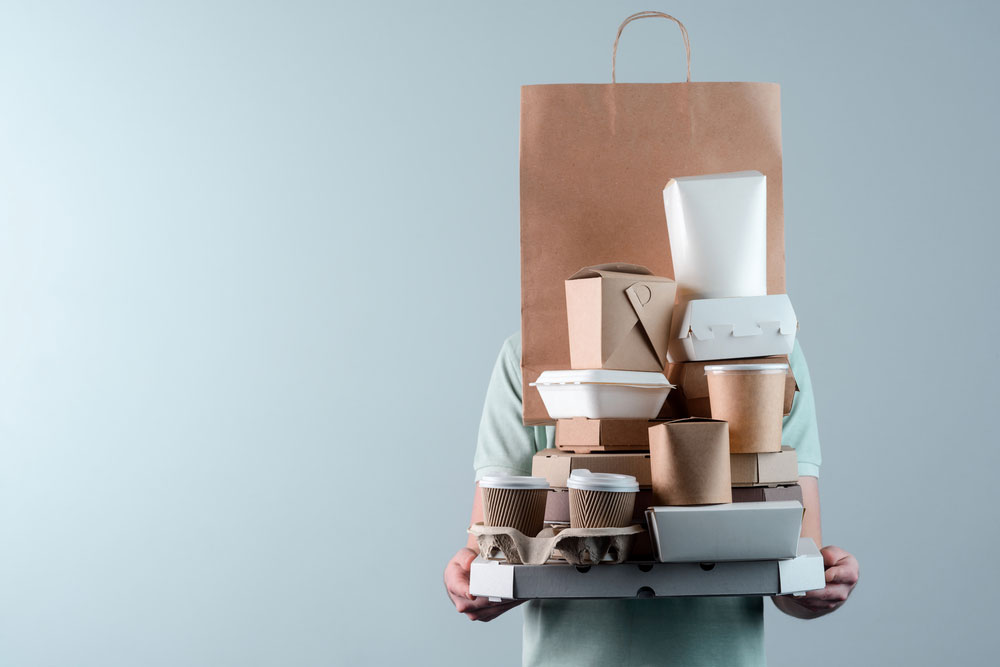 October 15, 2019
The world has a lot of waste to deal with, and it's growing by the day. Packaging demand for goods is estimated to be increasing at almost 3% a year. This makes the packaging industry worth hundreds of billions of dollars. It's thought paperboard and paper will capture about $200 billion worth of market share by 2022. The demand for paper packaging is soaring at 3.5 percent a year.
Shaun Bryce of Melbpack recently said, "The resurgence in popularity is being fueled by anti-plastic sentiment and the increasing demand for recyclability. Paper ticks many boxes. It is renewable, recyclable, and compostable."
For brands wanting to highlight their move to sustainability in packaging, it also has a 'natural appeal' that will connect with eco-conscious consumers. There are more practical benefits too. It provides an ideal printing substrate that allows high-quality graphics to communicate brand values and improve shelf appeal.
The 'cellulose-based bio-circular economy' is serving packaging suppliers that are looking for an eco-conscious alternative to plastics. A recent study showed that consumers are more likely to buy organic, premium brands when it uses packaging that looks 'natural'. It comes with a perception that the product they are buying has a reduced impact on the environment. Paper packaging is also more convenient. Paper and paperboard-based packaging come with easy tear-open or pull-open features.
The bioplastics industry has reacted with statements questioning paper and cardboard as a sustainable solution. They say that some products could contain dangerous elements they inherit from previous recycling. A solution is to use bioplastic coating on paper packaging to offer consumers protection without compromising the biodegradability of the package.
It's hard to ignore that in the world 90% of paper is recycled whereas only 30% of plastic is. Paper-based packaging is well-positioned for growth thanks to the sustainability agenda. The shift isn't a niche one. Let's look at some big players in the global industry that have moved to paper packaging recently.
Shampoo with paper packaging – L'Oréal
L'Oréal is the largest cosmetics company in the world. It's committed to increasing the use of paper in the design of its packaging. By switching to paper, they aim to reduce industrial waste. A division of the company has made this a reality by designing shampoo bottles (and their labels) made from paper that's recycled, recyclable, and compostable. The pump-bottles are waterproof.
Shoeboxes get a second life – Zappos.com
Zappos has been an e-commerce player since 1999. The brand was exploring ways to promote reusability and came up with the #iamnotabox paperboard packaging campaign. When a customer receives an order, the shoebox it is delivered in can be reused in multiple ways including a planter, a 3d ilama or a smartphone holder. The message? Reuse before you recycle.
Bag tray packaging – Mcdonald's
The fast-food giant has 37,000 outlets in over 100 countries. The company is moving to increase recyclable content in its packaging. One initiative is bag-tray packaging. Essentially this is a takeaway paper bag where the upper portion can be removed and used as a tray. The brand is also looking at other ways to make changes such as the development of recyclable and compostable cups.
Cutting costs and waste – Apple
Apple Inc. has made a move to use paper for packaging that is sourced only from responsibly managed forests. All packaging is also completely recyclable. But it's the changes in logistics that are interesting. Apple chose to reduce the size of packaging to save logistics costs and cut down on their overall carbon footprint. They swapped polystyrene padding with recycled paper padding too.
Frustration-free packaging – Amazon
The e-commerce player introduced a 'frustration-free packaging' initiative. It included focusing on the role paper packaging can play in long-distance transit. The object is to reduce 'hassle' in the packaging lifecycle. This covers manufacturing, shipping, unpacking, and recycling. They concluded that paper and wood derivatives are the easiest to recycle and have no harmful effect on the environment even if they end up in a landfill.
The paper moves into high-speed, flow-wrap technology – Nestlé
Companies that work with food and beverages are under pressure to stop producing so much plastic. Nestlé has responded by introducing a first for confectionery packaging. The new technology opens up the potential for paper packaging to be used more in the snack industry where high speeds are needed to packaging mass consumer products. The breakthrough is a bar packaged in a paper using flow-wrap technology. The Yes! range of bars is the first brand to adopt the new recyclable paper wrapper. It has a water-based coating that will ensure freshness and shelf life. The paper is sourced sustainably too. The new paper wrapper is the latest part of a brand's strategy to make all of its packaging recyclable or reusable by 2025. This includes the development of a home water dispensing system that makes use of refillable bottles.