3 reasons Prefab is the solution for Post-COVID-19 construction jobsites.
By: Gene Ellis, Product Manager ACS/Uni-Fab
Like many industries, the construction industry is getting back to business but grappling with the "new normal" after enduring the throes of a global pandemic. The world is still struggling to contain the virus, but new regulations, added safety precautions, and social distancing measures have made it possible for the economy to open back up. These new precautions have also made construction jobsites look very different than those prior to COVID-19.
Due to the work stoppage for the last four months, the construction industry must reboot quickly in order to make up for lost time. Project shutdowns, layoffs, and potential supply chain shortages have wreaked havoc on businesses' bottom line, so construction will have to find innovative solutions in order to restart and evolve. Relying on prefabricated materials is one solution that can be advantageous to contractors in jumpstarting projects and returning to profitability.
Prefabricated materials reduce overall project costs, improve jobsite productivity, and shorten construction timelines. Especially for electrical contractors, prefab is a practical choice in applications that require repeated installations, such as healthcare facilities, hotels, and high-rise offices. Prior to the pandemic, prefab was a smart solution to keeping projects on schedule and reducing labor. This is still the case in the post-COVID world, but now takes on more urgency.
The Prefabricated Timeline
To understand the benefits of prefabricated materials, one must look at the process timeline from quote to project completion. Prefabricated materials are engineered and manufactured offsite, in a highly controlled manufacturing facility, designed according to the job's precise specifications. The manufacturer works in conjunction with the contractor to determine the proper assembly to meet the required application.
Specific to an electrical installation, a typical unit layout is generated, allowing a visual confirmation of the project scope and contractor intent. A detail report is provided with specific information about each detail represented by numbered triangles on the shop drawings. This detail number exists on both the shop drawing and the detail report and corresponds to the label on the back of each prefabricated device assembly.
Packaging is another key time-saver designed to reduce overall job cost. The manufacturer will box and palletize the order by room number, area, section, like products, etc. to minimize sort time at the jobsite. Each box contains a set of shop drawings which allow the electrician to quickly identify the placement of each device assembly.
Unsurpassed quality, high on-site productivity, significantly lower labor exposure, and easier on-site distribution makes prefab the solution to getting construction jobs back on track.
1. Return to Profitability (And Improve Social Distancing)
With labor being one of the biggest costs of any job and the hardest element to predict, prewired solutions make installations more controlled and predictable and ensure that bid amounts are more accurate and profitable. Prefab allows contractors to benefit from using less labor, and possibly less expensive labor, on the job. Offsite manufacturing allows workers that are typically dedicated to on-site engineering to engage in other jobsite tasks.
Less labor at a project location also reduces interaction among crews and helps the crew adhere to social distancing guidelines.
2. Jumpstart an Efficient Schedule
Another X factor in a project timeline is permit processing. This can often be the determining factor as to when a job can begin work. With prefab, permits can be processed while the engineering is happening offsite. Think of the two tasks working in parallel, rather than one waiting on a sea of legal negotiations to start. Once the permits are in place, the prefab materials can be delivered ready to go.
Eliminating variables can be the key in staying on schedule. With traditional on-site wiring assemblies there's always a bit of guesswork and miscalculation. This results in wasted material re-measuring, and fixing mistakes. Prefab wiring solutions provide a complete turnkey solution that includes the devices, supports for the boxes, and the wiring required to connect the boxes. Coming from a controlled environment, the components' quality across the board is more consistent so the crew doesn't have to spend time double-checking measurements.
3. Streamline Materials Handling
Because prefab consolidates components that would otherwise be delivered separately, there are fewer shipments to the jobsite. Besides a cleaner site, this reduces the amount of time skilled workers spend moving material from one place to another. The detail report and streamlined delivery schedule allows the jobsite installation to start immediately in an organized and simplified fashion.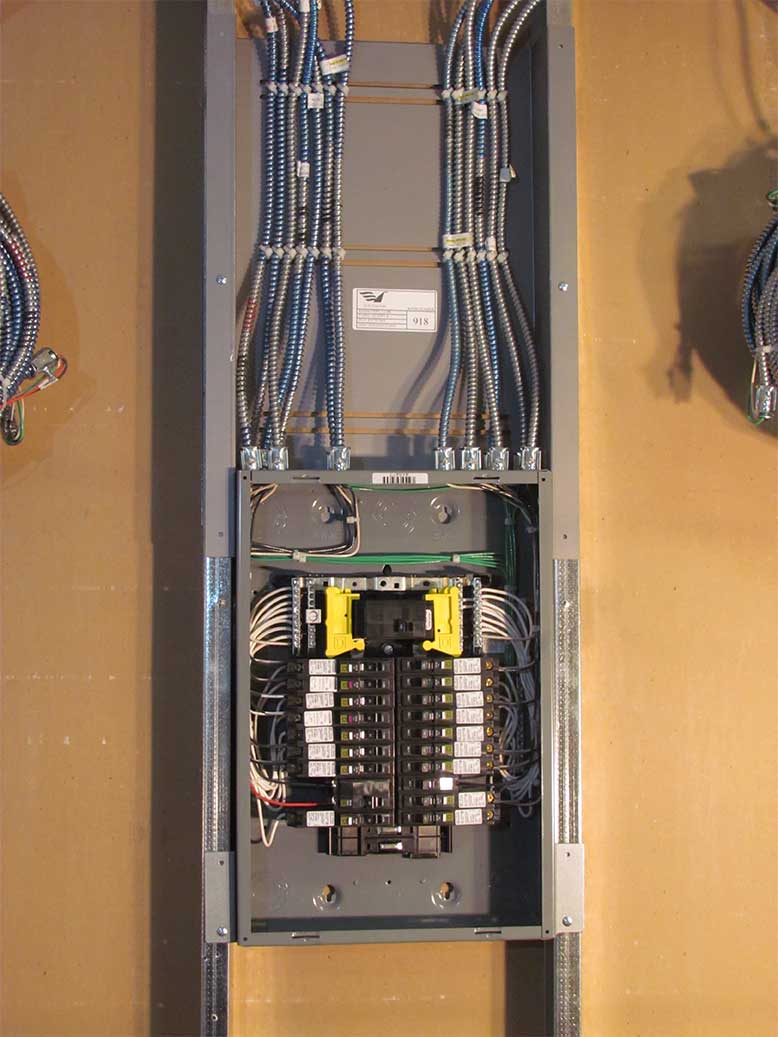 Coming out of COVID-19 will be a challenge for today's world. Prefabricated materials will help contractors manage jobs more creatively in the areas of labor, shipping, and installation. It is a flexible choice for meeting budgets and project timelines as well as new guidelines to ensure worker's safety and health.
Gene Ellis is an engineering and manufacturing expert specializing in products focused on lighting, voice, power panels, and data installation applications. He focuses on project design from concept through construction including complex electrical initiatives to consistently meet client needs on time within budget. gellis@atkore.com