By Heather Ashton, Research Manager, IDC Manufacturing Insights
Intel's announcement of its intent to acquire computer vision and automated driving company Mobileye for $15.3 billion highlights the incredible value of the connected car market and secures Intel's place in the mix. The acquisition also signifies the urgency for technology companies to develop the end-to-end autonomous driving platform that can be licensed to automotive OEMs who lack in-house resources and expertise to develop such a highly complex system for powering the connected car of the future. Figure 1 depicts the five-level framework for defining autonomous technology, created by the Society of Auto Engineers in January 2014 and adopted by the U.S. Dept. of Transportation. Today the model is used by all industry participants to describe the levels of autonomy in common terms.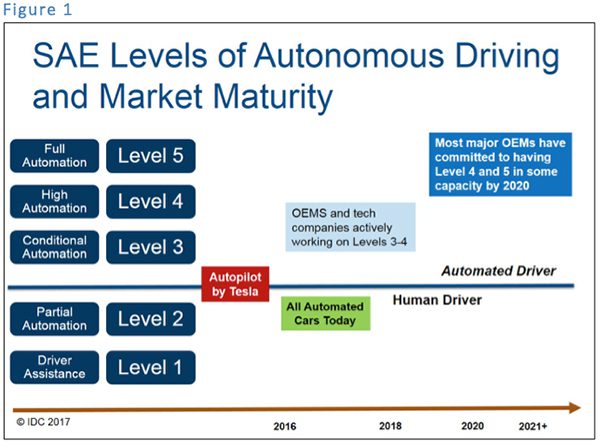 The levels of the SAE model are intentionally descriptive rather than normative and technical rather than legal. They range from Level 1, which includes driver assistance technologies like steering or acceleration/deceleration to Level 5, in which a vehicle can operate in full automation without a steering wheel or pedals and no human intervention. The human/automated driver boundary is the current focus of the industry, and it is an extremely complex frontier that only one mainstream automotive OEM, Tesla, has crossed to date. Essentially it marks the transition from the human being in control of the vehicle to the computer being in control.
OEM's across the globe are feverishly working to reach Level 3 and Level 4 in the coming years, with many announcing their intent to mass produce Levels 4/5 in some capacity by 2021. And, they're not doing it alone. Instead, they are increasingly turning to external technology partners or buying the IP and bringing it in-house to develop the autonomous vehicle platform. And, technology partners (working with Tier 1 suppliers) are happy to assume the role of platform provider.
Making cars is complex, costly, and highly regulated. That's why companies like Alphabet Google's Waymo pivoted to designing the autonomous car technology platform that can be added to a car during production rather than developing and mass producing an autonomous automobile, like Tesla is aiming to do. Similarly, Intel is interested in designing the integrated hardware and software to power the autonomous car platform that will be vehicle agnostic.
What's notable is the players in these relationships, because they represent the wider ecosystem for the connected vehicle, one that involves automakers, their Tier 1 suppliers, technology providers, network operators, and regulatory groups. Figure 2 offers an overview of IDC's Connected Vehicle Landscape.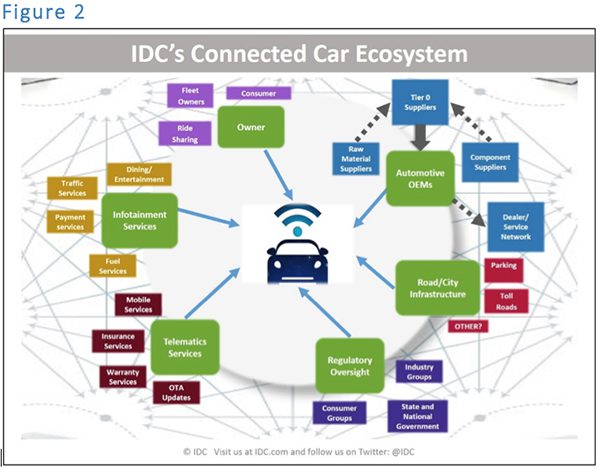 What we're seeing in the market is a spree of M&A and partnership activity that quickens the pace of development and will continue in the coming months, as the race to deliver an end-to-end autonomous driving platform persists. On the technology side, in addition to Intel's purchase, Qualcomm has a pending acquisition of NXP and Samsung recently purchased HARMAN. On the automotive OEM side, Ford's recent $1 billion investment in Argo AI reveals the tremendous stakes of the connected vehicle market. It also highlights the prevailing mindset that traditional automakers need to be "all-in" with autonomous vehicles and new mobility services to remain competitive in the coming years. This follows GM's 2016 acquisition of Cruise Automation and $500 million investment in Lyft, the ride-sharing company that competes with Uber.
Speaking of ride-sharing, Ford has announced its intent to launch a "high-volume, SAE Level 4 autonomous vehicle for ride-hailing or ride-sharing in 2021," and the company sees autonomy as a key pillar to future growth. The structure of Ford's investment in Argo AI is indicative of the disruption these automakers are experiencing. Ford EVP of Global Product Development and CTO Raj Nair made that clear during the announcement by stating, "this open collaboration is unlike any other partnership – allowing us to benefit from combining the speed of a startup with Ford's strengths in scaling technology, systems integration, and vehicle design."
The automotive OEMs are split in their approach to developing connected vehicle and mobility service capabilities, with some remaining in-house and others spinning off separate business units that can move more quickly to respond to market forces. IDC expects to see this dichotomy continue in the coming months, along with continued investments and acquisitions that will help ecosystem participants move to the forefront of this dynamic market.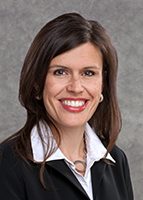 Heather Ashton is Research Manager for IDC Manufacturing Insights responsible for the service innovation practice. Ms. Ashton's core research coverage includes the customer and service lifecycles in manufacturing, including CX and UX, field service, and warranty, as well as the impact of connected products on customer engagement and service transformation. Follow Heather on Twitter @HashtonIDC.