Volume 23
| Issue 3
| Year 2020
Click here to read the complete illustrated article as originally published or continue below to read the text article.
Jack Daniel's is one of those brands that needs no introduction—even teetotalers recognize the Tennessee whiskey as the embodiment of not only distilled spirits, but the legend of one man's entrepreneurial spirit.
Jack Daniel's is easily the most iconic whiskey brand in the world. No matter where in the world—from Tennessee to Japan to Cuba to the outback of Australia to Scotland—Jack Daniel's is part of popular culture, not to mention the preferred whiskey, everywhere.
It's a great story about a great company that maintains its roots in Lynchburg, where Jasper Daniel (Jack) Daniel began producing Old No. 7, the company's signature charcoal-mellowed Tennessee Whiskey, in the first registered distillery in the U.S. Today, the company makes whiskey using some of the same techniques as it did back then, while incorporating modern manufacturing practices to distribute worldwide.
Crafted in Tennessee
"We are still a craft product," Larry Combs, Senior Vice President and General Manager of Jack Daniel's Supply Chain, notes. "You can be sure that a Jack Daniel's whiskey is actually made by Jack Daniel's. It's not uncommon in this industry for a distiller to make multiple brands. To take just one example, there are about 140 Kentucky bourbon labels, but they are in fact all made by only eight distillers." Moreover, Jack Daniel's is made much the same way it has been 154 years ago. "We use sugar maple from local forests to make charcoal that filters the distilled mash in a process that takes five to seven days," Combs says. "To ensure the temperature is exactly right, two people manually burn a pile of sticks down to embers, the same way that Jack Daniels himself made it."
Every bottle of Jack Daniel's is made from spring water drawn from Lynchburg's Cave Spring Hollow; the cave's limestone serves to add a variety of minerals that add to the whiskey's distinct taste, as well as naturally remove iron that would destroy that taste. Needless to say, the original family recipe is still used for the mash bill, the mix of grains that determine the whiskey's flavor. And to ensure a 2020 whiskey tastes the same as the 1866 version, starter yeast for the mash contains the same DNA fingerprint as the yeast used to over a hundred years ago. "Unlike a lot of distillers that use a freeze-dried yeast, we propagate using the yeast from previous batches, which ensures, and can be verified by microscope, that all our yeast shares the same DNA fingerprint that makes it distinctly Jack Daniel's," Combs says.
The barrels in which the whiskey is aged are American White Oak made by hand that are used only once. They aren't held together by glue or nails, but by the sheer pressure of the precise arrangement of 33 separate wood staves. Once assembled, the barrel's interior is toasted and charred to coax the wood's natural sugars out and caramelize them according an exclusive method that is an important part in developing the Jack Daniel's whiskey flavor.
Modern Production
Which is not to say Jack Daniel's is averse to 21st century production efficiencies. "Our distillery looks like a NASA center," Combs notes. "We need only three operators to supervise the technical systems that regulate and monitor aging, which can take anywhere from four to seven years per barrel. Of course, we rely on a team of accomplished tasters to determine what software can't, namely when a whiskey is ready for bottling."
And with the exception to hand bottling and labelling select specialty lines, the whiskey is bottled using high-efficiency, high-speed 100 bottles a minute production lines to adequately meet worldwide demand. Which is continuing to increase—2,000 – 3,000 bottles daily— thanks in part to improving tastes of millennials.
"There's no question that millennials are a growing segment for us," Combs says. "We've introduced a number of flavored versions that are of particular appeal to millennials. The most recent is Jack Apple, which adds a real crisp apple taste to real Jack Daniel's."
Popular Demand
It's also true that during the anxiety-inducing COVID-19 pandemic, whiskey, used in moderation of course, can be a soothing comfort. Combs concedes that may be the case, while noting, "The busy times for us is the holiday season from October to December. There's a lot of celebration going on then and Jack Daniel's make a perfect gift. Customers can even select their very own barrel and have it individually bottled and personalized, perfect for gift-giving as well as individual savoring."
Indeed, to satisfy rising demand, the whiskey maker conducted an 11 acres under roof expansion in 2018. In total it has 177 buildings, many of them for building barrels, in operation on 2500 acres in Monroe County. It also maintains a barrel cooperage in Lawrence County, Ala.
Equally noteworthy for public consumption on the site are the Miss Mary Bobo's Boarding House and Restaurant, the Lynchburg Hardware & General Store, which is not a hardware or general store but where you can buy Jack Daniel's memorabilia, both of which support the world-famous Jack Daniel Distillery Tour. This has become a world-class tourist destination, with some 300,000 visitors annually. (Editor's note: currently on hiatus during the COVID-19 pandemic.) Ironically, Lynchburg is located in a dry county, but has special dispensation to offer tour visitors sample and purchase bottles to take home.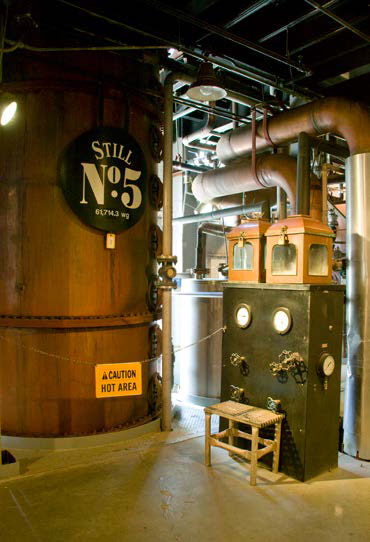 Of Jack Daniel's some 1300 employees, about 800 of them work on-site at Jack Daniel's. Lynchburg itself is a town of only 6,000 people. "We're the largest employer in the county. The second largest industry is cattle," Combs says.
"We have a close relationship with the community, and we offer our workers premium salaries and benefits. Consider that employment engagement surveys consider a 70-80 score out of 100 a best-in-class rating. We typically score 90 and have scored as high as 96. This is a company where it is no exaggeration to say that people make a product they take pride in."
Until the Chasing Whiskey documentary comes to a theater near you, check out the "Around the Barrel with Jack Daniel's" podcast available from most podcast services. Also, last year the brand launched an AR Experience app for mobile users to unlock a series of popup book style dioramas that relate details of the brand's history. Of course, to experience the app, you need to have a bottle, which you would also need to experience.