May 26, 2019
By Aaron Floen
Founded in 1988, Kooima® Company is a fully integrated, laser-based fabrication shop. The company fabricates custom steel parts for large equipment manufacturing companies throughout the United States and Canada. Kooima prides itself on quick turnaround and throughput, with its parts used in a variety of industries, including automotive, agricultural, construction, exercise, medical, and commercial food processing. In addition, it also manufactures and sells its own line of high-quality parts for agricultural machinery.
Located in Rock Valley, Iowa, Kooima employs approximately 170 people in its facility that was expanded three years ago to over 300,000-square-feet. Its certifications include ISO 9000:2015 and ISO 9001:2008.
Beyond Direct Sales
With added capacity following its facility expansion, Kooima found itself looking into new areas for pursuing business, including online. Until then, the company had relied solely on sales representatives to hunt out opportunities and develop business face-to-face. After learning about MFG.com, an online manufacturing marketplace, Kooima decided to try it out as a supplementary sales channel.
Unlike competitors that are more like static manufacturer guides and listings, MFG.com is a true, interactive marketplace. Manufacturers use it to find qualified customers and expose their facilities to sourcing professionals who are searching for custom parts manufacturers. For buyers, the marketplace simplifies the process of finding a manufacturing partner. Buyers can filter suppliers based on criteria such as capabilities, capacity and certifications, and can easily and quickly create and post RFQs. Peer ratings and reviews further support the selection process.
Manufacturers gain visibility on MFG.com by creating unique, SEO-optimized profile pages (you can view Kooima's profile here). They can also easily search for RFQ opportunities or have RFQs intelligently routed to them based on their manufacturing attributes.
To date, some 26,000 parts manufacturers and 75,000 buyers and engineers have used MFG.com to conduct business. The platform has members in 172 countries.
An Inexpensive "Salesperson"
A member of MFG.com since late 2016, Kooima has changed its perception of using the web to get its name and services in front of prospects. By establishing an online presence on MFG.com, the company is seeing more inquiries from companies that were not on its radar, without requiring excess work from Kooima's outside sales force.
In addition to securing business online, the MFG.com marketplace has also helped to expand Kooima's reach geographically. The company's sales representatives are based in and work territories in the Midwest region, closer to the company's operations. With the MFG.com marketplace, it makes no difference where a manufacturer or buyer is located in the United States—or in the world.
In fact, the first large contract Kooima secured through MFG.com was in New York, a location where it had never done business before simply because it had no "boots on the ground." Being able to market and close business digitally has opened up a much larger realm of opportunity.
Kooima estimates that on any given day, there are between 100 and 200 different RFQs on the platform that could be a fit for the company's offerings.
Realized Opportunities
While Kooima still relies on its human sales force for the lion's share of its revenue, the business the company has gained using the online marketplace isn't insignificant. So far, the "discovery" aspect of MFG.com—connecting buyers of parts with custom parts manufacturers—has opened the door to about $1.2 million in sales over the last two-and-half years.
Kooima's success with MFG.com has led it to pursue other digital objectives, as well, including an update to the company's website and search engine optimization to make it easier for prospects outside of MFG.com to find them.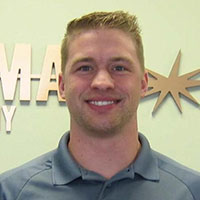 About the Author:
Aaron Floen is the quoting supervisor at Iowa-based Kooima® Company. Connect with him at aaron.floen@kooima.com.