To win the last mile sprint, double-down on mobile-first, switch from hands to wrists and heads, and invest in ruggedized devices.
By Shash Anand, VP of Product Strategy at SOTI
Already, roughly half of total delivery and supply chain costs are spent on the final mile of delivery. Yet with both demand and customer expectations rising every day, it is clear that more investment will be needed.
A recent study conducted by SOTI and Arlington Research, surveying hundreds of C-Suite and IT leaders across six international markets, proves it. Transportation and logistics professionals know they need to put the last mile first, or risk losing customers with inefficient processes and customer service.
According to the study, more than 60% of executives agreed that last-mile delivery is the most inefficient process in the entire supply chain. Interestingly, the bigger the business, the bigger that pain – in companies with over 1,000 global employees, more than 70% agreed.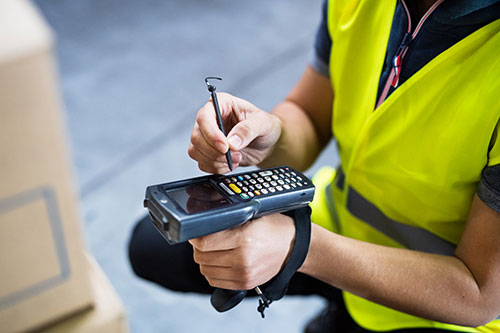 Those last-mile inefficiencies will not get solved without more investment in a mobile-first strategy, and in leveraging the latest technologies to support the business. Nearly half the executives said outdated technology is part of what's holding them back.
So, what should executives do now to boost their odds of success?
Three imperatives for winning in last-mile delivery
1. Double-down on mobile-first.
Even in this tough economy, rest assured that top management fully understands the need for a mobile-first approach. Even if other projects are on hold in your company, chances are your company's leadership won't flinch if you ask for steeper investments in mobile technology.
The study by SOTI and Arlington Research reveals that 82% of C-Suite and IT leadership in the U.S. are fully aware that a mobile-first strategy is a solution to last-mile delivery. If your company is already a leader, you can – and should – invest more.
Even if your company is not a leader, if management has spent the past decade saying "maybe next year" to mobile-first investments, don't assume your projects won't get funded. Neglecting last-mile delivery can impact T&L suppliers in three critical areas: customer experience, supply chain management and the inability to tap into new revenue streams.
Even among the most tight-fisted CFOs, there's recognition that companies cannot afford to put off those investments much longer. Fifty percent of T&L executives whose organizations use outdated technology worry they will lose, or have already lost, customers because of it.
Still, as you consider your plans, always remember to put the "why" first. What are the problems you are trying to solve, or the opportunities you are hoping to pursue? Why are those the most urgent to consider? The better you can define the problems you are hoping to solve, the stronger the case you can make to management.
2. Leverage new technology: switch from hands to wrists – and heads.
As the sheer volume of deliveries continues to rise, they literally become too hard to handle. The more packages that drivers are forced to juggle, the more that will get dropped. Especially in the last mile, it pays to take problems off people's hands.
Hands-free barcode scanning technologies enable drivers to track truckloads full of small packages as they are unloading them. Wearable headsets let people look up the next delivery location or how to handle a delivery exception without stopping to pull out a device. Amazon, obsessed with last-mile delivery, is now doing more than humanly possible. Their six-wheeled, high-tech blue box robot (Amazon Scout) is already delivering packages in markets in Washington and California, and will expand to Georgia and Tennessee.
Using combinations of devices can drive both better productivity and better safety. For example, you may not have realized that Tizen (a Linux-based mobile OS backed by the Linux Foundation, but developed and used primarily by Samsung Electronics) smartwatches include fatigue monitoring technologies to alert drivers who may be falling asleep at the wheel while driving.
The survey showed that in companies with 5,000 to 10,000 employees, 78% have learned that wearables are more cost-effective than handheld devices.
3. The last mile is tough. Your devices better be tough, too.
With ever-shrinking deadlines for delivery and ever-growing numbers of packages, the last mile is a race to the finish line every day. If your handheld or hands-free devices break down in the last mile, nothing you did in the thousands of miles before matters.
Look for partners who know how to enable ruggedized devices that can stand up to the rigors of that race, including remote diagnostics, updates and fixes. You should also look for partners with a proven methodology to shrink the cost, complexity and downtime of developing and deploying apps, as well as managing business-critical endpoints.
Shash Anand
As Vice President of Product Strategy at SOTI, Shash Anand oversees the company's evolution from a single product centered around Mobile Device Management (MDM) to an integrated platform that solves many of the challenges around enterprise mobility and IoT management.
Shash holds a degree in Computer Engineering from the University of Toronto, and an MBA from the Rotman School of Management. After working for IBM as a Technical Support Engineer and Business Operations Manager, Shash joined SOTI to lead the company's global expansion.
Throughout his tenure with the company, Shash has worked across both technical and operational teams, overseeing key departments within the business. With diverse experience across the organization, including: Professional Services and Support, Product Management, Product Marketing, Business Development and Sales, and Strategic Alliances, Shash has extensive expertise building global teams from start-up to scale-up success.
Shash is Chairman of the Board at MCIS Language Solutions, a non-profit organization whose mission is to remove language barriers and improve access to critical information and services through high quality language solutions.