SSL is your solution.
If you are running your business in an e-commerce environment, then it becomes necessary for you to protect the sensitive data of your clients. The customers provide their confidential information (credit card details, usernames, passwords, addresses) to your site to make purchases on it. Due to whatever reason, if this data is leaked and gets accessed by cyber-criminals, then they can use it for stealing money and performing other malicious activities. This will not only affect your clients but your online business too. Once they lose confidence in your website, the customers will stop visiting and buying anything from your website after the security breach.
Therefore, it is essential to protect your website from these scams with powerful security techniques. For this, you can install an SSL certificate on your site that helps secure your data from the reach of attackers. You may be wondering why SSL and not any other security technique. It would help if you had a whole arsenal of security solutions to protect yourself from the growing threat of cyberattacks. SSL is the easiest and one of the most significant steps towards that goal of securing the ecommerce world. Read on to know what SSL certificates are and why they are crucial for your ecommerce business.
What is an SSL Certificate?
Netscape first introduced SSL certificates in 1994, and since then they are being used by almost all online businesses (including non-ecommerce environments such as blogs too). Although the first few updates of SSL certificates faced much criticism due to their vulnerability against cyber-attacks, newer updates kept coming to tackle all the known threats. Now SSL has been replaced by TLS (Transport Layers Security), but still, the name SSL has stuck around in common parlance because (you can say) it has become a brand. Almost all the websites now use the TLS protocol for security with some still using the older SSL version (Note that SSL does not provide the comprehensive security of the site that comes with TLS). Keep in mind that SSL certificate is the same for both SSL and TLS security protocols, and it depends on which security protocol you configure for use.
An SSL (secure sockets layer) is a security protocol that aids in protecting the sensitive information (credit card details, usernames, and passwords) of the customers and resources of a site as well. An SSL certificate encodes and decodes the data being transferred between a website and a browser. Third-party certification authorities issue the SSL certificates (CAs). The CAs perform a complete check of the organization or business that has requested the issuance of an SSL certificate for their website. After a predefined procedure, CAs issue the certificate to the owner of the website. You can purchase an SSL license for your site from one of the popular SSL certificate providers. Some of them are:
GeoTrust
Comodo SSL
Digicert
GlobalSign
Entrust Datacard
GoDaddy
Symantec
Sectigo
RapidSSL
After installing an SSL certificate on your e-commerce site, the data transfer on your site becomes safe from the hackers. The SSL certificate performs two jobs to maintain this secure connection:
1. Authentication
When the clients visit your site, their browser first checks the identity of your server by checking its SSL certificate. If the SSL certificate is issued by a trusted root CA, then the browser will confirm the authenticity of your site. If you have not installed an SSL certificate on your site, then there is a risk of man-in-the-middle (MITM) attacks on your site. An SSL certificate protects your website from these threats by providing a unique authentication of your site to the browser for a safe connection.
2. Encryption
Secondly, SSL certificates make sure that the data transmission on your site is being encrypted. The attackers cannot read encrypted information without first decrypting it. They cannot decode the encoded data unless they have access to the matching decryption key. The SSL security mechanism ensures that the keys used for encryption and decryption for the communication are known only by the web server and the visitor's browser.
So, if you are using an SSL certificate, it becomes virtually impossible for a hacker to get access to the information shared between the two engaging parties. However, even if a snooper has managed to steal the data being exchanged with your website, he/she will not be able to read it due to encryption.
Benefits of SSL Certificates in E-commerce Business
Here is a list of main advantages that you get after installing an SSL certificate on your site:
1. Builds Trust Relationship with Clients
If your website has a valid SSL certificate, then it will show a padlock sign on the left of the browser. This indicates the authenticity of your website, and the users feel secure while sharing their sensitive information like social security number, security codes, credit card details, etc., on your site. This encourages them to purchase more and share your website with their friends, family members too. This will not only improve the relationship between you and your customers but will also increase your sales and revenues.
2. Protects Customer Information
SSL certificates encode the sensitive data (user IDs, passcodes, financial details, etc.) of the user to make it unreadable for the third parties (think cyber-criminals). Only the webserver has the appropriate key to decode the information. The SSL certificates perform encryption and decryption on every single piece of data exchanged with the customers to keep it safe from the peering eyes of hackers.
3. Prevents Google Warnings
Google and all other predominant browsers being used by the online users mark the websites "Not secure" if they have not installed an SSL certificate. When a user visits a site which shows up this scary warning, they are likely to quit due to the "perceived" security threat they may be exposed to by continuing to browse your website. For this reason, you must install an SSL certificate so that your clients can enjoy surfing and making purchases on your site without security concerns.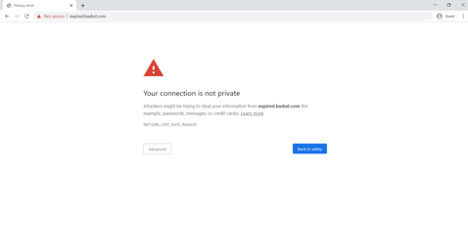 4. Helps Improve Search Engine Rankings
Having an SSL certificate not only protects the communication exchange and boosts the confidence of your customers, but it also increases search engine rankings of your website. As declared by Google, the websites with the valid certificates will be ranked higher in comparison to the non-secure HTTP sites. Now you do not want to lose out on the organic and free targeted search traffic (that has a higher chance of converting to purchases) by skipping on installing an SSL certificate on your website, do you?
Conclusion
It is not easy to run an ecommerce business in this highly competitive online world full of online threats. Cyber-criminals are always in search of sites that do not use adequate security tools installed for their website protection. They launch an attack on these vulnerable sites to get their hands on precious information of the customers as well as the site's resources. They then utilize this data to fulfil their evil plans. So, to keep your website and your clients secure from cyber-attacks, you must activate SSL certificates on your website. The SSL certificates not only protect your data but also help improve user's trust in your site that increases sales and revenues. SSL indeed is one of the essential pieces of the puzzle when it comes to solving the ecommerce data security puzzle.