By embracing AP automation and improving the efficiency of the AP function, manufacturers can overcome the challenges of the COVID-19 era.
By Shan Haq, Transcepta, Vice President of Corporate Strategy and Development
The COVID-19 pandemic has put a lot of pressure on manufacturers. Not only has demand for many products decreased substantially, but manufacturers also have to manage disruption in supply chains and ensure that warehouse workers are protected in accordance with safety protocols. At the same time, age-old problems still persist; machines might break down at any time and goods may not live up to quality standards.
It's a lot to juggle, and all of these challenges can have an adverse impact on the bottom line, causing cash flow problems. With some estimates suggesting it will take five full years before output returns to pre-pandemic levels, manufacturers need to make smart decisions in order to weather the recession.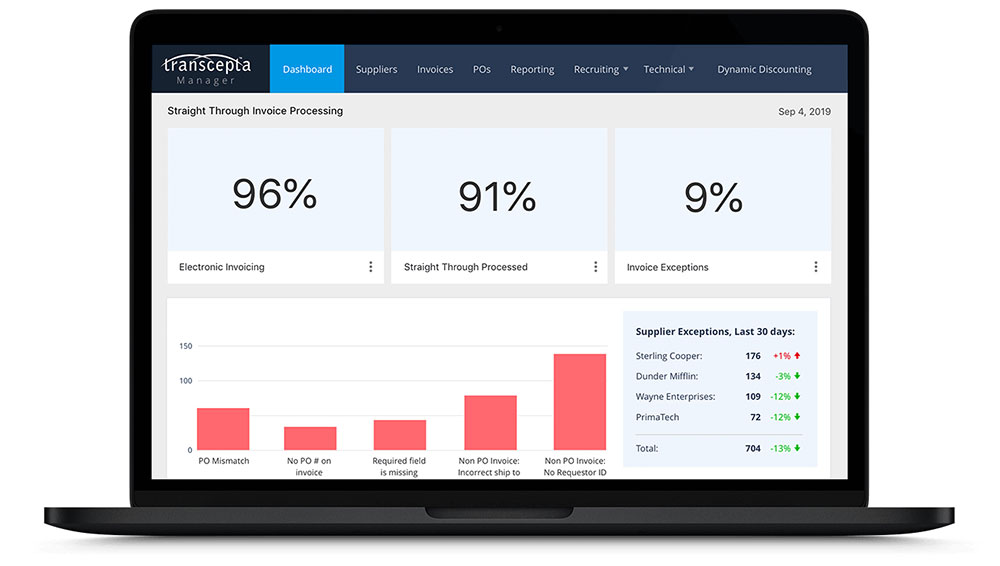 Automating AP Can Help
In an industry that is very transaction-focused, automating processes around payments and invoicing can be particularly effective for cutting costs. In fact, research suggests that 84 percent of accounts payable (AP) staff time is still spent processing invoices.
Good news: Automation can cut that processing time by as much as 80 percent!
This is a big deal, particularly for manufacturers that routinely juggle thousands of invoices at once.
By transitioning to straight-through AP processing—that is, using technology to automate the bulk of the AP function—manufacturers are able to eliminate paper and remove grunt work from the AP team's plate, while increasing their ability to scale.
With that in mind, let's take a look at some of the main ways manufacturing organizations benefit from AP automation solutions.
Increasing Efficiency by Digitizing Invoicing and Payment Processes
Every year, companies waste billions of dollars writing and processing checks manually.
By embracing AP automation solutions, organizations can digitize the entire invoice and payment process. In turn, they can reclaim that wasted energy and refocus it on other important areas of operations.
Digitizing the invoice process also enables manufacturers to keep all of their invoices in one place, accessible to authorized users from any device. This functionality has proven particularly effective during COVID-19, when many manufacturers were forced to rapidly adopt remote work.
Although more and more manufacturers are digitizing their financial workflows, 72.4 percent of businesses still receive invoices through the mail. When the pandemic emerged, manufacturers using paper-based AP processes learned the hard way that operations essentially stopped, with invoices sent to empty offices and no staff on hand to process them. Digitally powered teams had a different experience.
Here are a few ways AP automation helps make financial departments more agile and productive:
Receiving and processing electronic invoices, which eliminates manual effort entirely, unlike optical character recognition (OCR) solutions that just limit it
Streamlining validation to automatically approve invoices matched to legitimate purchase orders, which cuts AP costs by reducing invoices that need manual intervention, and automatically sending questionable invoices to the right person to review
Linking to financial accounts to automatically pay valid invoices instead of having to hop to another platform to finish the process
Using Analytics to Improve Cash Flow and Optimize Profitability
Cash flow has always been a challenge for manufacturing companies. The recent trade war with China exacerbated those challenges, and COVID-19 made things even worse.
For manufacturers relying on manual AP processes, it's essentially impossible to get a crystal-clear forecast of their cash flow—an issue that compounds at scale.
AP automation helps here, too. Companies that digitize their invoicing gain much more visibility into the entire procure-to-pay process. Invoices can then be processed much faster, which supports better cash forecasting and more effective discount management.
With the right tools in place, manufacturers can use analytics to ensure they are taking advantage of early payment discounts and avoiding late payment penalties, which enables companies to extend cash flow further. Additionally, companies can take advantage of dynamic discounting features to buy supplies on the best date to get the best price.
Delivering More Value to Supply Chain Partners
Although automating AP and transitioning to straight-through processing can transform internal financial workflows, processing invoices more efficiently is only half of the equation.
If there's one thing the business community has learned from COVID-19, it's that manufacturers need to view their suppliers as value-added partners. When suppliers shut down, manufacturers are not far behind. Because of this, manufacturers need to figure out how they can better support suppliers and help them overcome operational challenges.
By implementing an AP automation solution, manufacturers improve the supplier experience by making invoicing easy for them and ensuring they get paid on time.
Seize the Moment
Manufacturers face an exceptionally difficult outlook in the near future, but these challenges have also created opportunities to improve operations and build a more efficient organization.
AP departments that have been relying on the same processes for years now need to begin the process of digitization. As a result of AP automation, manufacturers will become more efficient and more profitable, while also making business partners' lives easier.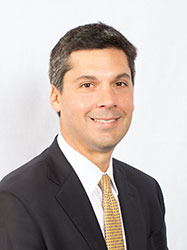 Shan Haq is Vice President of Corporate Strategy and Development with Transcepta, the leading cloud-based procure-to-pay platform. Haq is responsible for shaping Transcepta's strategy for new markets, products, and alliances. Through leadership roles in corporate strategy, marketing, and product management, Shan has successfully grown businesses within Microsoft, Deloitte Consulting, and Boeing Space and Technology. Transcepta, based in Aliso Viejo, Calif., is an intelligent procure-to-pay platform that enables accounts payable and procurement teams to achieve 100 percent straight-through invoice processing across their supply chains, without scanning or OCR imaging. For more information, please visit www.transcepta.com.