The process involved in the manufacturing of eco-friendly packaging.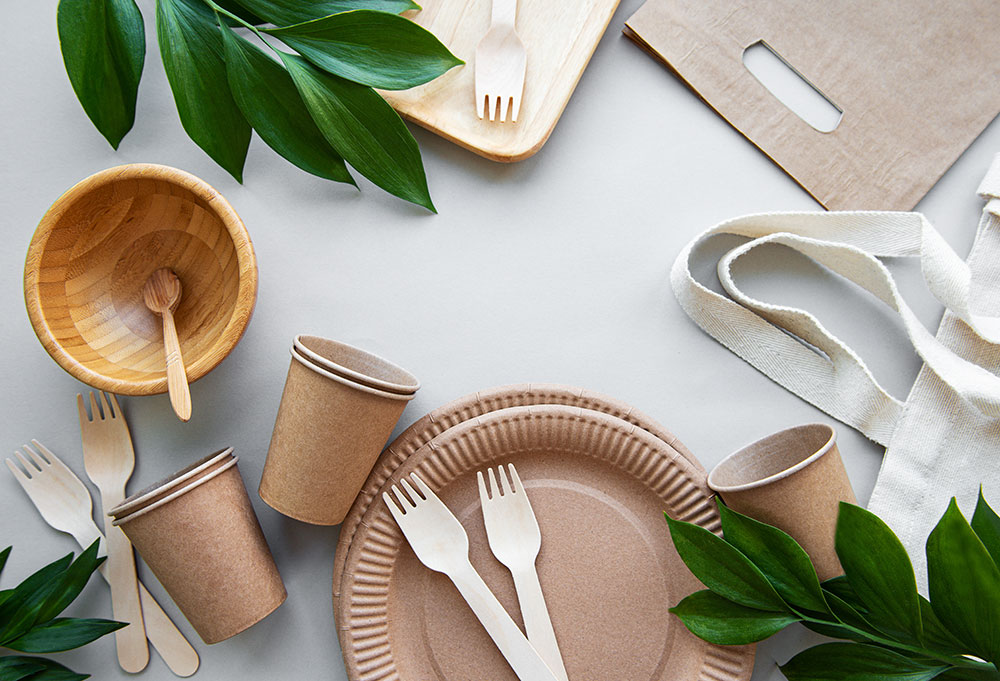 As the planet faces a constant threat from plastic waste, increased landfills, and pollution, many conscious businesses are moving toward eco-friendly packaging to reduce the adverse impact of plastic waste on the environment.
The packaging is considered eco-friendly if it possesses the following qualities: it's made of recycled products, it's easy to recycle, and it's generally safe for the environment and the individuals using it. While procuring eco-friendly packaging, enterprises should also ensure that the materials they're sourcing from their suppliers are eco-friendly and that the latter's manufacturing processes should be practice minimal wastage and consumption of natural resources. This procedure thereby reduces the company's carbon footprint, starting with working only with eco-friendly suppliers.
Besides being eco-friendly, companies in the business of manufacturing eco-friendly packaging can generally avoid high expenditures through reduced raw material cost, minimizing the use of natural resources, and using recycled materials.
Importance Of Eco-Friendly Packaging
Many businesses shifting to recycled packaging are now focusing on the environmental impact of their brand, in the process improving their branding efforts as an eco-friendly business. Thus, shifting to eco-friendly packaging for your business can be a simple and rewarding process. Based on the environmental principles of 'reduce, reuse, and recycle,' you may also look at collecting old used glass bottles, plastics, and other such materials that can be utilized by your company. These materials may further be recycled and used for creating better packaging.
Step-By-Step Process Of Manufacturing Eco-Friendly Packaging
Manufacturing eco-friendly packaging is a simple and inexpensive process. Enterprises might be curious as to how these are made or would want to go into manufacturing their own someday. Regardless of which kind of entrepreneur you are, below are the key steps involved in the production process of eco-friendly packaging to help you understand the green route.
1. Choosing The Materials Used For Your Packaging
The first step toward creating eco-friendly packaging is to decide what materials you will employ. With a variety of reusable materials available in the market, you can choose from materials like recycled plastic, paper, cloth, or glass. Make sure the packaging for your product is based on your brand preferences. Check companies such as Packaging World and the like when surveying beautiful eco-friendly packaging samples.
2. Layers Of Packaging
Once you've decided on the material, decide the packaging layers next. Depending on what you're selling, assess if your items would need the standard three layers of packaging. This staple includes the first inner layer used to wrap the product, which could be made of recycled paper or cloth, depending on your brand identity preference. The second is the outer layer or what the customer first sees, often made of a paper box, a pouch, or a glass jar. The third layer is the obvious product packaging, often what the customer sees as its 'branding.' Simply stated, this is like the chocolate wrapper or cookie jar that contains your goodies.
With these three layers, you could then ponder whether it's necessary to use all three layers for your product packaging. Eco-friendly principles could sway you to simply use a single layer or two.
3. Collecting And Processing Material
When going for the eco-friendly green route, the first step is to start with collecting raw materials from recycling units or the drop-off centers. The price of these materials varies depending upon their demand. However, they still cost less when compared to procuring new packaging materials for your business.
Once the materials have been collected, they could be taken to the manufacturing unit where they are sorted, cleaned, and processed for manufacturing.
4. Manufacturing The Packaging
While manufacturing eco-friendly packaging, it's equally imperative to practice sustainable manufacturing principles like using renewable energy during production instead of electricity. Renewable energy generated from the sun, wind, biomass, and rain is replenished naturally, unlike fossil fuels. Using such sustainable resources of energy for production will help your company reduce its carbon footprint. During the manufacturing process, it's also important to minimize the production of waste and conserve water as well.
5. Printing On The Package
Once your packaging is ready, it's time to get your branding printed on it. Since inks are made of several chemicals, they can be harmful to the environment, too. This is especially true for the solvent. This has led many eco-friendly manufacturers to shift from regular ink solvents to eco-friendly options made of low volatile organic compound (VOC).
You may also opt for other eco-friendly inks that contain water, acetone, or ethanol, and are completely free from VOCs.
Conclusion
Following eco-friendly packaging practices for your brand is an easy and impactful way to reduce your carbon footprint and contribute to a green environment. Besides this, eco-friendly packaging can be beneficial for your brand in several ways, like improving your brand image, reducing production costs, and being biodegradable.
Since most recycled packaging uses renewable energy and is biodegradable, shifting to it will help your company minimize its carbon footprint and benefit the environment in the long run.

Ivan Barron is a successful blogger who regularly publishes articles on business and business online. Aside from writing for his blog, Ivan also writes articles for other online platforms to gain more readers, expand his reach, and earn credibility in the blogging industry.