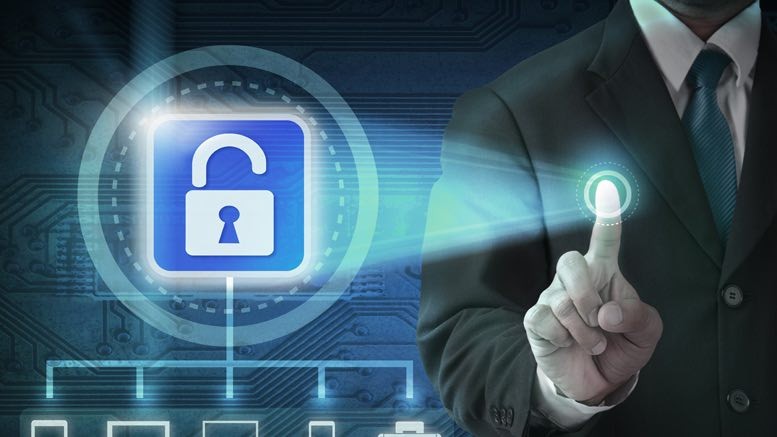 February 1, 2019
By Juliette Rizkallah, Chief Marketing Officer, SailPoint
Driven by the requirements of regulatory mandates such as the Sarbanes-Oxley Act (SOX) and the Health Insurance Portability and Accountability Act (HIPAA), identity governance originally emerged as a new category of identity management designed to improve transparency and manageability. By providing organizations better visibility into identities and access privileges, and more effective controls for detecting and preventing inappropriate access, identity governance has become foundational to ensuring compliance and centralized security over organizations' on-premise and cloud applications, as well as data files.
Manufacturers and their IT leaders are facing increasing amounts of pressure and responsibility when it comes to cybersecurity. For instance, while addressing complex security and compliance challenges brought on by today's ever-evolving threat environment, they must also enable their end-users to be productive and motivated. At the same time, the long-term digital transformation agendas that almost every competitive organization is going through must also be supported in a secure and seamless fashion. When it comes to this, manufacturing organizations have room to improve.
Key Security Challenges Impacting IT Leaders
To help organizations and their IT leaders navigate today's overwhelming cyber landscape and better understand areas in need of improvement, my company launched an in-depth self-assessment tool that determines Identity Scores. Similar to credit scores, these figures are designed to provide IT leaders a clear roadmap for systematically improving their security and compliance efforts.
After analyzing 450 Identity Scores across a variety of industries (including manufacturing, alongside technology, retail, healthcare and more), geographic locations and company sizes, we created an Identity Report benchmark and identified three key challenges currently plaguing IT leaders:
Lack of identity automation. The good news is, 54 percent of organizations evaluated have an official identity governance program in place, however what's concerning is those organizations aren't supporting their identity programs with the right policies and procedures. Just 12 percent have full automation for their password reset systems, for instance, and 13 percent don't have any automation incorporated. As data and application volume continues to grow, automation will become even more critical, particularly for organizations with limited IT resources. Humans simply can't operate at the speed digital transformation efforts require, and chronic security and compliance gaps will emerge if identity policies can't be effectively enforced.
Poor user visibility. With data breaches costing organizations millions, it's essential to know exactly who has access to what data and what they're doing with that access. However, the majority of organizations we analyzed (71 percent) couldn't produce a full report on their users and their access to systems and data. Just 20 percent of organizations indicated they have full user visibility, and 7 percent have no visibility whatsoever. These blind spots are extremely troubling, as they create a 360-degree level of risk where a potential threat could sneak in undetected from any angle.
Unmonitored and unmanaged data. No matter an organization's size or particular vertical, chances are data is running rampant and growing exponentially. To complicate matters, most operational data is unstructured, making it even more difficult to monitor, govern and secure in real-time. In our analysis, 88 percent of organizations aren't properly governing access to their data stored in files, and 18 percent don't monitor or govern access to their data at all. Just 9 percent of organizations analyzed are governing and monitoring access to all of their data.
Interestingly, out of all the industries surveyed manufacturing organizations have the most room for improvement, scoring only 6 percent 'good' and 38 percent 'poor' on the Identity Score scale.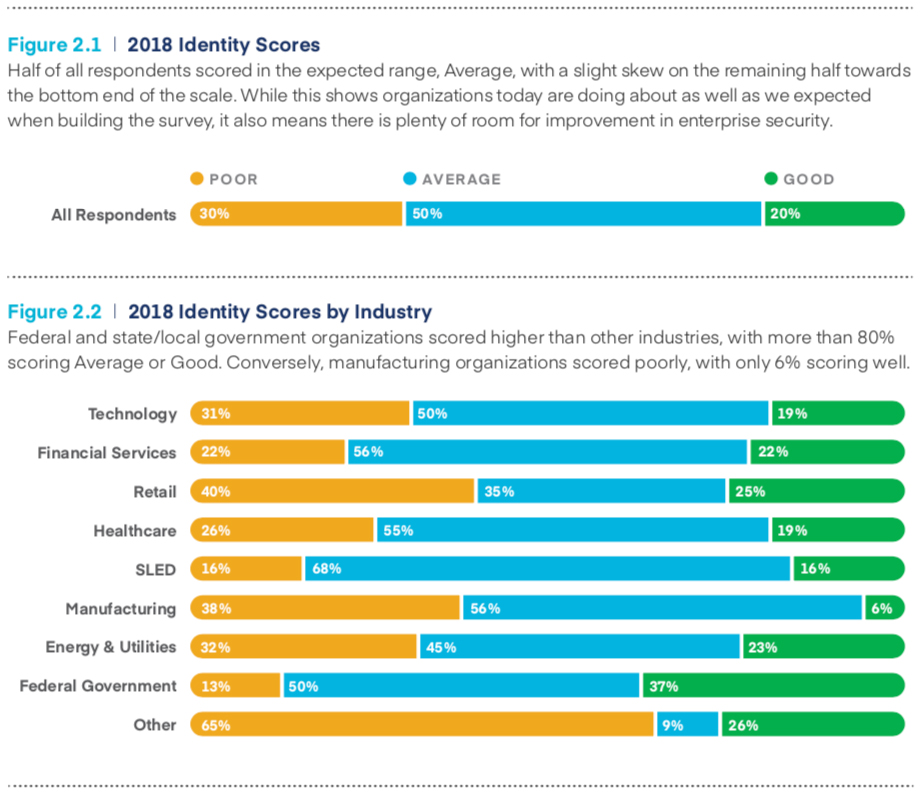 Maintaining Security and Relevance Requires Identity Governance
Devastating cyber-attacks and debilitating data breaches occur as a direct result of poor cybersecurity practices. The ultimate goal of any identity governance program, then, should be to continuously protect what hackers find most valuable: the identities that hold the keys to critical data, applications and systems. With 1 in 3 organizations leaving their financial data ungoverned, however, more attention must be paid to efficiently delivering secure access to all end-users.
When organizations are able to see, understand and govern their end-users' access to critical data, applications and systems in real-time, they can proactively protect themselves against potential threats. Furthermore, by incorporating a comprehensive identity program as a strategic component of larger security strategies, organizations can leverage identity governance as a business enabler, using it to properly secure their most valuable assets while also maintaining the competitive pace that today's market demands.
About Juliette Rizkallah:
A marketing veteran with more than 20 years of experience, Juliette Rizkallah brings a wealth of expertise and pragmatism to SailPoint in her role as Chief Marketing Officer. No stranger to the world of enterprise security, Juliette leads the company's worldwide marketing efforts, and is responsible for articulating the company vision, product solutions, technology innovations and business purpose to customers, partners and media around the globe.
Juliette has held executive positions and was an agent of growth at some of the world's largest technology companies, including Oracle, CA, Business Objects-SAP and Check Point Software. She started her career as a strategy consultant at Bain & Company and Arthur Andersen France where she acquired her business impact focus.
Juliette holds an MBA from Harvard Business School and a BA from Ecole Superieure de Commerce de Paris (E.S.C.P.) in Paris, France.
She is also a Forbes Technology Council contributing writer, an invitation-only organization for senior-level technology executives.
If you're interested in learning more about SailPoint or contacting Juliette Rizkallah, please visit https://www.sailpoint.com/.