Volume 10
| Issue 3
| Year 2007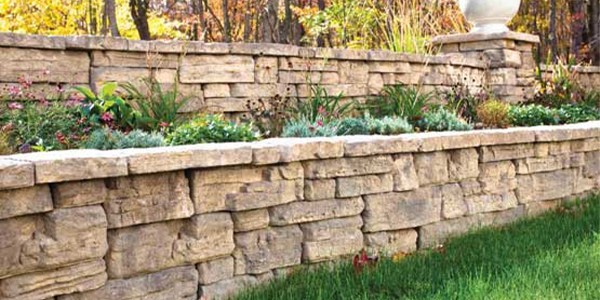 There is definitely something to be said for a construction material that was popularized during the time of the Romans and has withstood, quite literally, architectural evolutions over hundreds of years and yet remains a preferred building medium.
In fact, concrete is used more than any other man made material on the planet, according to Wikipedia.com. As of 2005, about six billion cubic meters of concrete were made each year, which equals one cubic meter for every person on earth. Concrete powers a $35 billion industry in the U.S., which employs over two million workers in the United States alone. Over 55,000 miles of freeways and highways in America are made of this material.
Notes Midwest Block & Brick Vice President Darryl Wineger, "Concrete is the second most consumed product in the world behind water."
So it's a good thing the company got an early start in the industry, arising from the sweat and hard work in 1947 of two men, Bud Schroeder and Elmer Frank, who started out making 500 blocks a day out of a garage. In 1983 the company came under new ownership; by that time it had grown to a $500,000 business. The new owner, Pat Dubbert and two partners started with nine employees, growing the business to 400 employees today with annual revenues of $100 million.
In 1983 Dubbert became President and Chairman of the Board, and the company operated from a single location in Jefferson City, Mo. Numerous acquisitions later, Midwest Products Group houses nine companies, including the original Midwest Block & Brick. Jefferson City remains the corporate headquarters.
These companies and their locations are as follows:
• Midwest Block & Brick – Jefferson City, Columbia, Osage Beach, • Wentzville, Hannibal, and Kansas City, Mo; Shawnee, Kan.; Quincy, Waterloo, and Springfield, Ill.; Paducah, Ken.; Union City, Tenn.
• Kirchner Block & Brick – Bridgeton and Valley Park, Mo.; Wood River, Ill.
• Nattinger Materials Company – Springfield, Mo.
• St. Louis Retaining Wall Company – St. Louis, Mo.
• Showcase Builders Supply – Springfield, Mo.
• Nawkaw, Mid America Insulation, and Midwest Pre-Mix, servicing all of the aforementioned areas.
Industry innovators
The company was an early innovator in the area of segmental retaining walls and pavers – this part of the business has witnessed the largest growth in the industry, says Winegar, adding, "As technology evolved we had relationships with companies that turned out to be the most innovative. Because of this we were able to take products to new markets while adding a large capacity production facility."
Two years ago, he adds, Midwest Products Group came on line with one of the most state-of-the-art plants in the Midwest, with the capacity to produce 15 million blocks a year.
Pavers, notes Winegar, offer an alternative to standard poured concrete, providing a much more sophisticated architectural feel in many colors and patterns, with easier maintenance. One of the key products Midwest offers in this segment is Romanstone. The product is highly decorative, yet rugged enough for the outdoors and can make an impressive visual statement in the driveway, patio, or walkway.
The company's natural stone products are great for both landscape & masonry applications. Midwest Products Group offers a natural stone line, consisting of seven categories: Dove Gray, Rustic Cleft, Aux Vases, Chocolate Marble, Indiana Limestone, Earthwork Gold, & Silverado. Various stones are available in selective styles; natural bed, sawed top and bottom, ashler pattern veneer, snapped or tumbled. Natural stone is available in either full bed depth or a thin face; therefore common uses include both interior and exterior applications.
Midwest Products Group offers a full line of both commercial and residential brick. A wide selection of brick from Mutual Materials and from Sioux City Brick, among others, gives Midwest Products Group virtually unlimited design options.
Each of Midwest Products Group companies offers products that are complementary to its business. Showcase makes building materials, doors, windows, cabinets and fireplaces; Mid America Insulation specializes in drilling and pumping foam into concrete block for insulation. Nattinger's business is the full manufacture of concrete products; it also distributes brick and natural stone. Kirchner manufactures concrete masonry and landscape block products and St. Louis Retaining Wall Company is a green product facility offering products for environmentally friendly projects for sustainable development. Midwest Products Group intends to expand further by offering retail outlets in southwest St. Louis.
These retail outlets, which are really showrooms for Midwest's landscape and masonry products, are truly show rooms, Winegar says. Built with state-of-the-art lighting fixtures, these centers enable the company to compete at a higher level by truly replicating outdoor lighting. This is important, he stresses, when making such an important purchase, as showroom lighting often skews a product's true color, which can have devastating effects once the stone is laid at a residence. "We put a lot of high end infrastructure in our show rooms; we use the most natural replication of light," Winegar says, adding, "We also have private meeting rooms that allow customers to come in with the builder and roll out their blueprints and discuss their landscaping plan."
To stay in touch with various construction activities, Midwest Products Group is an active member of national associations, state associations and local organizations. Midwest Products Group is a member of the National Concrete Masonry Association, the Interlocking Concrete Pavement Institute, National Home Builders Association, Missouri Concrete Association, & the Mason Contractors Institute of St. Louis. According to the company's Web site: "The story of Midwest Products Group teaches a lesson: commitment, combined with a 'Can Do' attitude and the desire to meet the ever-increasing demand for quality concrete products equals success. Today, Midwest Products Group is one of the largest and most efficient masonry and landscape companies in the United States."
Winegar adds, "This is a pretty exciting business. We're proud that we can bring unique products to the central United States."