October 11, 2019
By Michael Mansard
Previously, I discussed the critical shift manufacturers are making to focus on services over standalone products and the new success metrics for manufacturers to prove the value of recurring business models.
Today, I'm here to share that, while manufacturers have long been positioned as a late adopters of emerging technologies and new business models, new research suggests they're on a clear path of innovation and growth when it comes to monetizing connected machines with digital services.
The latest Subscription Economy Index (SEI), designed to measure the health and growth of subscription businesses across various industries, found that industrial organizations are exceeding S&P 500 industrial revenue growth rates by more than 5x with a shift to digital services (26.0% vs 5.0%). In fact, thousands of manufacturers are embedding digital services within previously standalone hardware, increasing the value of that hardware, while driving a higher contribution margin and incredible revenue growth.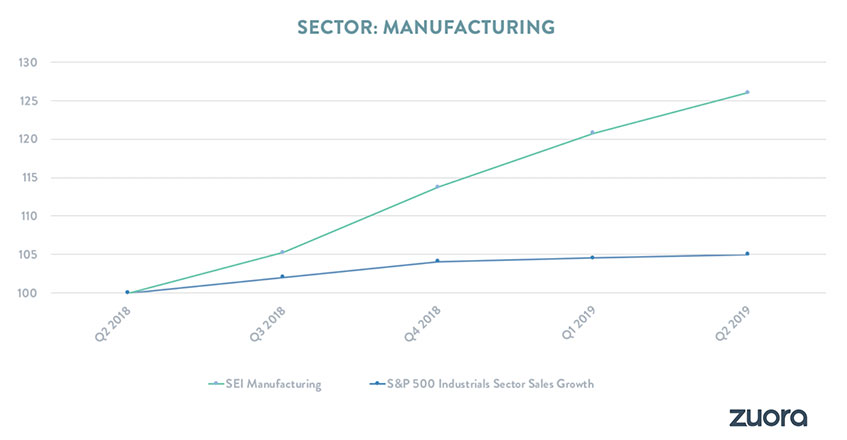 What's more, customer churn rates, the rate at which a business loses subscribers, are particularly low for manufacturing companies, with the average churn rate for the sector reaching 20.4%, lower than the average for all industries analyzed (25.5%) in the SEI. Such a low churn rate indicates that manufacturers are learning from the missteps of first-movers — creating long-standing value and truly connecting with their customers from the outset. Lower churn could also be attributed to the business-critical functions that manufacturing subscriptions serve, and the fact that these services are deeply embedded within a customer's core business operations.
Manufacturers are steadily innovating to meet the demands of today's consumers — and reaping the rewards of these end-to-end customer-centric business models. In fact, the new revenue streams that Industry 4.0 unlock far exceed the efficiency savings that manufacturers may experience, setting these organizations up for long-term scale.
Monetizing with Services: Briggs & Stratton, Whirlpool, Johnson Controls
Just look at what Briggs & Stratton, a producer of gasoline engines for outdoor power equipment, is doing with their InfoHub suite of connected power technologies. Since its beginnings in 1908 as a producer of lawn mower engines, the company has shifted its focus to digital services in order to better serve their customers and expand into new revenue streams.
Its first IoT solution, InfoHub for Commercial Turf (launched in 2017), is a brand-agnostic landscaping solution used to track crews and equipment in real-time, helping commercial landscapers reduce downtime, increase efficiency and productivity, better manage labor costs (up to 40% of a cutter's expenses), and drive revenue growth.
Another example is Whirlpool, traditionally known as a manufacturer of appliances – refrigerators, ovens, microwaves, dishwashers, washing machines, dryers, and more.
With the influx of IoT devices on the market, Whirlpool is re-imagining itself as a service provider. Its smart ovens now integrate with popular recipe app Yummly, which helps customers find recipes, organize grocery shopping, and streamline meal preparation, then automatically syncs all the temperature settings and cooking times. Whirlpool is essentially wrapping compelling content and analytics around top-class hardware to create an engaging subscriber experience.
Jason Mathew, Sr. Director of Global Connected Strategy said: "Our definition of 'product' is changing. We've been selling 'boxes' that perform important daily tasks for consumers for over a hundred years. 'Boxes' that get hot to cook. Boxes that get cold to preserve food. Boxes that spin water to clean. Our opportunity goes well beyond performing tasks. We believe the everyday acts of care in cooking or cleaning will always be easier, better and faster with our brands."
Or look at Johnson Controls which has successfully expanded from its origins as the manufacturer of the "electric tele-thermoscope," a building temperature-control device, into a global diversified technology and multi-industrial leader using digital services.
From residential and smart home technology (like intelligent thermostats) to next-generation building automation systems (like HVAC and lighting) on a single platform, Johnson Controls' focus on AI and IoT-driven solutions has enabled it to scale across industries.
The company has even ventured into the retail space with Sensormatic Solutions, which helps retailers enhance and build upon the retail experience with real-time data and insights — from loss prevention to in-store foot traffic to inventory management — in order to capture a 360-degree view of the customer.
Digital Services = Rapid Growth
It's clear that manufacturers shifting to offer digital services are scaling and reaching new customers in Industry 4.0, and the sector as a whole is catching on. In fact, IDC predicts that by 2020, 50% of the world's largest enterprises will see that the majority of their business depends on their ability to create digitally enhanced products, services, and experiences.
After all, in the Subscription Economy, manufacturers who enhance their traditional offerings to add a layer of convenience and flexibility and additional value for customers are the ones that will continue to thrive.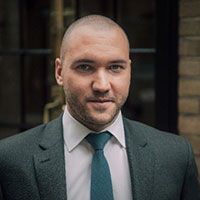 Michael Mansard is a seasoned Subscription Economy business strategist. He currently serves as Principal, Business Transformation & Innovation within Zuora's Strategy & Operations field group.