Entrada provides a ready-to-go base of operations in Mexico for small-to-midsized manufacturers to setup and run their own production.
Learn more from a recent webinar:
Mexico Manufacturing: Your Close-to-Home Labor Solution
Watch the Webinar
Large American manufacturers discovered the many benefits of production in Mexico—cost-competitiveness, young and motivated workforce, proximity, tariff benefits, less risk—that small-to-medium sized businesses can also take advantage of, but all too often don't.
Why?
Small-to-medium sized manufacturers typically lack the resources and know-how to fully understand complex and ever-changing Mexico compliance laws, navigate import/export requirements, hire staff and perform other essential general and administrative functions in another country, in another language. If they do outsource manufacturing to Mexico, they typically hire a subcontractor over which they have limited control.
There is a better way.
US-based Entrada Group enables global manufacturers of all size to establish their own base of operations in Mexico and produce close-to-home, realizing a raft of benefits without the hassles.
An owner-managed, medium-sized business, like many of its clients, Entrada Group offers decades worth of experience in providing global manufacturers with a base of operations, so they can quickly leverage the many strengths of Mexico production, regardless of size and with less cost and risk.
"Entrada employs five thousand people working for our partners at strategically positioned manufacturing campuses in Zacatecas and Guanajuato," notes John Paul McDaris, Director of Business Development. "Our clients range from small and mid-sized family operations to larger companies with multiple production locations around the world. They partner with us in Mexico for better customer proximity and quick access to a ready and able workforce."
McDaris emphasizes the difference between the base of operations Entrada offers and the approach of a subcontract manufacturer. "We provide a plug-and-play solution that enables our partners to launch their own Mexico manufacturing operations quickly and profitably, without having to first establish a legal presence in the country or make many of the expenditures typically associated with launching and running ongoing production. All the while, our clients retain full control of production and quality, thanks to our partnership"
An upcoming Industry Today webinar featuring Entrada Group on November 9 provides a closer look at the benefits of manufacturing in Mexico plus examples from two Entrada clients about how it all works.
Here are a few highlights of what you'll hear on November 9 at our webinar.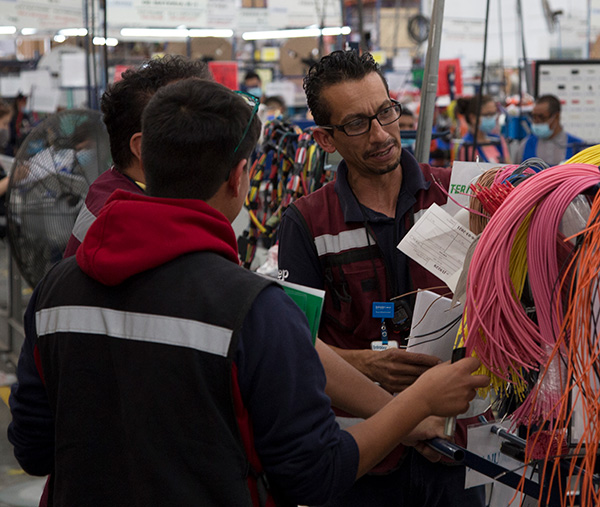 Advantages of Manufacturing in Mexico
There are numerous benefits to manufacturing in Mexico, beginning with cost-competitiveness and labor. As we'll explore during the webinar, costs for fully loaded labor in Mexico may be as much as 40% lower than in the US. Quality levels remain high and, equally important, the Mexican workforce is younger and more likely to consider manufacturing as a career, compared to US counterparts. Companies in the US operating at 50-60% capacity will appreciate the stability of Mexico's labor force.
Another major consideration is proximity. No potential tie-ups with overseas shipping that snag supply chains. And there's quick and easy access from US or Canada to Mexico, whether by flight, train or even a drive across the border.
In addition, Mexico's government is pro-business, with a strong record of investing in education and infrastructure to support the manufacturing sector. The country's free trade agreements, with more than 46 nations globally, help make it one of the world's most open store fronts.
The proof is in the pudding. Consider how Entrada Group partnered with Kansas-based harness and seat-producer Electrex and contract manufacturer Eastek International, from Illinois, for their own manufacturing in Mexico.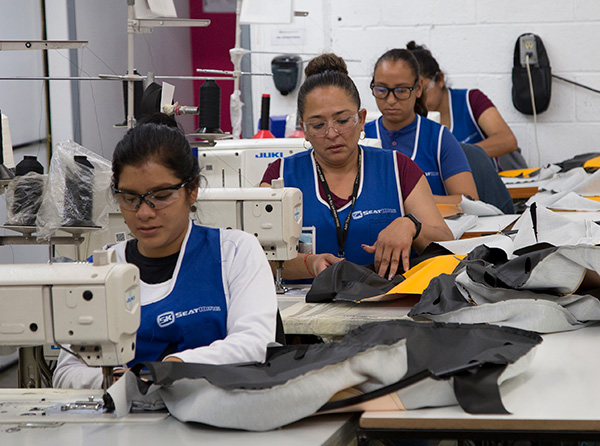 Mexico Manufacturing Success Story: Electrex
Kansas-based Electrex Inc. is an electrical systems manufacturer of wire harnesses, battery cables and electrical panels for a variety of global OEM and Tier One companies. In 2005, Electrex needed to reduce wire harness manufacturing costs or else risk losing a major customer. The solution for Electrex was to setup its own base of operations, partnering with Entrada Group.
But that is just the beginning of the Electrex manufacturing success story. In 2016, Electrex diversified into making customized seats for tractor and riding mowers, launching a company called Seat King. Initially, seats were manufactured domestically. But the complexity and cost of foam production and seat assembly wasn't competitively viable.
Electrex considered a number of alternative production locations with lower labor costs, including China. But moving seat manufacturing to Mexico was the best choice not only because of lower labor costs, but also the promise of reliability and geographic closeness. And with Entrada they found a proven partner that could manage the manufacturing operation efficiently and cost-effectively to ensure high quality.
"Electrex launched its new seat manufacturing operation in Zacatecas with 50 employees," McDaris says. "They added several new large OEMs as customers, enabling Electrex to realize approximately 30 percent growth in new business. Their story illustrates the flexibility and scalability Entrada offers. Our clients can launch production in Mexico starting with modest headcount and footprint, and then easily and cost-effectively expand with customer demand."
Mexico Manufacturing Success Story: Eastek International
According to Dave Vrioni, president and COO of Eastek International, the Illinois-based contract manufacturer was seeking an alternative to production in China, where production "looks less competitive than it once did," for a variety of reasons, including labor, freight, rent, tariff, compliance costs and intellectual property concerns.
"Mexico was high on our list of expansion candidates from early in the process," Vrioni continues. "Having been through the experience of establishing facilities in both China and Malaysia, we knew how easily things could go awry, especially when working on the other side of the world."
The company's global production experience made it clear to Eastek executives that setting up a Mexico base of operations through a trusted partner like Entrada Group would offer the best of both worlds. "It's the opposite of a greenfield approach and it was the right decision," Vrioni says.
Join the webinar to hear more about why Eastek International chose this route, despite having experience from setting up overseas production facilities on two separate occasions in the past.
If your company is intrigued about the prospect of manufacturing in Mexico, without the hassle and uncertainty of working with a subcontractor, check out the upcoming Industry Today webinar, Mexico Manufacturing: Your Close-to-Home Labor Solution.
Entrada Group guides global manufacturers in establishing and running their own base of operations in Mexico, in order to enhance competitiveness.