Manufacturers that adopt a data-driven approach can create visibility in the supply chain, reduce costs and increase profit margins.
By Donavon Yelton, Director of IT and Strategic Planning, Carpenter Industries
No industry is immune to the current impact of the COVID-19 virus. In fact, the National Association of Manufacturers (NAM) recently highlighted that 53.1% of manufacturers anticipate a change in operations and that 35.5% of those manufacturers are also facing supply chain disruptions.
While many industries are trying to find ways to navigate through the disruptions due to the COVID-19 virus, at Carpenter Industries, an automotive Manufacturer, we have implemented business continuity plans and invested in technology that has enabled the capability to navigate through uncertain times. This provides a competitive advantage as we continue to safely and efficiently serve our customers in a timely manner.
As a top Ford restoration parts maker for more than 50 years, Carpenter Industries has experienced similar uncertainty before. With the help of Sage Business Cloud X3, Carpenter Industries has implemented robust measures to its business processing technology platform including strong audit-trail tracking and analytics capabilities allowing teams to make accurate, immediate decisions in a volatile market. These innovations were put to the test during the tariff war between China and the United States, where the company was able to generate key insights on manufacturing costs, determine how the tariffs would impact the business, and use that data to make the best business decisions on how to navigate the increased costs associated with those tariffs, all in real time.
Implementing the technology to provide these kinds of measures is key to keeping ahead during times of uncertainty. Here are a few points to keep in mind for manufacturers looking to implement similar processes in their business.
Knowledge is in the data
One of the common problems many businesses face lies in the data or, more importantly, the lack thereof. Multiple departments and business units gather their own data, but work in silos, which leads to fragmentation in the data. This prevents business leaders from getting a 360-degree view of their operations in real time. Having technology that can tie all the processes together, from any business division – including procurement and inventory to sales and financials – can help organizations make more informed, strategic decisions in an instant.
With COVID-19 requiring businesses to be more agile, manufacturers that can gain real-time visibility across their supply chain, keep track of inventory, predict profitability, and warehouse operations, are better equipped to adapt quickly, forecast accurately and manage their inventory correctly, and then execute on any changes needed.
Automation where it counts
Carpenter Industries develops more than 11,000 different classic Ford parts. Making products to sell in large quantities requires cohesion, collaboration, accurate foresight and preparation. The need to automate processes for this kind of orchestration gets amplified in an unprecedented crisis like the one we're currently in. Taking full advantage of new technologies that are changing the way businesses manage their supply chains can be key in successfully scaling up production.
With data at the center of its operations, Carpenter Industries is on time and can identify cost-saving opportunities early on and throughout each stage. This kind of data automation enables business leaders to easily plan, forecast and manage inventory alongside financial information related to their supply chain. As a result, Carpenter Industries experienced significant efficiencies in its product flow to customers. By gaining real-time control over its core business processes, Carpenter Industries can optimize its workflow and automate functions across specific inventory and supply chain functions that streamline order processing, stock transfers and physical counts.
Manufacturers that can adopt a data-driven approach to every aspect of a business can create visibility into their supply chain and highlight where they can reduce costs and wait times, while increasing profit margins. Having a scalable manufacturing platform in place can not only facilitate access to real-time manufacturing data but also eliminate cumbersome and labor-intensive paper documentation processes, freeing up time for an organization to invest in other parts of their business.
The COVID-19 crisis will have long-lasting effects on many industries. How businesses respond will differentiate them from competitors. Investing in the right technology can also deliver long-lasting business impact, enabling manufacturers to be more agile and have true visibility over every aspect of their business processes in the face of an unprecedented crisis. This fourth industrial revolution will require a fundamental change in the way businesses, and more importantly, manufacturers operate in order for them to remain successful and stay ahead of the curve.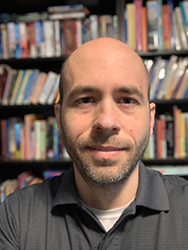 Donavon Yelton is the Director of IT and Strategic Planning at Carpenter Industries. He has over 16 years of experience in selecting, implementing and supporting various technologies to enhance and streamline business operations in a manufacturing and retail/wholesale environment.