Volume 21
| Issue 2
| Year 2018
Click here to read the complete illustrated article as originally published or scroll down to read the text article.
The same day President Trump addressed the country with his State of the Union and spoke about keeping manufacturing jobs in the United States, a new tech hub opened in Baja California. Despite the President's statements on the subject, studies show that automakers still invest in Mexico. And they will continue to do so now that CETYS University has opened a new innovation hub with a focus on engineering available to industries in the U.S. and abroad.
On January 30, CETYS University, one of the top higher education institutions in Mexico climbing the ladder of international recognition, inaugurated the Center for Innovation and Design (CEID), just 2 hours from San Diego, California.
CEID will develop projects in the aeronautics, automotive and electronics sectors in partnership with manufacturers such as Honeywell, Gulfstream and United Technologies, among others. It will also strengthen collaboration initiatives with leading academic institutions including MIT, ASU and Embry Riddle Aeronautical University.
With eight labs that can host up to 10 innovation and design projects simultaneously –including the Applied Research lab which is modeled like an industrial shop floor – CEID is on its way to becoming an international innovation hub. Industries from Mexico and the United States have joined forces with CETYS and its center to create a place where the development and experimentation of new products in various sectors, including aerospace, automotive, medical device manufacturing, and renewable energy, can take place, along with the creation of patents, process design and research studies.
CETYS' location in Baja California, a region ripe with innovation, positions CEID in a unique site. With a population of just over 3 million, and proximity to important cities in the United States, such as San Diego, the CaliBaja region has an incredible tech ecosystem with strong assets for cross border cooperation in the areas of education, research, development and manufacturing.
As the first Mexican university accredited by WASC, (Western Association of Schools and Colleges), CETYS has engineering programs accredited by ABET (Accreditation Board for Engineering and Technology) and benefits from associations with more than 80 international universities. CETYS students have access to experts from an extensive network of academic institutions with which it has alliances around the globe. More than half of our recent graduates participated in student mobility programs in the U.S., Spain, and China, among others. A new Global Program for Industrial Engineering, taught in English, will be offered starting this summer.
International Collaboration
Offering a great benefit to national and international companies and engineers, CEID and its collaborators work on projects in an experimental stage with CETYS researchers and students, without putting intellectual property at risk when facing and solving real Manufacturing 4.0 problems.
Companies such as Gulfstream, a manufacturer of private jets, and Skyworks, of semiconductors, already have projects committed to develop at CEID. The goal of these and other projects at CEID is to derive patents, new products or design. Such activity fosters innovation while empowering the region, CETYS students, and companies. All projects at the center require that a collaboration take place between a company, faculty from CETYS' engineering school and graduate students.
Innovative Labs
The center boasts of a second laboratory in Advanced Manufacturing with software tools such as Solidworks and Catia, and coexists with high-resolution rapid prototyping machines, 3D scanners, and five-axis CNC's.
Students have access to Oculus Rift virtual reality helmets, which Facebook currently uses to encourage creativity among its collaborators.
The Renewable Energy lab, with solar panels, has a wind generator with a wind tunnel that allows the generator to be refurbished, as well as a biomass or biogas generator (still to be defined), among other characteristics.
CEID's goal is to integrate different technologies to create consumption and capacity scenarios in cities or confined spaces.
A fourth laboratory is Robotics and Automation for industrial processes, with up to three robotic arms, and another one with Production Systems, which will have reconfigurable conveyor belts to model intelligent manufacturing environments.
The lab space also includes areas for Computation and Internet of Things and Radio Frequency, as well as Animation and Visual Effects for multimedia applications.
Overall, the goal is to generate at least 10 projects a year for all of the sectors including aeronautical, automotive and electronic, which are the most relevant for CEID. The center allows students to face real problems of the industry from early stages in their careers, which allows for the development of new skills and abilities.
Lab Descriptions
Advanced Manufacturing (software tools, 3D scanners);
Robotics and Automation (for industrial processes, with up to three robotic arms);
Sustainability and Renewable Energies (for modelling and designing energy storage and distribution systems;
Production Systems (for design, modelling and optimization of industrial production systems);
loT & Radio Frequency (development of industrial and commercial IoT solutions);
Animation and Digital Graphic Design (2D and 3D animation for commercial and entertainment purposes such as video game design);
Innovation & Creativity (development of frameworks for innovative problem solving in collaborative and cooperative environments using cutting edge technology such as VR and AR).
CEID began in 2015 and represents an investment of 205 million pesos in the first stage, which includes equipment and infrastructure. Most of the resources – around 70 percent – come from companies and the community itself. The rest comes from the government.
The next two phases involve the integration to the campus and the transfer of the engineering laboratories to the new facilities.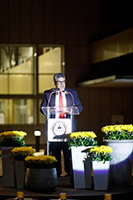 By Jorge Sosa, Dean of the College of Engineering at CETYS University