2018 Industry Report: Newly released data shows manufacturing fatalities increased.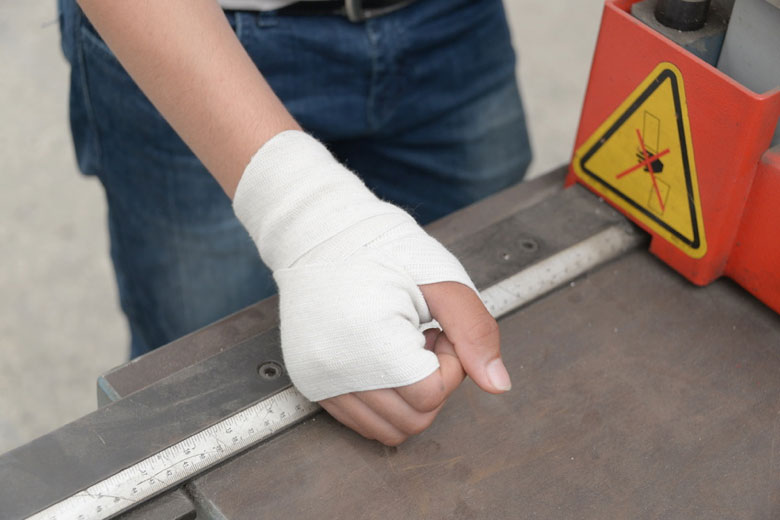 In the U.S., there are approximately 12.5 million workers in the manufacturing industry. According to new census data that's been released from the U.S Bureau of Statistics, these workers are at greater risk of fatalities than ever before from work-related accidents. Fatalities from manufacturing accidents jumped by 13% in 2018 from the previous year from 5,147 to 5,250 total deaths. Here are the most common causes of death in manufacturing facilities and what can be done to prevent them from happening in the future.
Slips and Falls
In 2016 alone, 697 workers died as a result of fall-related accidents. This can be prevented with proper safety procedures in place. The most common culprits for fall-related injuries are uneven floor coverings and surfaces, cords, wet surfaces, poor lighting, and obstacles placed in commonly traveled pathways. Employees looking down at their cell phones while walking is also another major hazard. Stairs and ladders are also threats to employee safety.
You can reduce these risks by performing regular assessments of the workplace to spot potential hazards. Ensure that all cables and cords are secured properly and out of walkways. Any spills should be immediately cleaned up and areas should be well-lit so workers can see where they are going at all times. Find ways to smooth out uneven flooring or mark them to make employees aware. Make sure that walkways are clear of any obstacles at all times.
Machinery Accidents
According to the data that was released, machinery is the second-largest source of death in manufacturing facilities. The most common industries where fatalities happen are fabricated metal products, wood products, and nonmetallic mineral products. Making sure that employees are properly trained and equipped with personal protective gear can greatly reduce the impact of potential injury or death. Ensure that your employees are not working in isolated environments where they can't call for help if the need arises.
Deaths from motorized vehicles such as forklifts and cranes are also another major concern. Make sure employees are properly trained to use the equipment and follow protocols. Forklift drivers should use lights and horns when other employees are nearby to alert them of their presence. Workers should also wear protective equipment to prevent them from falling when they are high above the ground on a crane or ladder. Employees should also be trained to be vigilant in keeping alert regarding their surroundings and any potential hazards that may be nearby.
Chemical Hazards
Chemical hazards can pose danger to employees if not properly handled and stored. Each year, approximately 190,000 illnesses and over 50,000 deaths are attributed to chemical exposure in the workplace. You can mitigate these risks by making sure that all chemicals are clearly labeled and locked away in a well-lit and ventilated area. Keep material data sheets nearby that employees can easily access when needed. Also, make sure that your employees wear protective equipment and have been properly trained on how to use and store the chemicals.
Substance Overdoses
Drugs and alcohol overdoses continue to be a major source of fatalities in the workplace. The number of deaths has increased from 272 deaths to 305 in total. This is the sixth year in a row that this number has increased.
Fires And Explosions
Employees in manufacturing facilities are often exposed to highly combustible materials. This can lead to fires and explosions which can cause serious injuries and even death. Approximately 37,000 fires occur at manufacturing plants every year, according to the National Fire Protection Association. Keep flammable liquids more than 55 feet from areas where any sparks could fly, such as welding or torch cutting work. Take steps to eliminate combustible dust in the workplace as much as possible.
Falling and Swinging Objects
Approximately 10% of manufacturing deaths occur from swinging and falling objects. Rigging failures, equipment malfunctions, and shifting materials are common causes for workers to get seriously hurt. Make sure loads are properly secured with straps while in transport. Have employees wear protective headgear around moving equipment such as robotic arms. Make sure totes and crates are properly stacked to prevent them from accidentally falling over.
As a manufacturing facility, ensuring your employees' safety is your highest priority to prevent death from preventable accidents. The number of emergency room visits total around 110 million each year and you can reduce this impact with the proper protocol and procedures. Working to mitigate risk can also help a company increase productivity and improve their bottom line, as well. Keep your workers as safe as possible and your business will thrive long into the future.
Louann Moss holds a Bachelor's degree in English and Creative Writing. She currently writes for a variety of industries and can't resist a good story when she comes across one.