Manufacturers can learn three key factors to improve their workers' experiences while keeping them safe amid COVID-19.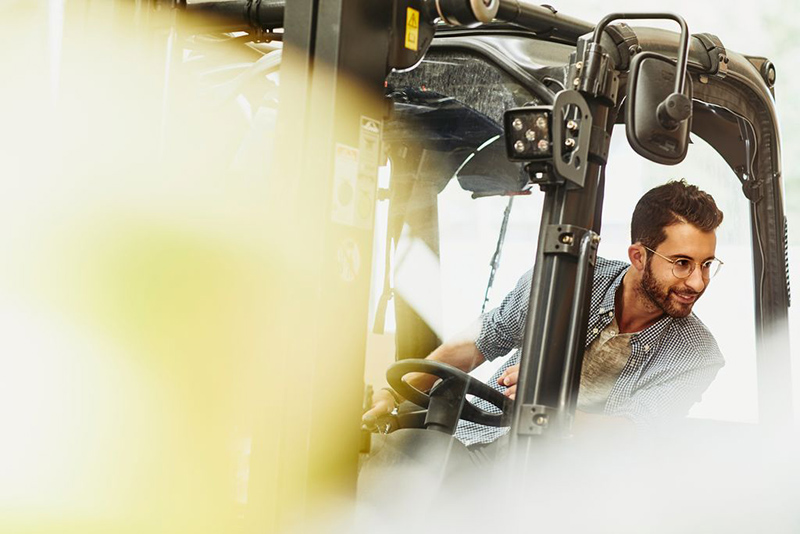 By Greg Dyer, Commercial Staffing, Randstad US
There's no doubt that COVID-19 has placed a tremendous amount of strain on our supply chains, but that's what makes the fact they mostly held together all the more miraculous.
And yet I'm sure if you went behind the scenes at any of these resilient facilities and asked them, they'd most likely tell you they uncovered plenty of areas along the way that could be improved to make the process of staying open during a pandemic easier, safer and more efficient. That's understandable — after all, our supply chains have never faced a challenge quite like this before. But that's all the more reason right now to reflect on how we can help make them even stronger going forward.
Upskill for agility
Manufacturing and logistics leaders have long understood the importance of making their operations more tech-forward, but the need has never been greater to accelerate than transformation.
Savvy manufacturers have already identified this need. Amazon, for instance, announced its $700 million Upskilling 2025 initiative last year. The program was designed in large part to help fulfillment staff gain the expertise they need to be able to transition into more tech-heavy roles. Better tech infrastructure is a general guideline that could likely be put to use to improve manufacturing operations across the country. So look to your own processes: Where did you feel weakest or most severely struck by COVID-19? Wherever that may be, consider putting new systems in place, creating new teams or teaching new skills to better protect your operation in the future.
Safety is all in the scheduling
The risk of exposure to COVID-19 remains, which means workers will be evaluating the safety of their work environments with greater scrutiny. So attracting talent back to your workplace, both today and once a vaccine is available, will likely boil down to how well you're able to secure the health and safety of your workers.
There are two phases you'll have to worry about as you usher in this new era of working. The first deals with more practical return-to-work safety measures, like having enough masks, gloves and hand sanitizer available, as well as following OSHA guidelines around workplace health and safety. The second will entail making more sweeping operational changes to the way you conduct business.
In the near term, clearly delineating foot-traffic pathways with arrow markings, or spacing out six feet of standing room for areas where gatherings are likely to form, are important measures to take. But securing safety onsite goes beyond just making a few workplace alterations, as more active management around the number of workers who show up daily will be needed as well.
Of course, scheduling presents unique challenges — even in the best of times. But what once might have only registered as a harmless blip to production now carries potential health risks. Staffing a surplus of workers in a confined location could hasten the spread of the virus; on the other hand, too few could create the need for an under-the-weather worker to continue working on site. Scheduling the right amount of people is always the goal, but now more than ever, you need to make sure you get it right. Look to incorporate more flexible scheduling patterns along with multi-shift models to prepare employees for on-the-fly changes, should you need to make them.
Staffing up to succeed in the new normal
Once you've strengthened the safety of your operations, it's time to welcome workers back.
As millions of socially-distanced, shut-in Americans engage e-commerce services to meet their shopping needs, manufacturing and distribution support will be needed to ensure goods continue to get produced and delivered on time.
Randstad's own employment data has shown demand rise in areas like motor vehicle operation, which has seen a dramatic 25 percent increase in need since the beginning of March. But that's just one standout area — demand for manufacturing and warehouse roles as a whole is up between 10 and 20 percent.
So what do all these numbers tell us? That despite the impact COVID-19 has had on the economy as a whole, our industry remains relatively stable. And if that's true, then it's all the more reason why we mustn't squander the position we're in. Instead, we should seize it as an opportunity to push for greater innovation. Along the way, we can make our processes more efficient, our workplaces safer and our supply chains stronger for the future.
Greg Dyer, Commercial Staffing, Randstad US
Greg leads Randstad's in-house services concept and enterprise strategic accounts team, where he is responsible for strategic commercial sales, client delivery and account management for many of Randstad's largest, most complex clients. Greg oversees a team of strategic account directors and in-house leaders and has a proven track record of establishing solid go-to-market strategies, setting and communicating clear vision and goals, and executing and delivering outstanding results in terms of growth and profitability. Under Greg's leadership, Randstad has significantly improved its strategic client delivery and fulfillment in many client staffing programs.