In 2005, only 8% of U.S. crude oil was developed from wells that underwent fracking. By 2019, the amount grew to more than 63%.
The terms 'Fracking' and 'Eco-friendly' might not go with each other. But 'Eco-friendly fracking' is a term that is becoming a buzzword in the Oil & Gas industry and has the potential to wipe out any environmental concerns that arise during traditional fracking. Whatever the pace of the energy transition, the world will continually rely on oil and natural gas for much of its energy needs. And to extract these elements, fracking is an essential step. However, traditional fracking causes environmental pollution and many other ill effects on the ecosystem. Let us take a sneak-peak into the world of fracking chemicals.
The Rise of Hydraulic Fracking in the US
The period of 2005 to 2020 proved to be a bucket full of positivity for the oil and gas industry in the United States. The U.S. oil production has leapfrogged significantly, during this period, driven primarily by production from hydraulic fracturing.
A recent report from Department of Energy reports that, in 2005, U.S. crude oil production was 1.9 billion barrels and natural gas production was 18.1 Trillion cubic feet. By 2019, it grew considerably to 4.5 billion barrels and 34.0 Tcf, respectively, which amounted to a 137 percent increase in oil production and an 88 percent increase in natural gas production during that period.
Hydraulic fraking in U.S. crude oil production leapfrogged during 2005-2019 as conventional crude oil production remained stagnant. In 2005, only 8% of U.S. crude oil was developed from wells that underwent fracking. By 2019, the amount grew to more than 63%.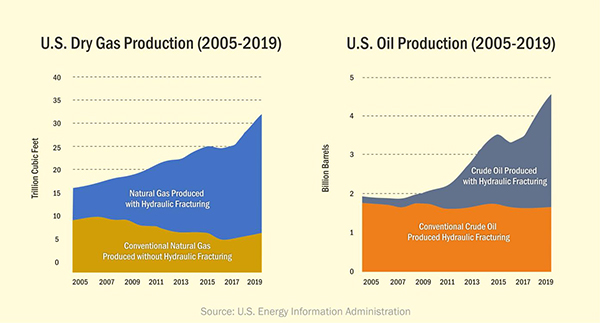 There has been an incessant increase in the share of hydraulically fractured oil & gas in the total production of oil & gas in the US. In terms of oil, hydraulically fractured oil accounts for more than half of the US's oil production, whereas hydraulically fractured gas accounts for nearly two thirds of the US's natural gas production.
With Just 0.5% Volumetric Share, Fracking Fluids have Much Larger Impact
Fracking, as we all know is a process in which the mixture of water, sand, and a particular amount of combination of chemicals are injected at high-pressure into the rocks to extract gas and oil through the head of the wells.
The fracking fluid typically consists of 98 to 99.5% of water and sand and 0.5 to 2% of chemical additives namely biocides, crosslinker, corrosion inhibitor, friction reducer, surfactant, clay stabilizer, gelling agent, scale inhibitor, and breaker. Sand prevents the closing of created fractures/fissures. Fracturing fluid enhances the extraction process and thus increases the quantity of the hydrocarbons to be extracted.
These additives are just 0.5-2% of the total fracking fluid, but if we consider the millions of gallons of water being used during a fracking operation, the amount of these additives tends to be very large. If roughly estimated, a four-million-gallon fracturing operation would use 80 to 330 tons of chemicals which is a huge amount and which can harm the environment.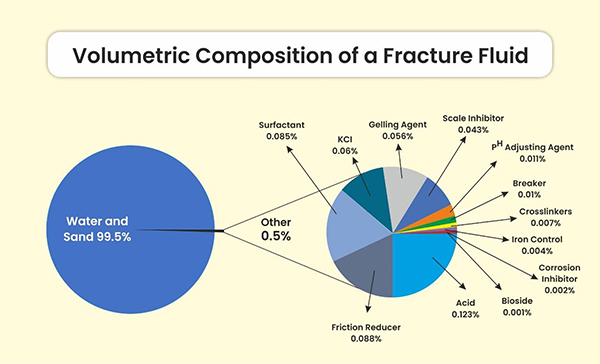 Ill-Effects of Fracking Fluids
Well, lamentably, the chemicals used in this traditional fracking include methanol, ethylene glycol, and propargyl alcohol along with many other fracking fluids, which are considered TOXIC.
People residing in the nearby areas of fracking mines have been constantly complaining about several health issues. Increased health risks like, nose, eye, and throat infections, cardiovascular issues, respiratory problems, cancer-related hospitalisations have been noted.
The people residing near and around the fracking sites also worry about the quantity of the water they have. Fracking not only affects the quality of the underground water but also the process uses a huge amount of water. Estimates suggest that fracking a well can require up to 55 million litres of fresh water that becomes 'wastewater' which is toxic and may leak into the local lakes and rivers.
Eco-Friendly Fracking Chemicals – The Next Breakthrough
With rising awareness about the ill-effects of traditional fracking fluids, there is a growing inclination towards the usage of eco-friendly alternatives. The eco-friendly fracking chemicals are biodegradable and thus, are not harmful to the environment. These fracking chemicals have lower toxicity and meet the environmental regulations.
The manufacturers and suppliers of fracking chemicals are focusing on the green chemistries to make fracking, environmentally friendly. These chemicals are not only safer to the environment and eliminate the risk of exposure to workers, but also optimize the productivity of the wells.
Various types of fracking fluids are used, such as slickwater, linear gel, crosslinked gel, and N2 & CO2 based fracking fluids. Each of these fracking fluids uses a different combination of fracking chemicals.
Slickwater fracking fluid is commonly used in gas wells. The main fracking chemicals used in slickwater fracking fluid are friction reducer, biocide, surfactant, breaker or clay stabilizers.
Linear gel fracking fluid mainly include chemicals such as gelling agent, biocides, surfactant, breaker, and clay control. It is used in both, oil and gas wells.
Crosslinker is the main fracking chemical for crosslinked gel fracking fluids. In addition to crosslinker, other additives which are possibly used in this type of fracking fluid are gelling agents, buffers, biocides, surfactants, breakers, and clay control. It is mainly used for oil and high liquid wells.
Other types of fracking fluids are N2 and CO2 based fracking fluids which use less additives as compared to other fracking fluid types. Waterless fracking is likely to save huge volumes of water being used in fracking operation and also make fracking possible in areas facing water scarcity.
Gelling agents, crosslinkers, surfactants and friction reducers are among the most-commonly used (top 4) chemicals together accounting for two-thirds of the global market for eco-friendly fracking chemicals, according to Stratview Research.
Market Developments of Eco-Friendly Fracking Chemicals
According to Stratview Research, the annual demand for eco-friendly fracking chemicals is approx. US$ 6.0 billion (in 2020). The eco-friendly fracking chemicals could witness an upsurge in their demand offering a total sales opportunity of more than US$ 35 billion during the next five years, most of which will arise in the US. As a result, all the leading players are headquartered in North American region.
The eco-friendly fracking chemicals market is highly consolidated with the top four players (Halliburton Company, Schlumberger Limited, Baker Hughes, a GE Company LLC, and Newpark Resources, Inc.) capturing >65% of the total market in 2020.
Stratview Research states that the recovering crude oil prices is compelling the operators to carry out hydraulic fracturing activities at a good level. And due to the increasing awareness of the environmentalists, the market for eco-friendly fracking chemicals is likely to gain traction in the coming years. Various regulations passed by the government regarding environment protection are likely to propel the market.
Paving the Way Towards Sustainability
The economic slowdown caused by the fight against the coronavirus took a toll on the Oil and Gas industry as well. One of the positive outcomes of this pandemic has been a surge in interest in renewable energy. Governments are keen to further invest in clean & green renewable energy after the world unlocks from the lockdown. To know how O&G industry responded before & during the pandemic, let's check the stats (Source: Baker Hughes) –
– In February 2020 – active rig counts were around 2125 which steep dropped to a figure of 1514 in the month of April. The outbreak hammered the industry terribly by the end of 2020.
– Positive signs of recovery and growth were visible after the slow-down of COVID-19 outspread, as the rig count over the globe increased from 1016 in October 2020 to 1270 in February 2021.
– The growth arithmetic reversed after the hit of the Covid19 second wave. But this time, the downfall is negligible and the count of rigs in May was 1262 rigs all over the world.
Love the Mother Earth. Don't Frack it, Rather, ECO-FRACK IT!
A familiar fact – The main function of fracking is to extract natural gas and oil from shales. Traditional fracking uses high-pressure clinically-treated water and other chemicals at enormous environmental cost and hurts our mother earth.
Yet another familiar fact – We don't have planet 'B'.
The toxic fracking chemicals lead to soil and water contamination, which not only pollutes the nearby drinking water resources but also affects agricultural production. Considering many such environmental costs, the world is about to witness a high rate of replacement of traditional fracking chemicals with eco-friendly fracking chemicals in the coming years.