Oklahoma manufacturing company, Rapid Application Group (RAG), is utilizing its resources to help others during the COVID-19 pandemic.
The Oklahoma Department of Commerce launched in April 2020 the Reboot Program to address the negative effect the COVID-19 pandemic had on Oklahoma businesses, specifically manufacturers. Under the program companies were eligible to receive between $25,000 to $150,000 from the state to help them cover the costs to retool to develop new products and/or expand current capabilities, to meet current and pressing needs within the country to help combat COVID-19. Out of the 349 companies that submitted applications, 37 companies were awarded funding. The following is a profile of one such company:
Rapid Application Group (RAG), an Oklahoma-based additive manufacturing company and Disabled Veteran owned, located within a SBA designated HUBzone, which normally develops and supplies parts for the aerospace, energy and healthcare industry has shifted gears during the pandemic and is working around the clock to design, develop, test and manufacture two different types of adaptable, reusable masks for healthcare professionals, first responders, and veterans.
RAG has been using resources it already had on hand to make a positive difference in the Oklahoma community. "This is a crisis that needs a solution right now. That's what we're doing," said Terry Hill, former medevac pilot and CEO of RAG. "It's just in our core DNA. If there's somebody that needs help, if we have the resources, we're going to give them everything that we can." Terry along with Jason Dickman, co-founder and COO of RAG, started shifting their business to medical equipment manufacturing in early March as they saw the call for help arise. Along with replaceable filter masks, personnel are currently manufacturing face shields, pump adapters for distillery made hand sanitizer, and COVID-19 nasal swabs.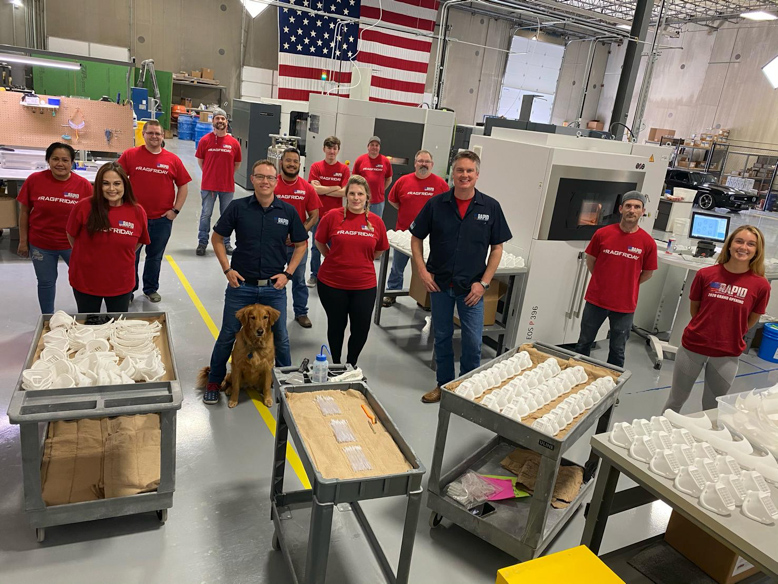 In addition to production efforts for the State of Oklahoma, RAG is also delivering PPE to less fortunate Oklahomans, veterans, and first responders that do not have a budget for this equipment through their OK 501 c3 charitable organization, RAGFriday.org. The RAG Friday Foundation is also helping eradicate veteran suicide as a national concern, improving the lives of veterans and their families. "We encourage folks to donate and volunteer on our website in order to make a difference so others may live" said Hill.