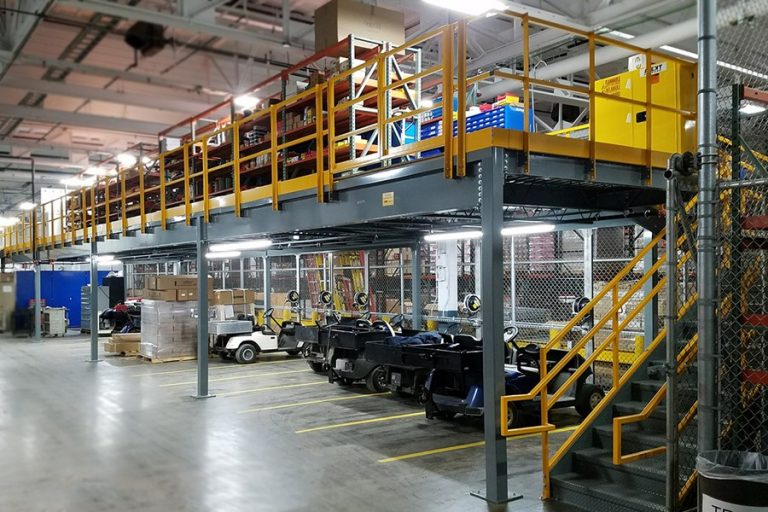 Challenge:
Millipore Sigma was looking for a better way to organize their maintenance area. Previously in their shop, they had a well-used shelving system which they used to store their many parts and tools, leaving little room for much else. Most importantly they need to have the space to accommodate an expanded work station for their mechanics, a storage area for their carts, and give them an overall more organized facility.
Solution:
With their to solve this space issue, Sandy Silverberg worked with them and Panel Built, Inc. to develop a mezzanine system that could help clear up some of this space. With the opened up work space they are able to store all their parts on the mezzanine, allowing them to get rid of their old shelving system. The freed up below has been reorganized and repurposed to provide a parking and charging station for their maintenance carts. Overall, the transformed workstation offers an expanded mechanics' station and an overall clutter-free workspace.
Sandy stated on the project, "Our well -seasoned installers fell in love the Panel Built's newly engineered and designed mezzanine system. As they stated, 'Probably the easiest mezzanine they have ever assembled'. Everyone commented how they were impressed with the high gloss powder coat finish."
Panel Built Delivers:
a 15′ x 81'6″ grey mezzanine system with performance yellow handrailing and kick plate. The mezzanine comes with a swing gate system for easy loading and unloading and a live load PSF (Pounds per Square Foot) of 150 to provide more than enough support for the additional racking and work area above. The mezzanine was designed, manufactured, and installed to meet IBC code and to provide column spacing that accommodated the much-needed cart maintenance area below.
Panel Built, Inc.
https://www.panelbuilt.com/
800.636.3873
info@Panelbuilt.com