October 24, 2018
By: Guneet Bedi, GM Americas, relayr
From analyst reports to CEO surveys to tales from industry insiders, there is no shortage of coverage about internet of things (IoT) project failures. In fact, according to a recent Cisco survey, only 26 percent of IoT projects can be considered a complete success.
If you read between the lines, you'll see why many of these projects fall short. Nearly two-thirds of IoT decision makers responding to a Wall Street Journal survey said at least 25 percent of their IoT solution was customized. Why? Because no two industrial environments are the same — and that's why ready-made industrial IoT solutions don't exist.
Implementing an IoT solution that addresses your unique business needs isn't like buying a new smartphone or a laptop. Prepackaged solutions simply won't work for industrial companies. For this reason, investing in a one-size-fits-all solution is likely to result in your digital transformation being among the 75 percent of IoT projects that fail.
Without adequate planning, the seeds of failure are planted early in the implementation process. No two IIoT solutions use the same technologies or methods, so any company that begins its digital journey by focusing on technology is already moving in the wrong direction. To start in the right direction, you need to start with a business question, not a technology question: What are the business problems we're trying to solve?
By starting with and keeping your ideal business outcomes in mind, you are free to look at technology as the vehicle to solve your problem. That may seem like a no-brainer, but many organizations attempt to make their business case fit the technology instead. After all, according to Abraham Maslow, "If all you have is a hammer, everything looks like a nail."
The Cisco survey also found "that the most successful organizations engage the IoT partner ecosystem at every stage." This means that your second question should still not be about the technology! It should be: Which IIoT solution provider can be a true partner for our team, helping deliver customized end-to-end solutions that solve our business problems?
The right partner will get in at the ground level and keep helping you after your project rolls out. The costs and risks associated with trying to implement an IIoT solution on your own are staggering, regardless of the method. The time and resources needed to understand your IT and OT environments' interdependencies and develop in-house solutions can spiral out of control quickly. The potential damage to your operations and brand can be significant if the project goes badly.
Consider the difference between ordering a high-performance race car customized to your specifications versus ordering individual parts and putting it together in your garage. You may eventually get the car running and on the track, but at an enormous investment of time and resources and a significantly higher risk of failure.
Partnering with an end-to-end IIoT solution provider, not just a technology vendor, will mitigate those major risks. The right partner will put your business outcomes at the center of the solution, so you won't waste valuable time, money, and resources to gain expertise in sensors, platforms and connectivity protocols. The ideal partner will leverage your business expertise and use their IIoT experience to guide you through the journey from day one. They'll tailor the solution to your unique needs and environment and provide ongoing support.
Don't risk your company's future on the misconception that it needs in-house IIoT experts. Instead, choose an IIoT solution provider that is just as invested in your business outcomes as you are. The right partner will be with you every step of the way.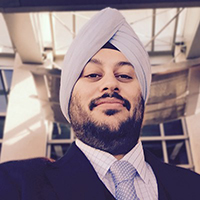 Guneet Bedi, relayr
General Manager Americas
Guneet Bedi is a seasoned technology executive with experience and demonstrated successes in global technology companies across enterprise software, IoT applications and computer networking industry. Among others, his various roles span from product management and strategy & business development to pre-sales and software product development. Global experiences he brings to the table include Cisco Systems, Symantec Corporation, Oracle Corporation, and Telelogic AB (acquired by IBM's Rational Software division). In his spare time, he is also a mentor to various early stage startups in Silicon Valley.