Volume 10
| Issue 4
| Year 2007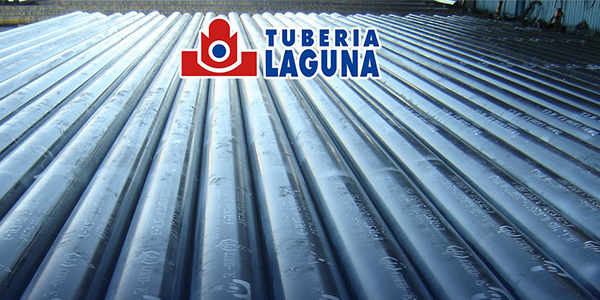 Oil, gasoline, natural gas, even water – all can be considered to be very valuable entities these days. However, they all can be considered worthless while still in the ground and, once extracted, they have to be moved in large quantities.
This calls for pipes
But not just any pipes: carbon steel pipes whose quality has been rigorously tested, pipes that measure up to the strict standards of the American Petroleum Institute; pipes manufactured at a high level of expertise and delivered to the door of the customer in the desired variety of styles, sizes, and grades.
In Mexico – and increasingly all over the world as well – much of that steel pipe is supplied by TUBERÍA LAGUNA, S.A. de C.V., a member of the Tylsa Group. Since 1967, TUBERÍA LAGUNA has been manufacturing high-quality steel pipe for the extraction of water from deep wells and for the transportation of hydrocarbon fuels. Over the past four decades, TUBERÍA LAGUNA has grown to be the leader in Mexico's carbon steel market, surpassing its customers' expectations and providing a high level of quality and customer service to the industry.
Past to present
TUBERÍA LAGUNA, a part of the Tylsa Group, was founded in 1967 in response to the nation's growing industry. All the acres of cotton plants needed irrigation water brought up from deep wells. This required the supply of very dependable quality pipe. Later on, in 1976, TUBERÍA LAGUNA realized the potential of its product after acquiring one of the most modern pipe mills in the country.
As the country's oil production began to boom along with the price of oil, the company began selling its products to the state oil company, Petróleos Mexicanos (PEMEX), as well as its contractors. Growth was steady, and then in 1985 TUBERÍA LAGUNA also began exporting pipe to North, Central, and South America; today, it still exports 20 percent of the pipe it produces. The other 80 percent makes up almost a third of the entire carbon steel pipe used in Mexico, making TUBERÍA LAGUNA the market leader, with 18 percent annual growth since 2001. Furthering the company's growth is a sales office in Houston, Texas.
Infrastructure
TUBERÍA LAGUNA's production facility is located in Gómez Palacio in the state of Durango, in the northern part of Mexico. In its 96,000 square meters of production space, the factory produces between 90,000 and 100,000 tons of pipe per year, and at any given moment the company has 20,000 tons of product ready to ship in its ample storage space in Gómez Palacio or in one of its nine distribution centers around Mexico: Hermosillo, Chihuahua, Monterrey, Guadalajara, Irapuato, Mexico City, Puebla, Villa Hermosa, and in Gómez Palacio itself.
The piping ranges in size from 6 5/8 inches to 24 inches in diameter. Wall thickness also varies from 3/16 to 1/2 inches, and the pipe is distributed in lengths of 20 and 40 feet by TUBERÍA LAGUNA's own fleet of trucks. In addition, the company recently opened a finishing plant in its production facility, giving TUBERIA LAGUNA the capacity to protect pipe with Fusion Bond Epoxy (FBE), Three Layer Polyethylene (3PE), Three Layer Polypropylene (3PP), and other anti-corrosion and value adding treatments.
Making the product
To make the pipe, TUBERÍA LAGUNA uses some of the most modern technologies and techniques on the market. Starting with hot rolled coil steel, the process involves both careful manufacturing and rigorous quality standards. First, the steel is unrolled, flattened, and squared off. As the steel proceeds through the mill it is cold formed into a "U" shape, and later the two ends of the "U" are placed together into the rudimentary form of what will become pipe.
At this point, the material is fused together using high-frequency resistance welding that reaches up to 1,200 degrees Fahrenheit. The new pipe is subjected to a visual inspection and then an ultrasonic inspection to check the quality of the weld. The material is then subjected to induction heating to complete the formation of the pipe before it is cooled, straightened and basically finished.
Hi-tech quality assurance
It is at this point in the production process that TUBERÍA LAGUNA distinguishes itself from its competitors. Like many pipe manufacturers, TUBERÍA LAGUNA has a whole raft of different certifications that mean it has achieved high quality standards. TUBERÍA LAGUNA has been certified by the American Petroleum Institute with an API-5L since 1977, as well as an API-5CT. It also holds certifications from the Mexican Institute of Water Technology and Petróleos de México, as well as an ISO-9000:2000 manufacturing certification.
Yet in addition to complying with all these norms and certifications, TUBERÍA LAGUNA's technical expertise means that it can go above and beyond the call of quality to bring its customers extra value. In addition to an initial ultrasonic test using some of the most high-tech equipment in Mexico, every pipe is ring tested for its physical and chemical properties. Each pipe is also hydrostatically tested up to 4,000 psi, then subjected to another ultrasonic review, as well as a final visual check.
"TUBERÍA LAGUNA has quality standards that are more rigorous than the international norms with which we're certified," said Jorge Santibanez, head of marketing. "This is so we can guarantee with greater confidence that our products comply with and exceed the applicable international norms."
Serving the customer
This high quality standard and impressive technological method are a result of the emphasis TUBERÍA LAGUNA puts on its tests and controls laboratory. The laboratory works with some of the most cutting-edge equipment in the business to carry out chemical, metallurgical, and physical analysis on the steel. In addition to ultrasound, it can also test for hydrogen-induced cracking (HIC). The accomplishments of TUBERÍA LAGUNA's laboratories are such that the company contributes to the Pipeline Research Council International, an organization founded in the U.S. with the goal of furthering the technological development of the industry.
Of course, all that laboratory know-how has a business-side application as well. With so many knowledgeable technicians and engineers at its disposal, TUBERÍA LAGUNA can provide its customers with extra help in selecting the product that will be right for whatever job is being carried out.
A cut above
At the moment, Santibanez said, these are the two major advantages that TUBERÍA LAGUNA maintains: high quality and customer service. In a market occupied mainly by local competition, with a product that is generally thought of as a commodity that can't be technically improved much beyond where it is now, customer service and quality are the two advantages TUBERÍA LAGUNA intends to exploit.
Along with that, the last few years have been good ones for the company's bottom line. The company has posted annual growth for the last five years of around 18 percent. For the next few years, it doesn't expect to grow less than 10 percent annually. Of course, looking to the export market is something TUBERÍA LAGUNA will be doing more of in the future. Already it has sold pipe in the U.S., Costa Rica, Belize, Canada, Guatemala, Peru, Columbia, and Chile, among other places. It doesn't intend to back down on those international toe-holds.
A bigger concern in the near future, however, will be consolidating its domestic market share. To achieve this consolidation, Tuberia Laguna will be pushing harder on the front of water transportation, and extraction from deep wells in particular, Santibanez said. As a supplier of the National Water Commission, the company is seeking contracts to supply pipe for the expanding public works projects.
The Energy Sector will play a key role in Tuberia Laguna's growth. The company has designated a special team to target this sector. Located at offices in México City and the most important oil regions in Mexico, such as Villahermosa and Monterrey (close to Cuenca de Burgos region), the Energy Sector salesforce, fully technical trainned in energy subjetcs, will attend to all specific needs of Pemex and private contractors giving customers a fast and accurate service to their projects.