As dockworkers on the West Coast threaten to strike this summer, plan ahead now to ensure smooth shipping operations.
By Anthony Yanchuk and Ian Wilson
U.S. West Coast dockworkers have announced the possibility of a strike this summer as the International Longshore and Warehouse Union and the Pacific Maritime Association renegotiate their collective bargaining agreement. If the strike goes ahead, it likely won't be resolved quickly – negotiations in 2014 took nine months, severely hindering port operations and delivery times.
A strike would disrupt supply chains globally, as West Coast ports account for 44% of US global seaborne container imports and over 61% of imports from Asia. As a result, it's important to plan ahead to keep your operations running smoothly.
Looking east
In the event of a strike, diverting cargo to the U.S. East Coast may trap cargo in delays that are just as severe. Many East Coast pots with short waiting times have smaller infrastructure and are not equipped to handle a spike in traffic. In the lead up to the 2021 holiday season, many carriers diverted shipments to the East Coast to avoid long delays, increasing berth and dwell times due to labor and equipment shortages.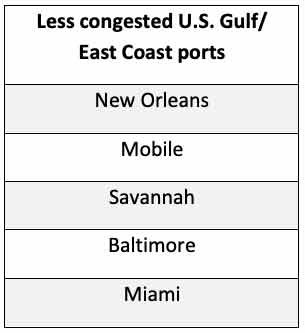 A not-so-secret secret is port options on the U.S. Gulf Coast, which are typically less congested. This isn't a hard and fast rule — the Port of Houston currently has an anchorage waiting time of up to 14 days, for example – but other locations such as the Port of New Orleans have anchorage waiting times of less than 12 hours.
Remember that smaller ports, like Tampa or Mobile, may fill up quickly if many shippers are rerouting. And, shipping into the Gulf Coast can be trickier between June and November during the Atlantic Hurricane season.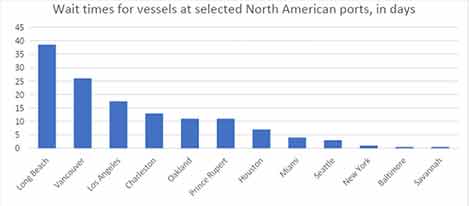 All aboard!
Changing ports means changing routes – which means you'll likely have to take rail transportation into consideration as well. However, strikes or slow down actions may complicate rail usage as negotiations between unions representing nearly 100,000 rail workers and several carriers, including Union Pacific, have collapsed. Without a quick resolution, rail transport could present another supply chain delay, which in turn could be further exacerbated by ongoing chassis shortages at rail hubs on both coasts.
Flying high
Air freight may also face high spot rates and reduced capacity if there are any strikes or slow down actions. Capacity between Asia and the U.S. is already strained by Covid-19 restrictions, and would be further exacerbated by a strike as carriers rush to divert high-value or time-sensitive goods. Air freight spot rates between the U.S. and Asia have more than tripled since the last strike in 2014, and would likely increase in the event of a strike.
O Canada
Canadian ports will look less friendly in the event of a strike as the Ports of Vancouver and Prince Rupert will see current anchorage waiting times of 14-28 days grow even higher. Rail capacity at both ports has been impacted by equipment shortages, damaged tracks from flooding, and a recent strike against the Canadian Pacific Railway. The Canadian National and the Burlington Northern Santa Fe Railways both also service the Port of Vancouver but are unable to handle extra cargo due to their own capacity issues.
Migrating south
Even warmer ports of call may not be so sunny. Rail and ground shipping in Mexico can be compromised due to theft and civil unrest. For example, Kansas City Southern's rail node in Michoacan was blockaded by striking teachers for over two months in 2021. It took two weeks to normalize traffic afterwards.
Additionally, extra cargo could easily congest the already busy border crossing points at San Ysidro-Otay Mesa (near San Diego), Juarez (near El Paso), and Laredo.
Your next steps
Don't wait — now's the time to plan for any potential strike action. Rerouting shipments to the East Coast may be more costly initially, but the ports of Savannah (current wait time up to 24 hours) and New York (current wait time up to 48 hours) provide infrastructure for large vessels and a relatively predictable shipping environment.
Using smaller ports on the East and Gulf Coasts could backfire if rerouted traffic overwhelms port capacity. If your company's contingency plan includes one of these ports, keep in mind that shorter waiting times could quickly surge.
Changing normal routes will require active monitoring of strike developments and port congestion. Everstream Analytics' network visualization tools map critical nodes and transportation lanes to create contingency plans in the event of disruptions. Using Everstream Analytics' Intelligence Solutions, companies can act proactively or react quickly to disruptions, diverting shipments to less congested ports in near real-time.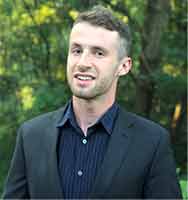 Anthony Yanchuk is an Intelligence Solutions Analyst at Everstream Analytics, helping lead companies address supply chain challenges arising from a changing global commerce profile.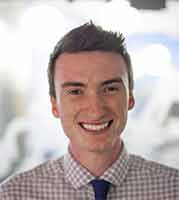 Ian Wilson is a Supply Chain Risk Intelligence Analyst at Everstream Analytics, assessing data of global events for potential risk on supply chain resiliency.