Volume 20
| Issue 2
| Year 2017
Click here to read the complete illustrated article as originally published or scroll down to read the text article.
As a hub of American engineering and manufacturing talent, South Carolina has been an ideal location for Proterra to build its expanding fleet of battery-electric, zero-emission buses, which are now operating in cities and communities across the country," said Ryan Popple, CEO of Proterra. "Currently, we employ 150 dedicated South Carolinians in Greenville who have helped us secure our place at the forefront of the electric mass transit revolution. Because our heavy-duty electric vehicle solutions are American-made, we're proud to have created new and contemporary high-tech manufacturing opportunities in the Upstate."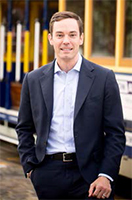 Ryan Popple is the president and CEO of Proterra, the leading innovator of zero-emission, battery-electric buses. Prior to Proterra, Ryan was a partner at Kleiner Perkins Caufield & Byers. An early employee of Tesla Motors, he was senior director of finance, with a focus on strategic planning, technology cost reduction and corporate finance. Ryan has served in the U.S. Army, received a bachelor's in business administration from the College of William & Mary and a master's in business administration from Harvard University.