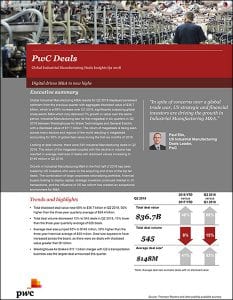 Highlights from the analysis include:
The industrial manufacturing sector saw its first megadeal (transactions worth more than $5 billion) in six quarters, disclosing a value of $11.1 billion in the second quarter of 2018.
Deal value increased 68% from the first quarter of 2018, with a total of $36.7 billion in the second quarter
The industrial machinery category increased to $19.8 billion in the second quarter, followed by the electronic and electrical equipment category – as demand for digital products continues to rise, M&A deal value in these two categories will likely remain strong in following quarters for the industrial manufacturing sector.
Growth in industrial manufacturing M&A in the first half of 2018 has been fueled by US investors who were on the acquiring end of six of the top 10 deals.
Although the North America region contributed to the largest share of deal value year to date, we saw a significant pullback in deal volume in the region during the second quarter, likely due to escalating risk and uncertainty around global trade.