By Nandini Natarajan, Senior Research Analyst the Industrial Internet of Things, Frost & Sullivan
The current manufacturing industry is a by-product of several epochal revolutions in the past, including the invention of steam, electricity and automation. At the actual juncture, we are on the verge of a 4th Industrial Revolution driven by the Industrial Internet of Things (IIoT). Unlike anything in the past, this revolution will be a convergence of information technology (IT) with operational technology (OT). This confluence of technologies from the best of both worlds is expected to transform traditional manufacturing into a smarter form of manufacturing, the one that will help manufacturers to boost productivity, efficiency and revenues manifold. However, this rapid transformation of the manufacturing landscape is impeded by cyber security risks and concerns. In order to derive benefit from the Industrial Internet, manufacturers will have to move beyond boardroom discussions and approach cyber security as an essential and undeniable condition for a connected enterprise.
Traditionally the OT and the IT environments have been operating as two different silos, which is why the approach to safety in these two environments vastly differs. Threats in an OT environment could include such aspects as workforce safety, production downtime, process disruptions and anything that can cause physical damage to plant assets and workforce. Traditional IT-based cyber security solutions were not designed to handle these kinds of OT scenarios. In fact, an IT organization's lack of expertise in manufacturing is one of the major setbacks in failing to address the security needs of an industrial unit. Towards delivering an effective security solution, both the IT and the OT environments will require very close collaboration to assess vulnerable points in their ecosystem. These vulnerabilities must be prioritized and security gaps have to be closed.
Whether or not IT organizations have deep domain expertise, the market is flooded with participants who claim to deliver the best counter mechanisms for impending cyber threats. While it may become impractical for us to individually assess them all, the following recommendations highlight what pace setters have been doing differently in industrial cyber security. The rest of us could consider adopting these approaches within our realms of industrial operations:
Collaborate to learn and co-exist
A well-knit and close collaboration between the IT and the OT personnel aimed at exchanging knowledge can help organizations to build security expertise and foresee vulnerable attack points in the system. A proper understanding of the environment would also help in pre-empting possible attacks beforehand thereby saving time, effort and resources involved in taking corrective measures.
Follow a policy-based approach to securing industrial assets
Organizations looking to secure their industrial assets can approach this by building security policy from various sources such as internal research; customer-set rules; trusted external sources such as ICS-CERT, OWASP, and STIX/TAXII; and established cyber-attack vendors and service providers.
Seek to gain third-party views on industrial cyber security
Organizations around the world are increasingly realizing the importance of cyber security, so much so that they have begun nurturing relevant expertise and talent in-house. Still, it helps to seek third-party views on security mechanisms. One thing, these cyber security organizations have dedicated their time and resources in the field and hence are aware of potential attacks impacting rest of the world. Secondly, such experts can help in providing a third-party and independent view on cyber security, safety, and operational policies as well as safeguard plants from potential rogue programmes and threats.
Ensure safety at multiple levels of plant operation
Every organization must suitably assess and identify vulnerable points in their system which could lead black hat perpetuators into hacking their plant. It is imperative that organizations adopt a defense in depth security framework to ensure security at all levels of the manufacturing unit including personnel, procedural, technical and physical levels. The different layers of security controls include government policies and security frameworks, physical; network, system, application and data layers as indicated in the following exhibit –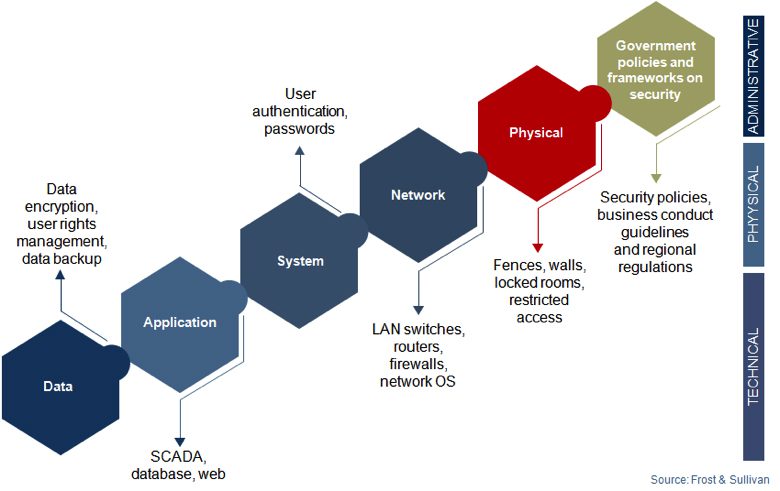 Defense in depth security model of a manufacturing unit
Controlling security breaches at different levels can help prevent loss of control over production. Following such a comprehensive security approach to the dynamic needs of the industry will finally get its due from the industrial world. Finally, the evolution of new manufacturing trends like IIoT will help to drive cyber security beyond just theory and make it a tangible, real and quintessential part of production environments in the years to come.