A review of opportunities in aftermarket parts and services.
By Paul Wellener
Revenue from new product sales for manufacturers has stagnated over the past decade. And due to the disruption from the COVID-19 crisis, demand for new industrial equipment may fall as manufacturers' customers reduce capital spending to manage cash and lessen the pandemic's business impact. Aftermarket parts and services may help offset these declines as they are typically less impacted by changes in the business environment. In past economic downturns, the aftermarket businesses have been a consistent revenue source and profit stabilizer. Experience shows that manufacturers who focus on parts and services have outperformed their peers and exited past crises stronger than before. This article explores how manufacturers that prioritize and drive aftermarket services can be more resilient during this global economic downturn.
Opportunities in aftermarket parts and services
Industry players can stabilize their business by expanding aftermarket parts and services by:
Driving recurring revenue streams: Manufacturers that focus on services often have 80 percent of their installed bases under service contracts, providing them with the constant revenue stream.
Securing high margins from spare parts: Aftermarket parts and services will likely continue to deliver over 50 percent of a manufacturer's profit with an upward trend in light of COVID-19.
Staying connected closely with the customers: Through off-site service delivery, manufacturers can maintain close connections with customers. Service technicians are likely the most important representation of a manufacturer, and in the current crisis, they are even more critical to ensure they can continue providing services and keep equipment running.
Manufacturers can take advantage of this recent disruption to push through planned changes and innovations around the aftermarket that can impact the nature of their relationship with their customer base and channels. They can do so by focusing on five improvement areas to help boost their aftermarket businesses (figure 1).
Figure 1: Five improvement areas for manufacturers amidst the COVID-19 crisis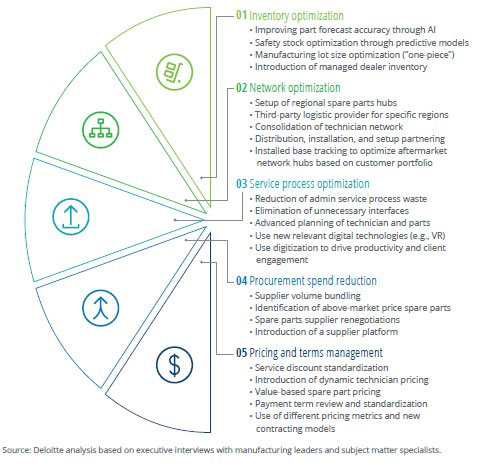 However, manufacturers face multiple challenges in scaling and delivering aftermarket services effectively, including increased competition, talent shortage, and entry of new players. To successfully deliver and scale aftermarket services, manufacturers should focus on:
Shifting towards a service-oriented culture: Manufacturers should view themselves as solution providers who improve customers' business outcomes. Instead of just selling products, manufacturers should work toward selling uptime and partnering with customers to avoid equipment breakdown.
Building long-term customer relationships: Building and managing long-term relationships to offer customized solutions for different products and markets could be instrumental in having a profitable aftersales service business. Through long-term service agreements, manufacturers can lock in customers and lock out potential competitors.
Moving from a transactional to a relationship-based business model: As an increasing number of manufacturers shift their focus from equipment ownership to paying for outcomes, manufacturers must consider moving from a transactional to a relationship-based business model that includes long-term incentivized, pay-per-use contracts.
Digital technologies play a crucial role in sustainable aftermarket success
In times of crises such as the one manufacturers are facing with COVID-19 today, where it becomes challenging to dispatch field service technicians to address customers' critical equipment needs, digital technologies, especially remote assistance capabilities, help ensure business continuity. Leveraging digital capabilities, manufacturers can directly access the equipment and solve many of the problems remotely, quickly, and efficiently. Digital service offerings such as predictive maintenance help manufacturers gain a competitive edge and provide an enhanced customer experience (figure 2).
Figure 2: Key digital technologies and their "value" lever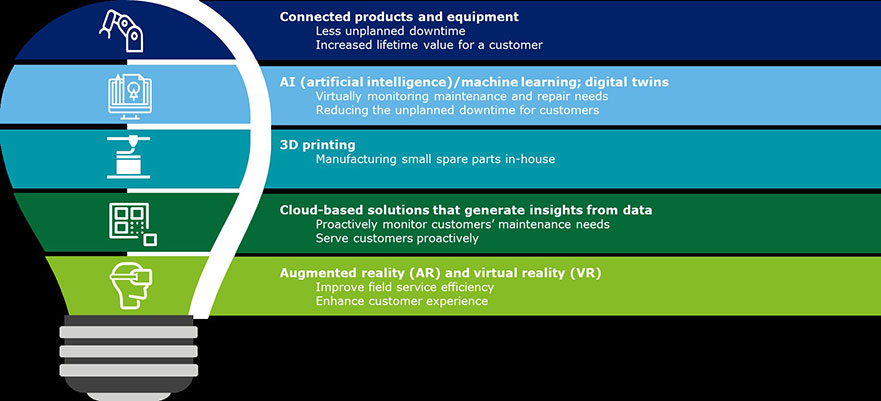 What may help separate winners and losers will be companies' ability to leverage technology to help scale and manage their aftermarket parts and services businesses. With their customers facing potential financial pressures, manufacturers who have prioritized their digital transformation to help enhance the aftermarket experience can become those winners in the long run. Leveraging digitalization can help manufacturers gain a competitive edge through improved customer service, better margins, and higher customer loyalty.
For more insights on what companies should consider as they define and execute their aftermarket service strategy, please read the report, Aftermarket Services: Transforming Manufacturing in the Wake of the COVID-19 Pandemic.
This publication contains general information only and Deloitte is not, by means of this publication, rendering accounting, business, financial, investment, legal, tax, or other professional advice or services. This publication is not a substitute for such professional advice or services, nor should it be used as a basis for any decision or action that may affect your business. Before making any decision or taking any action that may affect your business, you should consult a qualified professional advisor.
Deloitte shall not be responsible for any loss sustained by any person who relies on this publication.
About Deloitte
Deloitte refers to one or more of Deloitte Touche Tohmatsu Limited, a UK private company limited by guarantee ("DTTL"), its network of member firms, and their related entities. DTTL and each of its member firms are legally separate and independent entities. DTTL (also referred to as "Deloitte Global") does not provide services to clients. In the United States, Deloitte refers to one or more of the US member firms of DTTL, their related entities that operate using the "Deloitte" name in the United States and their respective affiliates. Certain services may not be available to attest clients under the rules and regulations of public accounting. Please see www.deloitte.com/about to learn more about our global network of member firms.
Paul Wellener | pwellener@deloitte.com
Paul is a vice chairman, Deloitte LLP, and the leader of the US Industrial Products & Construction practice with Deloitte Consulting LLP. He has more than three decades of experience in the industrial products and automotive sectors and has focused on helping organizations address major transformations. Paul drives key sector industry initiatives to help companies adapt to an environment of rapid change and uncertainty—globalization, exponential technologies, the skills gap, and the evolution of Industry 4.0. Based in Cleveland, Paul also serves as the managing principal of Northeast Ohio.
Copyright © 2020 Deloitte Development LLC. All rights reserved.