October 9, 2019
By Shashin Shah, CEO, Pimcore
The lines between products and end-consumers are blurring. Over the past decade, manufacturers have been offering an increasing number of products directly to end-consumers. This direct-to-consumer (D2C) model means manufacturers now must place greater emphasis on delivering a memorable customer experience (CX).
Until recently, manufacturers have been majorly relying on suppliers and retailers to sell their products, but this trend is quickly changing. Companies like Harry's and Casper are just two among a growing deluge of D2C brands that have mastered CX delivery and grown into multi-million-dollar successes, thereafter.
Manufacturers don't aim to disrupt retailers but are simply looking to gain better visibility over the way customers buy, and then drive them to engage with their products across channels. Specifically, manufacturers seek to:
Build a more direct connection with customers to drive engagement, assist purchase decision-making, and acquire more insight on purchasing behavior
Create a more robust digital merchandising strategy and stronger brand differentiation by establishing more control over product information
Boost traffic, sales, and positive business outcomes across all channels, while creating a framework for marketing performance monitoring
Why Is Product Data Important?
Among the many drivers along a customer's purchase journey, product content and digital assets are one of the most critical components. Today's customers actively search for product information at several touchpoints to ensure that their every purchase is an informed one. In the online context, product information becomes even more critical since the customer cannot physically handle or directly view the goods.
The brand website is almost always where customers expect to find the most detailed and relevant information about a given product. Ideally, a brand website should offer all the information a customer needs in an engaging format— not only does this shorten the purchase journey, but also creates a favorable impression on the customer right at the start of their engagement with the brand.
What Manufactures Should Do
1. Build a 360° digital view of every product
By connecting rich product content and assets to your product master data, you'll be able to drive delightful new customer experiences and create new opportunities for your brand. Ideally, creating an engaging product experience is about delivering trusted, consistent, and valuable product information, while simultaneously showcasing product value propositions. For example, a power tool manufacturer could create a smart tag on their product that triggered a tutorial on how to build a treehouse – great content for suburban, medium-income households. Similar kinds of interaction opportunities could be driven to different products in real-time depending on the customer profile.
2. Align product data with business analytics
If you've already developed a 360-degree view of your products, consider extending that perspective by using your PIM system to capture and align product data with transactional, interactional, observational, and analytics data. When aligned with individual product experience, this information will help innovate with your future CX efforts. Over time, such consolidated data helps convert customer interactions into better business outcomes, while re-aligning your business objectives toward greater customer-centricity.
3. Invest in automation
By automating your PIM processes, you can quickly simplify your workload and enable faster work cycles. Automation also delivers fewer errors than manually operated systems – critical when you offer a high volume of similar products, numerous product bundles or dynamic discounting. Today's PIM automation solutions can help you manage and quickly publish data to every digital platform, fueling better CX, improving efficiency, and re-aligning your workforce towards creative problem-solving and innovation.
4. Improve product data governance
It's hard to deny the effectiveness of a synchronized PIM, DAM, and MDM system in promoting better information accessibility. But connected systems need to offer a standardized result, otherwise you run the risk of having a fragmented and inconsistent customer experience. A great example is product imagery – a robust data governance program can ensure that all your product images adhere to a specific standard, eliminating low-quality visuals and establishing system-wide guidelines around the kind of image assets that are published on any channel. Strong data governance processes also help build a deeper relationship between IT and manufacturing operations and create new opportunities for multi-stakeholder collaboration on product digitization initiatives.
5. Choose your tech wisely
While considering the above factors, you might find that your existing technology landscape requires fresh infrastructure to support integration between individual systems. Many organizations tend to deploy packaged PIM and MDM solutions – this allows them to scale resources following product development and business strategy. However, in such a scenario, it's important to identify system technologies that can be easily integrated, or you face the complexity of revamping the existing ones. For example, your standalone PIM system might have built-in master data management or publishing functionalities, but will those features have the same impact as the scale and complexity of the system goes up? And while standalone systems may offer the best level of functionality within their domain, can they be quickly and cost-effectively integrated to fuel the future of your CX? These are just a few questions that any manufacturing enterprise needs to consider before investing in content – and information-powered CX initiatives.
The Role of a PIM Platform for Richer Customer Experience
A great Product Information Management (PIM) platform is only as useful as the way you deploy it. Today's manufacturers need to move beyond basic product information management and embrace the idea of product information intelligence. How? The first step is to connect your digital assets with your base product information. Given that digital assets often represent data in a variety of media formats, so it could be hard to manage alongside more structured product information. To give your customers a richer view of each product, consider integrating your Digital Asset Management (DAM) and your PIM platforms with your Master Data Management platform in a single location. Not only will this improve your overall CX, but also make it possible to deliver a consistently engaging experience across multiple customer touchpoints and channels.
Many information management systems today offer the functionality of PIM, MDM, DAM and even WCM in a single package. Depending on your business requirements, identify what works best – standalone PIM and MDM systems that are integrated, or one system that delivers the functionalities of both.
In Summary
Customer experience has now evolved to be a key differentiator for manufacturers and an important driver of business outcomes. By investing in adaptable technology for improved customer experience, manufacturers can gain more control over their brand experience and build differentiators that go beyond mere price. As a core informational delivery and customer education tool, PIM platforms play a significant role in identifying and enabling improved CX, especially when integrated with analytics and other data management systems.
By using a blend of simplified PIM, strong data frameworks, and emerging technologies, manufacturers can establish a win-win paradigm, redefining the customer journey and building brand engagement, while acquiring fresh productivity gains along the way.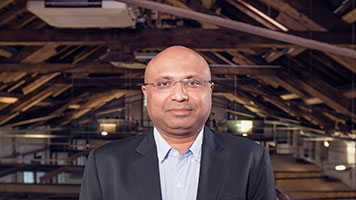 Shashin Shah is the CEO of Pimcore, an open-source software platform for product information management (PIM/MDM), digital asset management (DAM), content management systems (CMS) and eCommerce.