With its extraction and dosing systems for silos, Sodimate has developed a successful business and is the leader in the environmental market.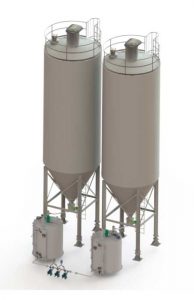 Founded in 1980, Sodimate is a French company based in Cormeilles en Parisis, near Paris. We specialized in the environmental field (drinking water, municipal wastewater, industrial applications and flue gas treatment) to design processes and equipment that store, extract, meter, mix with water bulk powders and sludge.
We have designed and set up over 9,000 installations with these extraction, metering and mixing systems for dry reagents and sludge.
We are a manufacturer and supplier for the environmental field all over the world through our network of subsidiaries and representative offices.
Sodimate's most valuable strength is to be able to integrate various standardized equipment to design a custom solution that meets the customer's needs.
These complete systems are designed to operate in sectors of activity such as: wastewater treatment, drinking water treatment, flue gas treatment, etc.…
SODIMATE integrates several parts to supply complete turnkey systems such as:
Storing, discharging, metering and pneumatic conveying of dry reagents for flue gas treatment.
Mixing system for Lime slurry or Powdered Activated Carbon (P.A.C.) from a bulk silo or a big bag stand.
Lime Slaker to provide high volume lime slurries
Turnkey sludge liming installation including lime transfer and metering, mixing with sludge, and conveying to the storage unit.
Our design office is equipped with SolidWorks licenses and CAD software to carry out any type of custom solution. Our service includes designing the installation, the general arrangement according to your instructions, the operation process philosophy, and the technical documents for your project. We also perform the mechanical assembly of the equipment, the start-up of the installation, and the training of the operating team on-site.
Some of the industries Sodimate acts on are:
Mining
Soil Remediation
Water stream pH adjustment
Onsite lime slaking units
Water & Wastewater Treatment
pH adjustment, water filtration, water softening
Wastewater treatment, sludge stabilization, sludge dewatering systems, polymer units, quicklime slaking systems
Plastics and Molding
Plastic pellet storage and conveying
Dry chemical addition
Plastics recycling
Food Processing & Agriculture
Wheat storage silos
Corn & potato starch discharge and conveying systems
Cement
Cement storage, discharge & feed systems
Pulp & Paper
• CMC & Starch handling