Factories and warehouses need to make key changes to ensure they continue operating safely during this unique time.
By: Brian Powers, CEO, PactSafe
There are several challenges manufacturing businesses face in this new normal created by COVID-19. Things are changing every day – new regulations are set, new recommendations are provided, and governments are issuing new orders on a regular basis. With all these changes, companies are having to adjust accordingly and alert employees. This is especially true for essential businesses like warehouses or manufacturing plants. In order for these businesses to remain open, they have to ensure they are staying healthy and safe.
In addition to changing regulations, many factories are converting production to produce essential items. For example, the well-known vacuum maker, Dyson transitioned to producing ventilators in a matter of weeks. Developing new products alongside new health regulations results in a multitude of new procedures to implement across the company. Warehouses are also having to hire new employees in unprecedented quantities. Some companies are looking to bring on 40 to 100 new workers at a time. These employees need to be hired and onboarded at a rapid pace. The speed is compounded by the fact that traditional ways of hiring and onboarding are no longer available due to the pandemic.
As warehouses and factories look to navigate the challenges from COVID-19, here are three solutions they can implement.
Go Self-Service
Essential businesses have to move fast due to high demands. This means traditional forms of warehouse management will not be sufficient. Whether it is hiring more employees, adding contractors to assist in the increased workload or quickly hiring a new vendor – there are various legal agreements that will need to be made. Traditional forms of contracts like paper or a PDF will not provide the necessary efficiency.
Creating a self-service experience for onboarding provides a rapid solution that eliminates unnecessary back and forth for these standard agreements. By shifting these standardized agreements to self-service, businesses are able to eliminate friction.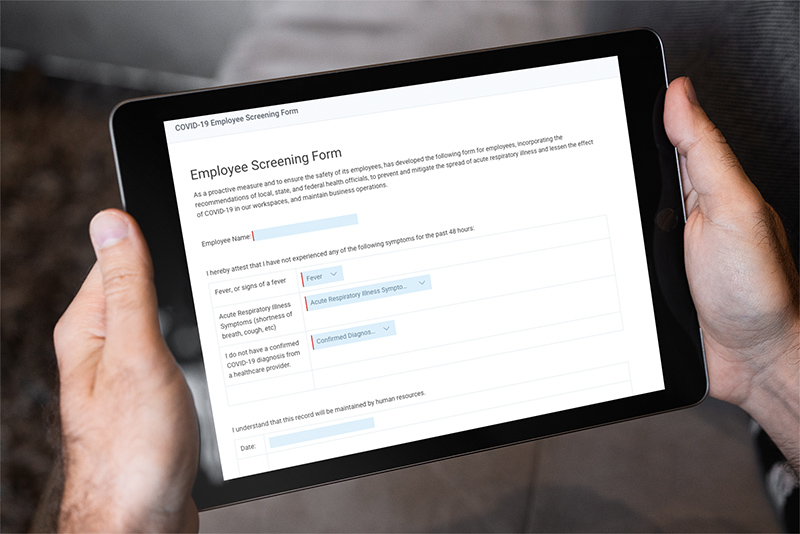 Create a Home for Policy Updates
With the continued changes, companies need a simple way to communicate policy updates to their employees. The best way to do this is by developing a dedicated space to post policies, such as an online legal center. It is pertinent for all policy updates to be published and deployed to employees.
Updates should be sent out to employees for them to review and accept. Some example of policies essential businesses might require include:
General precautions for hygiene
Modified schedules
Procedures for sick employees
Employee screening
Onboarding
Screen Employees
Workplace safety has never been more important. Manufacturing work cannot be done remotely, so in order to continue working, essential businesses must ensure all employees present are healthy and safe to work. Each employee should be screened prior to coming to work. Consider a mobile-friendly form to assess symptoms and create documentation of each employee entering the building. The screening form should include key symptoms such as fever and respiratory issues. The human resources department needs to maintain records of each form.
Navigating circumstances like this can be difficult for any business, but especially for the essential businesses where remote work is not an option. Continuing to prioritize the health and safety of employees is crucial. By creating a place to house policy updates, developing a self-service experience and screening employees, warehouse management can ensure they are able to remain open. Things are going to continue to change and evolve as we learn more. The manufacturing industry needs to be prepared to adapt to the continued changes.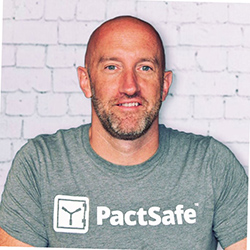 About Brian Powers:
Brian Powers is the founder and CEO of PactSafe and a licensed attorney. As the CEO, Brian leads the strategic vision of the company's high-velocity contract acceptance platform. Prior to founding PactSafe, Brian's law practice focused primarily on representing the transactional needs of tech companies. Brian is a frequent speaker, instructor and author on topics ranging from clickthrough contract acceptance to privacy-related consent management.