As consumer preferences shift and the cost of waste mounts, automotive and mobility companies are engaging in the emerging Circular Economy.
By Hagen Heubach
All the scrapped vehicle parts and rusting metal piling up in automobile salvage lots and junkyards around the world tell a story. And now that story appears to be yielding to a new narrative, one in which companies across the automotive landscape are choosing to dismantle the linear, take-make-use-dispose approach to doing business in favor of a more sustainable approach rooted in the zero-waste principles of reuse, remanufacture and recycle — also known as the Circular Economy.
The Circular Economy is about "designing out waste and pollution, keeping products and materials in use, and regenerating natural systems," explains the Ellen MacArthur Foundation. The automotive/mobility sector has been among the most aggressive in exploring pathways into the Circular Economy, both in its manufacturing processes and in its lines of business. In a report issued in March 2020, the Capgemini Research Institute concludes that the automotive sector "is ahead of other industries in meeting global sustainability standards." More than half — 52% — of the 500 auto firms surveyed for the report indicated they are working on circular economy programs. However, those companies told Capgemini that only 32% of their supply chain currently contributes to the Circular Economy.
"To catch up and become a more environment-friendly industry," said Markus Winkler, who heads the firm's global automotive practice, "auto companies need to have a clearer focus on two key priorities: the need for them to more closely link their sustainability and electric vehicle strategies, and to increase investment in circular economy initiatives."
Some companies are acting on those priorities:
For circular pursuits like these to succeed, several things need to be present: a strong economic and business case aligned with an organizational sense of purpose, along with the right combination of connected Industry 4.0 digital capabilities.
A small contingent of automotive companies already is realizing the benefits of making sustainability a strategic priority. A just-released study from SAP and Oxford Economics identifies an elite class of automotive companies that "greatly outperformed other respondents in areas including innovation, employee engagement and retention, and profit margin increases over the past three years. They are more focused on culture and social initiatives and more likely to say their approach to social issues is rooted in how they organize the company."
The study, based on survey responses from 3,000 senior executives across 10 industries, including 300 from the automotive sector, finds that many in this elite class of companies are using a data-intelligent approach to become high-performers in the area of sustainability. For example, almost three-quarters — 74% — in that elite class are meeting their sustainability targets, compared to 46% of other companies.
As far as a business case, the numbers are promising, although anecdotal. GM, for example, says it has generated more than $2.5 billion in revenue since 2007 through its recycling activities, including selling metal grindings and scraps from its stamping and powertrain production to third parties like foundries. Meanwhile, the economic case becomes stronger as the disposal, compliance, health and environmental costs associated with waste become clearer and more burdensome.
Public preference also factors heavily into the strategic equation. More shareholders and consumers are aligning with products, companies and brands that demonstrate a commitment to sustainable business practices. In a 2019 global survey of nearly 30,000 consumers, Accenture Strategy found that 62% of customers "want companies to take a stand on current and broadly relevant issues like sustainability."
For companies in the automotive/mobility sector, the ability to respond nimbly to such a pronounced shift in consumer preference requires a certain level of Industry 4.0-level data intelligence and digital capabilities. For example, advanced modeling and predictive tools can enable an automotive company to efficiently design and develop components like lithium-ion batteries specifically with recyclability, lower carbon footprint, durability and reuse in mind. Those batteries could be designed so the raw lithium can be extracted and returned to the value chain for re-use, with track-and-trace technology using Industrial Internet of Things technology and blockchain to document the provenance of the lithium along its circular journey.
As part of the move to a circular model, linear supply chains will need to be re-engineered as interconnected business networks. Advanced modeling and analytics can show companies how to most efficiently and profitably source, produce, trace, recycle and recirculate materials and goods. They can enable companies to evaluate and re-engineer logistics and material flow streams, taking into account location and value up- and downstream. Ultimately, this level of visibility provides a manufacturer with a deeper understanding of the actual cost and value of all the inputs involved in the production and delivery of the end material. Companies can then overlay metrics about a product's carbon footprint, recycled content, etc., into their operational decision-making and how they manage not only their top and bottom lines but also their green line.
What's more, when the entire business ecosystem around a circular venture shares a common digital platform, that platform becomes the conduit that enables information and insight to flow seamlessly, in real time, among the various constituencies. They gain a strong, reliable information set as a common knowledge base, so they can make decisions in real time based on a single version of the truth.
"By 2029, the circular economy will be the only economy, replacing wasteful linear economies," the research and consulting firm Gartner declared in 2019.
Automotive companies that are both sustainably-focused and digitally intelligent will be the ones best equipped to thrive in the new economic order, whenever it arrives.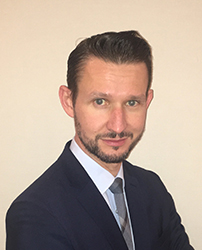 Hagen Heubach is Vice President and Global head of the automotive industry business unit at SAP SE, with responsibility for SAP's automotive solution portfolio as well as the company's strategy on future mobility and new business models. He can be reached at Hagen.heubach@sap.com