With IoT and big data, there's an increased need for robust wireless connectivity in the industrial and manufacturing sectors.
Over the last decade, digital transformation has been sweeping all industries, and the manufacturing and industrial sectors are no exception here. With an increased demand for customization, the growing complexity of the global supply chain, and rising customer expectations, companies in these sectors focus on innovative ways to stay competitive. One key area of focus is IoT and data.
Today, companies generate an immense amount of data daily. This data can be anything from custom behavioral data, supply chain data, industrial machine data (heat and pressure metrics), and so on. For industrial and manufacturing, utilizing this data and leveraging smarter wireless-based technologies comes with a multitude of benefits, including:
Reducing costs: With IoT sensors, machine maintenance becomes more straightforward, and failures are reduced or eliminated. This results in reduced downtime and more efficient energy use, and by extension, reduced operational costs.
Reduced time-to-market: Faster and more efficient manufacturing reduces the product cycle time, getting products to market faster.
Safety: Machines can be continuously monitored in real-time to ensure they are working within optimal parameters. This helps stop accidents before they occur, as well as reducing the burden of scheduled maintenance. Some companies also use wearable IoT devices for employees, which help ensure that operators behave safely around heavy machinery.
Mass customizations: Industrial and manufacturing plants have increasingly complex operations. Implementing these customizations manually is time-consuming and labor-intensive, but it becomes fast and straightforward with WiFi supported automation and IoT. Mass customizations can be executed with a few clicks.
The Importance of Robust Wireless Connectivity
Having fast and robust WiFi is paramount to this technological progression. Without it, companies in these sectors can't effectively implement and utilize IoT sensors and automation technologies, and as a result, miss out on the benefits. A weak or unreliable wireless connection can mean sensors go offline, productivity drops, and safety is compromised.
However, WiFi strength is just as much about power as it is about optimization. If you measure WiFi signal strength in one area of the plant and it comes back as strong, then great. But a strong signal is only great if it's in the areas you need it – the areas with high dependence on wireless connectivity. This is why measuring WiFi signal strength across the entire area is so important – it empowers companies to make the best optimizations and get peak efficiency from their WiFi.
Measuring WiFi Signal Strength
With WiFi analysis apps like NetSpot, industrial and manufacturing companies can analyze their WiFi networks' health. It does this in several ways, including using WiFi signal strength meters for all wireless networks and using heatmaps to identify WiFi "dead spots."
Finding WiFi Networks
The first step in the process is to analyze the WiFi networks in the surrounding area. First, you need to download and install NetSpot and then launch the app. You'll notice two modes immediately, Discover and Survey. To measure the WiFi signal strength for all networks, including viewing the WiFi signal strength meter, you need to select Discover mode.
Once the scan is complete, you can see key WiFi metrics for all networks, including Signal to Noise Ratio (SNR), frequency band (2.4 GHz or 5 GHz), WiFi channel, WiFi vendor, noise, and more.
Building WiFi Heatmaps
For a comprehensive visual view of the WiFi signal strength across the WiFi perimeter, a WiFi heatmap is the way to go. WiFi heatmaps use color to display where the signal is the strongest and weakest across the network. In NetSpot, this is done through the Survey mode, like this:
Start a new survey – Here, you can either upload a map of the area or create a new one within the app with the "Draw it" button.
Start the heatmapping process – Carry your device (laptop) through the empty areas of the map. Green circles will appear to show you where you have already analyzed. The goal is to cover the whole map with green – a little overlapping is okay.
Stop and analyze – Once the mapping is complete, you can stop the scan to see a heatmap of your network.
Your completed heatmap will look like this: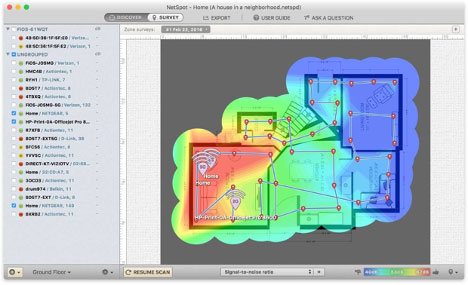 Once you're done measuring your WiFi signal strength, it's time to start optimizing your network. You might find that there's too much noise in some areas of the plant due to WiFi inhibiting devices or because too many devices are competing for bandwidth. Whatever the reason, you now know how to rectify the issue for a more fast and reliable network.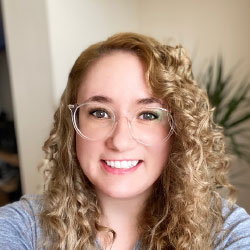 About the Author:
Nancy is a technology writer who specialises in IoT, cybersecurity, and data science. She can be contacted on LinkedIn at https://www.linkedin.com/in/nancy-driver-1a2862191/