Here we tackle some common issues faced daily in warehouses.
Climbing Pallet Rack
There is chaos in warehouses from time to time. A great deal of commotion inspires a busy culture in such workplaces. To save time, sometimes worker climb the rack to pick orders or manage stuff. This is tempting for a busy picture to get the needed box instead of waiting around. However, this is very dangerous.
Don't climb on racks; they are not designed for it. You will never know if the rack has any broken planks or protruding nails. These things can give up under the person's weight, injure him or disturb the whole storage alignment.
Don't Overload
You better learn your pallet rack's capacity before putting more load. This is critical for your worker's safety. For instance, it's possible the pallet isn't designed to remain under extreme duress for a long time. It will collage sooner or later.
Therefore, check how much weight can help your rack handle, especially on upper levels. If you don't see any weight capacities posted on the rack, you better check the manufacturer spec sheet. Store the heavy load in the lower bay or on the floor. Slot the storage if you have mixed loads, keep light pallets in higher pay and heavier on lower bays.
Pallet Rack Damage
Pallet racks get abused all the time. Common practices like overloading, collision with heavy forklifts, walls, and others significantly reduce the life expectancy of your device. You need to take precaution even handling toughest rack.
Train your workforce, especially forklift drivers to drive and load procedures carefully, limit their speed and keep the warehouse free of clutter. Make your aisles wide, and regularly check the rack for damage. Make sure the beam clips are in place. Focus on training and guarding your products, one collapsed rack will cost you more than a simple training workshop.
Outdoor Raking is exposed to wind have reduced capacity ratings. These racks are installed on non-level floors. Therefore they can be easily compromised. Mind your surroundings; seismic have different standards.
Height to Depth Ratio
When you design pallet rack, consider the easy parts like beam capacity, the capacity of pair beams to help tweak a safe and reliable system. Don't overlook height to depth ratio. It is the ratio of the distance from the floor to the top beam level divide by the depth of the frame. The right ratio is very important as it promises. 6 to 1. It is the perfect ratio and makes sure the whole thing remains safe.
Avoid Bad Practices
Pallet Racks are not only simple weight vs structure, dimension, shape, and size density of lad sits on storage racks is important to assure safe and effective workspace in a warehouse. Consider the weight, and what type of load will site on wire deck, how it sets and how that affects the capacity of Rack.
The 5S Rule
The 5S Rule helps to keep your warehouse organized. It consists of different tasks including sorting, tasks, setting order, shining, sustaining, standardizing, etc. This is a 16th-century Japanese strategy that helps to maintain your organization. This strategy keeps you safe and saves time while handling pallets. Following, we will explain each aspect of this rule:
Sorting: You have to go through the whole inventory and see what benefits the company and doesn't. It's important especially if you have limited workhouse space. You have to be smart about how you keep everything in place.
Shining: You need to clean up the whole environment. You need a perfectly clean environment to maintain your safety standards and stay organized.
Setting Order: Setting in order means devising a way to make everything easy and accessible, it is challenging, and you can make the layout easy to navigate. These solutions are ideal for pallet racking, forklifts, steel shelving, and transport heavy items.
Standardizing: You need to make the new organization technique a standard across the whole storage unit. It doesn't matter whether you open a new warehouse or update old ones; you need to pass the technique to everyone in your workforce. It's imperative that you find out what works out and stick to it. Once you establish a system, you can make changes along the way.
Sustaining: The Last element of 5S strategy, this means you will retain all the effort you put into this organizational system, and won't fall back. This helps to keep everything documented and keep the pallet in place.
Pallet racking is an effective way to organize the warehouse. Multinational companies depend on these systems to operate their warehouses. These simple rules will help you operate your warehouse efficiently.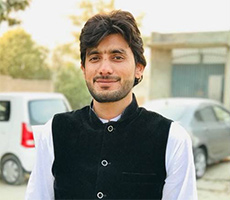 Jamshed Chaudhary
I began writing as a professional on my personal blog and then discovered my true calling, which is writing about technology, News, and gadgets in general. I am a technical writer, author, and blogger since 2010. An industry watcher that stays on top of the latest features, extremely passionate about juicy tech news and everything related to gadgets.