In a supply chain – no matter how many moving parts – the goal is the same: Get the product to the right place at the right time.
Obstacles to this are many, especially for huge, far flung organizations like global retail chains. Are the ordered items in stock? If they are, when can they be realistically delivered? If the supplier is running low, when is the next batch likely to come in? Where from?
That's when vendor-managed inventory (VMI) solutions step in. The concept originated with the consumer package goods industry, specifically, Procter and Gamble in the 1980s.
VMI places the burden of supplying a retailer or distributor on the manufacturer. In other words, a manufacturer electronically recommends order quantities for specific SKUs to a retailer or distributor based on data (e.g., historical sales, anticipated demand, promotions, lead time, desired in-stock percent).
This streamlines the replenishment process, and reduces inventory, increases service levels, and lowers transportation costs. Additionally, VMI allows buyers to devote more time to sales promotions and optimizing product assortments, while supplying the manufacturer with higher sales, less rework, and a more predictable and responsive supply chain.
Navigating the VMI vendor space is not an easy task. At a minimum, a VMI platform should be able to work with a variety of manufacturers, distributors, and retailers to ensure product availability. It also has to do this efficiently.
"If inventory were free and floorspace was infinite, anyone could guarantee product availability," says Carl Hall, founder of Datalliance and now president of TrueCommerce Datalliance. "But inventory is expensive and floorspace is limited. We make sure retailers or distributors have what they need to meet demand without overstocking shelves or clogging warehouses."
Although VMI can trace its origins to the world of consumer packaged goods, most of TrueCommerce Datalliance's first customers were not found in a retail store. In fact, their customers were not even known by most consumers. "I saw the success of what Procter and Gamble had with what they called a Continuous Replenishment Program or CRP," says Hall, "which really was the first VMI-type program. And, I thought, 'This could be done for industrial companies.'"
Rexnord, a manufacturer of bearings, conveyor parts and other related items, was one of the first industrial companies to utilize TrueCommerce Datalliance VMI. Kurt Drier, Director of eBusiness of Rexnord says, "VMI makes inventory management much easier and a more collaborative process with our distributor partners. The collaborative structure of our VMI program takes the guesswork out of replenishment."
In addition to the increased collaboration with distributors, Rexnord quickly realized improved KPIs. "In the first six months, VMI significantly reduced inventory and increased turns," says Mark Ganser, eCommerce Specialist for Rexnord, "but we both wanted a greater improvement in service levels. As a result, over the second six months, we worked together to adjust our planning parameters to achieve significant reductions in stockouts."
"Before VMI, it was a pain to order from a supplier," explains Hall. "Companies used to spend so much time figuring out what they needed only to have the supplier correct the order because of out-of-date part numbers. VMI has totally changed how suppliers and distributors interact."
The public's acceptance of big data and powerful algorithms has led to more companies investing in technology. As more companies invest in the power of number crunching, some supply chain professionals argue that vendor managed inventory is more table stakes than cutting edge – a sentiment echoed by TrueCommerce Datalliance.
Hall says, "We still call it VMI, but we've actually been doing a very advanced version for years. It's kind of like we all still drive cars, but today's autos look and perform a lot differently than the Model T."
Among some of the more recent innovations to be implemented by TrueCommerce Datalliance include: multi-stop, recommended ship from, and order joining. And there is a lot more to come says Hall, "TrueCommerce Datalliance programmers and analysts are hard at work on some very cool stuff. We are in alpha and beta stages right now but one day, our customers will be able to review aggregated industry-specific supply chain metrics, so they can see how their distributors stack against the competition. This will be done on a regional and national level."
As for new features, Hall says, "Don't misunderstand, traditional VMI will always have a place in the supply chain world and be a part of TrueCommerce Datalliance but we are seeing a continued evolution of what we now call advanced collaborative replenishment."
TrueCommerce Datalliance considers VMI to be a part of advanced collaborative replenishment (ACR), but ACR brings added benefits around things like replenishment models aimed at different routes to market and adapting to several new store and DC demand signals that drive replenishment all the way from store shelves.
"For example, traditional VMI says that it is the supplier that suggests orders," explains Hall. "But ACR doesn't care who suggests the order. So, it gives supply chain participants more flexibility. This flexibility would not be possible if it were not for the enthusiasm around big data. The more data that we collect, the more analysis and tools we can provide. It's going to be a larger part of our company as we move forward."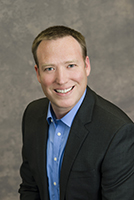 Wes Clark is a marketer and author who often finds himself in working in restricted areas. From hospital operating rooms to propane loading terminals, Wes believes immersion is the key to bringing a story to life. When not in the field, Wes can be found creating content and developing marketing strategies for TrueCommerce Datalliance.
Company Information:
www.datalliance.com
513.791.7272