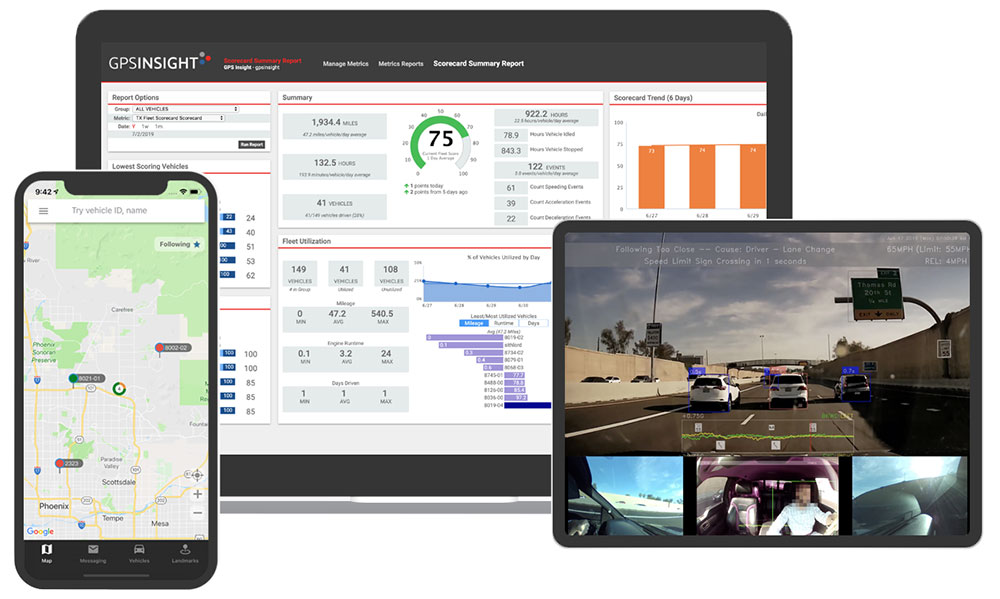 October 8, 2019
By: Ryan Driscoll, VP of Marketing for GPS Insight
Traditionally, paying for predictive measures at an enterprise level meant commercial fleet companies and their drivers got lumped into a one-size-fits-all insurance plan, regardless of their background, qualifications or accident record. To compound the problem, in Q1 2019 commercial auto insurance renewal rates had already increased by 4.53% – almost reaching the 6-12% increase initially predicted for the entire year.
Thankfully for large commercial fleets, next-gen technology has introduced an alternative. Automotive usage-based insurance plans give insurers the ability to quote costs based on driver behavior and accident probability, therefore cutting insurance costs for employers with 'good' drivers.
The automotive UBI market currently hosts 65.1 million policyholders and is only expected to grow in the coming years. Separating itself from traditional formulaic premium quoting, UBI is a voluntary policy which allows drivers to pay less by providing insurers access to a continuous stream of driving behavior. This helps to improve and maintain driver safety, which benefits both the insurer and the insured.
Below are two important ways telematics are changing the commercial automotive insurance game:
Continuous risk evaluation
Access to in-depth telematics enables insurance providers to track vehicle health and assess a driver's behavior, evaluate risk and develop customized UBI policies based on various insights.
Driving behavior: Telematics technology works twofold in monitoring driver behavior. To one end, telematics can track and chart harsh braking instances, swerving and other potentially hazardous actions. However, leaving the data as hard numbers or blanketed metrics – with no supporting information – may keep an insurance company from choosing to insure that driver at a lower rate. AI-driven insight capabilities allow fleet owners and insurers to see the situation in which said behavior occurred in real time. For example, if a driver had to sharply swerve to avoid an obstruction in the road and prevent an accident, they can be rewarded with lower rates instead of being penalized.
Risk evaluation: Using the same data mentioned above, insurers can determine which driver would be an elevated risk to insure. Conversely, it can also identify those who present a lower risk. Using 360-degree vision-based capabilities in conjunction with real-time data, insurers can see a wide range of circumstances which would separate a good driver from a bad. Circumstances can include hard braking, driver drowsiness, hard acceleration and traffic signal violations, to name a few. This video evidence presents fleet owners and managers with an opportunity to train and enhance driver safety. With these active training policies in place, insurers gain increased confidence that proactive steps are being taken to eliminate risk.
Liability protection
Annually, the accident rate for commercial fleets is approximately 20%, costing employers close to $70,000 per year. Aside from costly vehicle repair and increased insurance rates, claims and lawsuits against commercial fleet carriers are a real possibility. According to the doctrine of respondent superior, liability rests on the employer if deemed indirectly responsible for negligent employee behavior. To protect employers from negligent entrustment, telematics captures and analyzes every minute on the road and shows an overall view of driver behavior, providing evidence on who is responsible when incidents occur (driver vs. 3rd party), and protecting businesses from false claims and correlating rate increases.
Avoiding a significant insurance quagmire, the collected video from vision-based cameras assigns responsibility and saves insurers and insured parties considerable financial loss. Companies with available data to support claims further incentivizes insurers to cover commercial fleet drivers.
Telematics and vision-based solutions have opened the door for UBI programs. In fact, this mutually-beneficial partnership between companies and insurance carriers is expected to grow globally from its current value of $34 billion to over $107 billion by 2024. The result? An increased sense of trust and additional transparency across the automotive insurance marketplace.
About the author:
Ryan Driscoll, VP of Marketing, has been with GPS Insight since 2009. Ryan built the company's marketing program from the ground up. In his role, he is responsible for overseeing the management of GPS Insight's brand, creating market awareness and advocacy, and driving customer preference for the brand through all channels. He works diligently to be a trusted resource for thought leadership in the areas of GPS technology and fleet management. He is a graduate of Arizona State University, where he received a Bachelor of Science in marketing.