Improving fulfillment processes to meet consumer expectations and mitigate supply chain disruptions.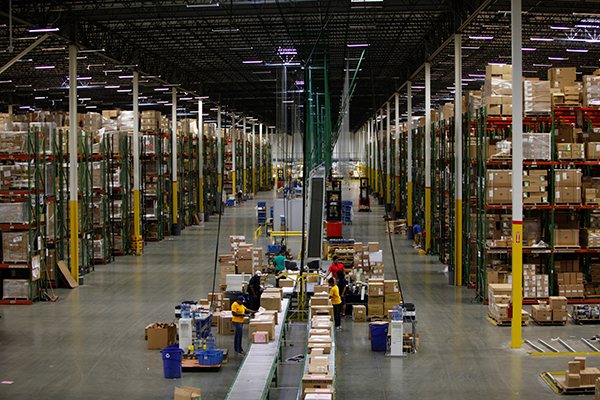 By: Brenda McCurry, Vice President of Supplier Services at ScanSource
If there is one lesson that we've learned this year, it is to expect the unexpected. Supply chains rely heavily on proactive planning and accurate forecasting, which have been difficult and at times impossible this past year due to an onslaught of unanticipated events like the COVID-19 pandemic, the Suez Canal blockage, the Colonial Pipeline hack, and the list goes on. Despite these disruptions, customer expectations for timely order fulfillment have only become more demanding and, as a result, manufacturing and logistics businesses have had to be increasingly agile in order to maintain operations in the wake of unprecedented challenges.
One solution that has emerged is the rise of automated technology, which allows manufacturers to automate manufacturing workflows and make faster, better-informed decisions when unanticipated disruptions occur. Warehouses can easily integrate these new technologies into pre-existing processes in a variety of ways and with a variety of benefits. Here are the top three reasons why you should consider implementing automation into your inventory management.
#1: Real Time Data
Over the last year-and-a-half, we've found that the only way to prepare for and mitigate the logistics impacts of unanticipated supply chain disruptions is by utilizing cutting edge technologies to increase visibility into the entire manufacturing workflow in real-time, in order to inform an effective response. To do this well, manufacturers and warehouses can implement automation solutions which provide centralized, up-to-date visibility and streamline operations and workflow. Routine activities like stock counting, completing purchase orders, fulfillment, and shipping can all be automated using technologies, such as tablets, RFID sensors, software solutions, wearables, and mobile computers. These automated technologies provide manufacturers with access to real-time data that they can then use to continuously optimize their operations. Supported by automated systems and access to real-time information, production managers are enabled to make smarter, better-informed decisions and ultimately achieve greater scalability and productivity.
#2: Reduced Human Error
As many organizations may have learned the hard way, manual entry in inventory management can open the door for human error. In fact, human error is the top problem in 46% of all warehouses, and 62% of warehouse managers believe that human error from manual process management is the main cause of inventory fulfillment issues. However, automation provides a solution that can help companies increase operational efficiency and improve their bottom line. An automated system has the ability to conduct standard processes with minimal human intervention, resulting in more accurate information tracking. With the help of automation, avoiding human error will ultimately improve customer support and service, which creates a better overall customer experience.
#3: Increased Speed
An automated system also allows for operations to function at a much higher speed. With increased visibility into all elements of the workflow, managers can adapt, pivot, and make decisions faster than ever before. As manufacturers race to meet rising consumer expectations regardless of unexpected disruptions, automation is essential for warehouses to expedite the processing of consumer orders in an accurate and timely manner. In general, these technologies improve productivity, increase efficiencies, enable data driven decisions, provide real-time information, simplify employee training, and streamline onboarding of new employees.
With the increasing frequency of disruptive events, upgrading to automated manufacturing technologies and streamlining warehouse processes are the best way to prepare for the future and mitigate supply chain disruptions. Over the last year, the manufacturing and logistics sector has seen increased demand volumes, restricted capacity, component shortages, rising costs, transportation delays, and labor shortages. Moving forward manufacturers will need to strategically optimize warehouse, shipping, and storage spaces and innovate new techniques to increase efficiency and/or expand capacity. They will find that automation in conjunction with the use of mobile and wearable devices will help people work smarter, faster, and more accurately to adapt to the future of logistics and supply chain management.
If you are looking to integrate automation and other cutting-edge technologies into your business, start by defining your existing operations and workflows processes, reviewing your software, and discussing your organization's long-term goals. Then, look for ways to introduce emerging technologies (automation, mobile, wearables, RFID, robotics) to create efficiencies, increase profitability, hire and retain employees, and deliver best in class customer experience. However, the process shouldn't end there. It is important to always be focused on the future and looking out for new solutions that can help you continue to innovate and stay ahead of competitors.
About the Author:
Brenda McCurry serves as Vice President, Supplier Services for ScanSource, a leading global provider of technology products and solutions. Brenda manages the company's supplier partner relationships, guides strategy, and directs her team in identifying and developing growth opportunities. Additionally, she is responsible for the recruitment of new supplier partners, revenue management, and setting profitability goals for the team. Brenda joined ScanSource in 1993 as a Marketing Manager. Since then, she has held several leadership positions throughout the company, working in sales and merchandising capacities across the POS and Barcode business segment, as well as Communications.