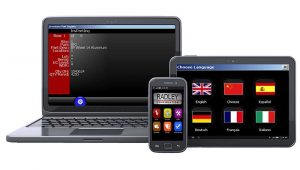 Now that barcode and QR scanning apps are widely available and popular, the possibility of employees using their own devices for warehouse data collection arises. Companies debate whether to invest in purchasing and setting up mobile computers and scanning devices that are specifically made for warehouse data collection or to allow their employees to use their own phones, tablets, and computers with work-related apps installed where applicable. There are pros and cons on both sides of the issues.
Pros
Employees are familiar with their own devices. They would need to learn to use the app and device in a work related way, but there is less of a learning curve. This means they would learn the workplace-related tasks more efficiently.
The costs of the personal devices would be carried by the employee; there would be some costs for setting up the devices to connect to the database and writing or purchasing applicable applications, but the devices themselves would not be a cost. Employees are more likely to keep their own devices up to date so the costs of technology upgrades would be passed along.
IT no longer has to maintain a lot of hardware; maintenance of the mobile devices is up to the employee. The software needed to work a system like this is cloud-based, and the cloud provider will maintain it. This frees IT to work on developing and implementing the rest of the technology in the company.
Cons
Privacy and security are a concern on both sides of the employer/employee relationship. Employers may not want employees taking information home with them, and if the employees are using their own devices, that is difficult to avoid. This raises very real security concerns. Personal devices may not have adequate antivirus protection and may be vulnerable to hackers. Devices that leave the facility are more likely to be lost or stolen. On the other side of the equation, employees may not want to let their workplace have eyes in their personal devices, and may be very leery about allowing work that far into their personal life.
Employees' devices may not be compatible with the employer's system (though there are many network applications that claim to be compatible with most devices). Employees that do not use smartphones, or who are happy with their current device and are told they need a different one that will fit the network, may be unhappy with the requirement to buy a piece of expensive equipment for work.
The gains in productivity from using familiar devices may be lost in distractibility; personal devices are usually set up so that emails, Facebook and Twitter feeds, texts and other personal applications pop up constantly. If the devices are being used for work, the employer can't require employees to leave them in their locker or desk. And since the device is a personal possession, the employer can't tell them not to have those applications on their device.
While the initial idea of not having to purchase devices may be tempting, the security and productivity concerns may outweigh those temporary gains.
Should you decide to invest in hardware solutions for your company, Radley Corporation has the expertise to evaluate, recommend, install, configure and support your hardware needs whatever your industry and environment. Radley data collection offers mobile capability for iOS, Windows and Android devices, as well as traditional handheld terminals and a web-based user interface.