Volume 21
| Issue 2
| Year 2018
Click here to read the complete illustrated article as originally published or scroll down to read the text article.
When most people think of American fashion, it's hard not to think about blue jeans. From versatile shades of indigo blue to twill blends of cotton, blue jeans represent the American spirit of hard work, dependability and style. That is why it may come as a surprise that the majority of the jeans we wear are dyed overseas.
The manufacture of blue jeans has evolved over the years. But the way indigo dyeing is done today presents numerous challenges to American manufacturers. Among these are the need for labor-intensive technology and strenuous water dyeing processes with dangerous chemicals, which incur added costs to alleviate environmental impacts.
The Dark Side of Denim
Dyeing Nearly half of the 450 million pairs of jeans sold in the U.S. are dyed in the denim capital of Xintang, China. Even in a modern denim manufacturing plant, yarn dyeing for a pair of jeans requires 16- 26 liters of water. However, in developing countries, it can be much more.
While natural indigo dye is safe, the dyeing process we use today requires sulfur-reducing compounds for improving the absorption of the dye to produce its deep blue tones.
To bring the creation of this fashion staple back onshore, we must improve the manufacturing process, making it more cost-efficient and safe to the environment.
Opportunities to Foster America's Manufacturing Footprint
There is a new future on the horizon. Thanks to a collaboration between Walmart, the Walmart Foundation and the U.S. Conference of Mayors, the U.S. Manufacturing Innovation Fund granted my team of researchers at Texas Tech University's Fiber & Biopolymer Research Institute (FBRI) more than $720,000 for our foam technology project, "Foam Indigo Dyeing of Cotton Yarns: Machine Design and Process Control."
The project's potential to change the game in textile manufacturing is incredible. Also, it would benefit cotton in its competition with synthetic fibers. Our Institute is located in Lubbock, Texas – which is in the heart of the dominant cotton production region in the country.
Since the Fund's inception in 2014, it has provided grants to Texas Tech and many other institutions in support of applied research projects advancing innovative solutions to key challenges that have the potential to lower the cost of making American consumer products. Challenges include how to reduce the cost of textiles manufacturing in the U.S., including home textiles and apparel, and how to improve common manufacturing processes.
Texas Tech Changes the Game for Denim Dyeing
We at Texas Tech are working to revolutionize the way blue jeans are made through a new foam technology, applied in a way to prove the feasibility of foam dyeing process into yarn. Foam dyeing is a relatively new development, but it is already widely used to apply various dyes to fabrics. But its application for dyeing yarns with indigo has not been successful until now.
We hope to play an influential role in the technological advancements benefiting U.S. agriculture and the industry.
With this improved dye process, the use of sulfur compounds has been eliminated, and water and energy requirements have shrunk by as much as 90 percent. The new foam technology is flexible and labor-saving. Additionally, the innovation has been able to reduce the floor space required for dyeing, all while achieving superior dye uptake and dye fastness. The absence of oxygen makes the indigo dye extremely efficient and more easily controlled. When the yarn leaves the dye chamber, the yarn is barely damp, and within seconds, it turns from yellow to green to blue. After minimal drying, it is wound onto a beam and ready for further processing.
Collaborative Commitments to Advance Textile Dyeing
Most recently, we have been fortunate to work with Indigo Mill Designs (IMD) through its IndigoZERO ™ brand. IMD's foam-dying process will also allow fabric mills an option to produce much smaller quantities than with conventional processes. In addition to reducing waste, smaller fabric runs will allow for greater design and marketing flexibility in the denim industry.
We think the next step for this will be incremental, where this technology is adapted and used in an existing dye range or an existing set-up in a textile mill. As we think about this innovation long-term, U.S.-based manufacturers will have priority access to the cost-reducing technology, giving them the advantages that arise from being early adopters.
The work at Texas Tech is part of an overarching goal of advancing the production or assembly of consumer products in the U.S., and it is our hope to adapt this state-of-the-art technology to help foster America's growing manufacturing footprint. Together, these commitments represent a significant investment that will help accelerate the pace of U.S. manufacturing, continue to find innovative ways to grow local economies and, ultimately, create more jobs in communities across the country.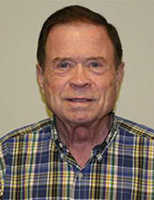 Dean Ethridge, Ph.D is a native of the Texas High Plains. Dr. Ethridge earned his B.S. degree from Texas Tech University and M.S. and Ph.D. degrees from the University of California at Berkeley. After receiving his Ph.D. degree in 1971, he worked for ten years in academia, first at the University of Georgia and then at Texas A&M University. He served for nine years as the Director of Economic Services for the National Cotton Council of America. He also worked in industry and served as a Presidential Appointee in the U.S. Department of Agriculture. He was Director of the Fiber and Biopolymer Research Institute between 1993 and 2017, where he now serves as Research Professor. www.usmanufacturingfund.com