Leveraging past lessons, prioritizing simplicity and improving efficiency.
By Glenn Riggs, President at Centerboard
The supply chain is the backbone of the economy, and with the past year turning the shipping industry on its head, many of us are left wondering what could be next for manufacturers, carriers, retailers and consumers. What will preparation for the near future require?
As we continue to navigate a rapidly evolving global shipping landscape, now is the time to reflect on trends from the past year to gain insight into the future of the supply chain and, perhaps most importantly, how new technology can play a crucial role.
What can 2021 teach us?
The past year was unusual, with all stakeholders impacted by the perfect storm of disruption to the supply chain. Demand for transportation capacity increased, labor, trucking and warehouse space was minimal, materials were scarce, and shipping prices skyrocketed.
What made this even more difficult was a series of global black swan events which couldn't have been predicted or planned for, having a domino effect on world commerce. Every shipper has a unique strategy and specific resources, with varying access to drivers and monetary and technology assets. The same is true across industries. The silver lining lies in the fact that shipping and logistics technology can streamline operations and be utilized to fuel creative solutions, based on real-time data for a broad spectrum of carriers and partners.
How do we move forward?
Comparing year-over-year is a common practice applied when planning, but 2021 was no typical year. With the holiday season behind us, we have a unique and pivotal opportunity to capture critical data to determine the strategy for 2022 and years to come. Based on history-making trends, this is a key moment to determine logistical strategies particular to each industry, using data to drive decisions. Aside from trends, changes and unforeseen events, your unique datasets will identify patterns to monitor, helping to gain comprehensive insights, some of which may have never been a factor when planning, historically.
Fundamental information such as shipment volumes, inventory turnover, warehouse procurement and more, these metrics – when analyzed and leveraged appropriately – can help you make significant business decisions. Determining what information you need and which data to track can seem daunting but will ultimately shape more holistic conclusions about managing your supply chain.
Technology is just one solution helping to improve efficiencies and sustainability for any cog in the logistics management ecosystem. By implementing a centralized system with immediate data visibility, transportation managers are better equipped to confidently make spur-of-the-moment changes regardless of ever-changing supply chain conditions.
Additionally, it's essential to simplify transportation management as much as possible. If we learned anything last year, it's the need to be agile and flexible. We must prioritize simplicity and seamlessness to assist in the shipping process and arm customers with confidence. The more we can educate active decision-makers in the supply chain, the more likely they are to make impactful decisions to improve the bottom line.
Where are we going next?
The industry should be looking ahead to provide insights on where we are headed, with a focus on system tracking, diversity in supply and sustainability. It is important to both understand lessons learned from the disruptions of 2020 and 2021 and use that knowledge to avoid future pain points. As an industry, it became clear that transportation management automation should be a focus in 2022. Specifically, how organizations can transfer manual workloads, which historically proved to be overwhelming, to cloud-based solutions that alleviate the workload and make execution seamless. While it's understandable for companies to be hesitant to deploy new technology at a time when any changes to workflows seem extraneous, in actuality investment can mean higher expenditures in the end.
Another takeaway from last year is that capacity problems have highlighted the need to squeeze more efficiency from the trucking market. As an industry, shippers should put stock in tools that benefit the transportation capacity for contract and spot markets. Last but not least, there is an increased need for the development of real-time tracking solutions. The trucking market is still very fragmented with a wide range of tech solutions so it will be helpful to close the gap on the systems to communicate with one another to provide real-time updates.
The pains brought on by the pandemic and its associated effects have changed the shipping industry forever – we experienced this firsthand. Global supply chain woes or not, digital transformation has aided in circumnavigating potential challenges, thanks to the infusion of data captured and examined. Digital advancements have positively impacted many global industries and the shipping and logistics industry is no different so long as stakeholders across the board are willing to embrace new solutions as a way to not only keep pace with market changes but improve their bottom line.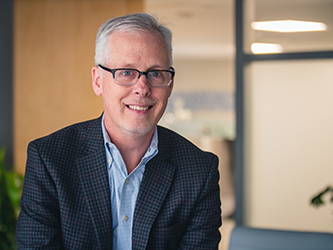 About Glenn Riggs:
A member of Odyssey Logistics & Technology's founding team in 2003, Glenn leads the Centerboard corporate strategy. He brings nearly three decades of global supply chain management experience to the team, including specialized expertise in industry data and
Glenn serves as President of Centerboard, as well as SVP, Corporate Logistics Operations & Strategy for Odyssey Logistics & Technology. Previously, Glenn has served in a variety of manufacturing, materials management and supply chain leadership positions at Union Carbide and the Dow Chemical Company.
Riggs attended the University of New Hampshire, where he received a B.S. in chemical engineering.
About Centerboard:
Centerboard is a neutral, shipper-centric transportation and supply chain management platform supplying shippers with access to a wide range of affordable features needed to take control of operations. Centerboard unlocks business opportunities for shippers, carriers, and supply chain stakeholders, through leveraging real-time data. Centerboard is out to make the supply chain more sustainable and efficient to ensure less waste and significant carbon reduction with every trip.