Although they know about the advantages of self-organising production and still they are struggling with the digital transformation. The IMD Ranking 2017 of the 60 most competitive countries, Germany lags behind in international competition. In terms of competitiveness and digital competitiveness, Germany ranks 13 and 17. One reason is that many companies believe that they need to reorganise production from scratch instead of proceeding step by step. In addition, they are unsure with regard to appropriate technology and applicable standards.
Industrie 4.0 also includes making companies more agile and resilient. They must develop faster in order to react to new requirements flexibly and thus to meet the increasingly shortened and streamlined innovation and product cycles. And also responsibilities change – from management towards work teams. This leads to new skills, new working methods and to new mindsets for executives and employees. Values such as commitment, openness, courage, trust and respect are in the focus. Agility thus needs suitable framework conditions.
In order to provide guidance to companies, the "Deutsche Akademie der Technikwissenschaften (acatech)"[1] developed the Industrie 4.0 Maturity Index. Leading German universities and industry partners, among them TÜV SÜD, participated as well. As multidimensional maturity model, the index not only assesses the status quo of digital transformation. It also helps to create individual roadmaps to prioritise measures. It is especially suitable for small and medium-sized enterprises (SMEs) that quickly want to become viable for the future.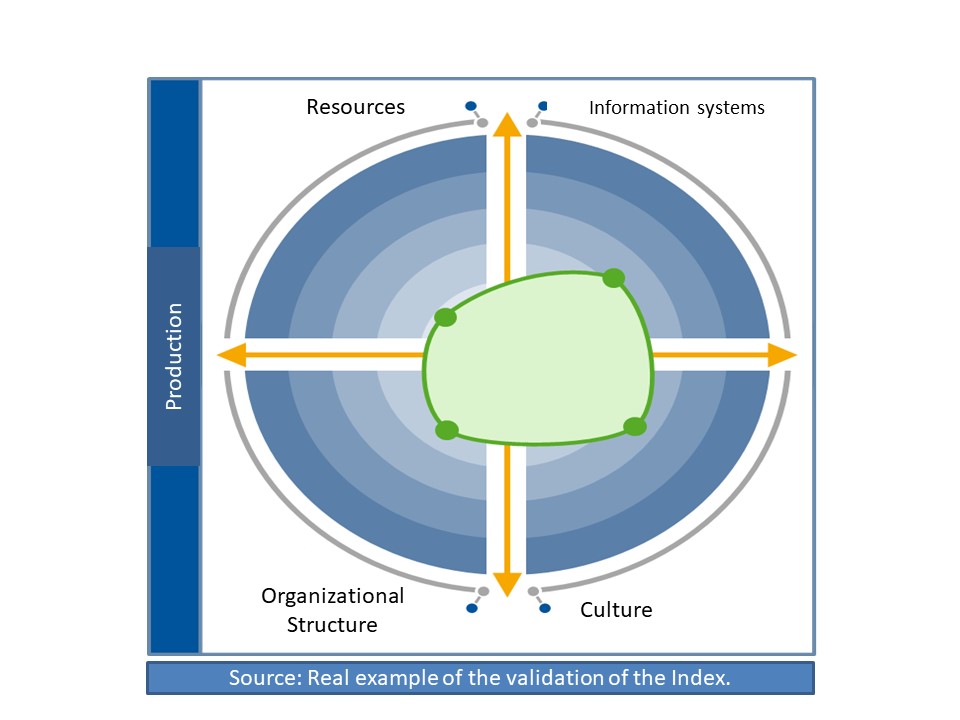 Digital transformation across all divisions
The Maturity Index is based on an extended understanding of Industrie 4.0. Companies need to adjust their organisational structures as well as their culture to the requirements. The goal is an agile company that is able to respond to changes in its surroundings by means of fast and information-based decisions. For this purpose, the Maturity Index takes into consideration four structural areas:
Resources: workforce and their competencies, machinery and equipment, tools, products
Information systems: socio-technical systems in which information is provided and processed by both people and information and communication technology
Organisational structure: rules and structures guiding the relationships within the company as well as externally
Culture: value system within the company, e.g. employees' willingness to review and adapt their behaviour in response to changes.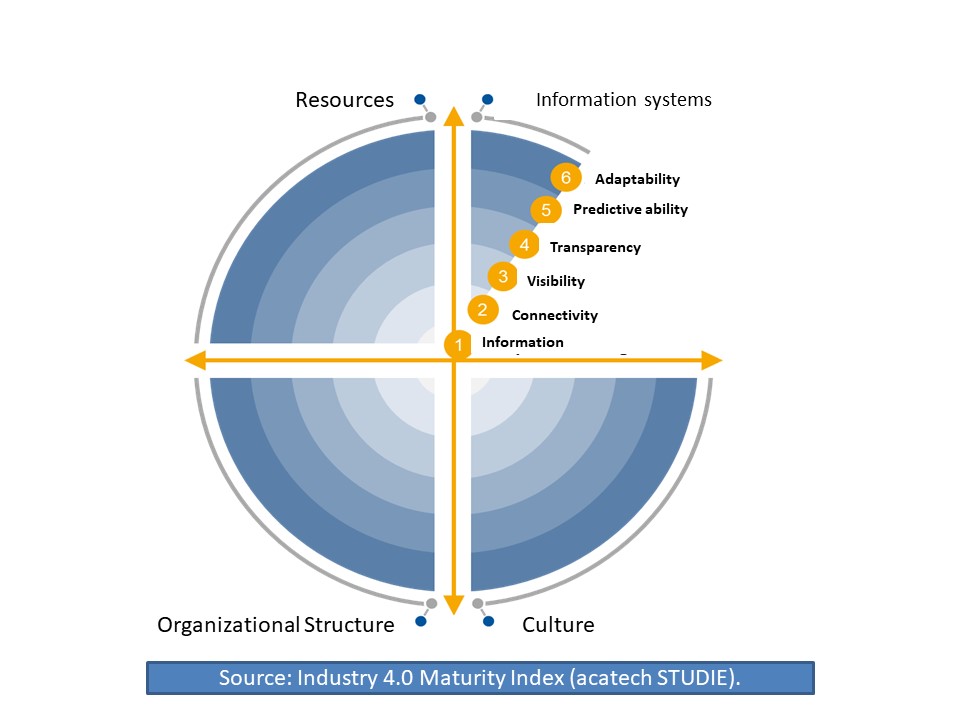 The implementation of the Maturity Index is structured in three phases
Phase 1: Review of current situation. Based on a questionnaire, a site tour and export workshops the company's maturity stage is assessed in the five functional areas: development, production, logistics, services, marketing & sales.
Phase 2: Target definition. Based on the as-is analysis the company-specific development targets are defined. A gap analysis shows the differences between target and current situation and in which fields the company needs to take action in order to meet these targets.
Phase 3: Roadmap. Subsequently, specific measures are derived. Using a an indicator system and a cost-benefit matrix experts evaluate which of those measures are particularly suited to increase the company's maturity stage. Those are then included in the roadmap.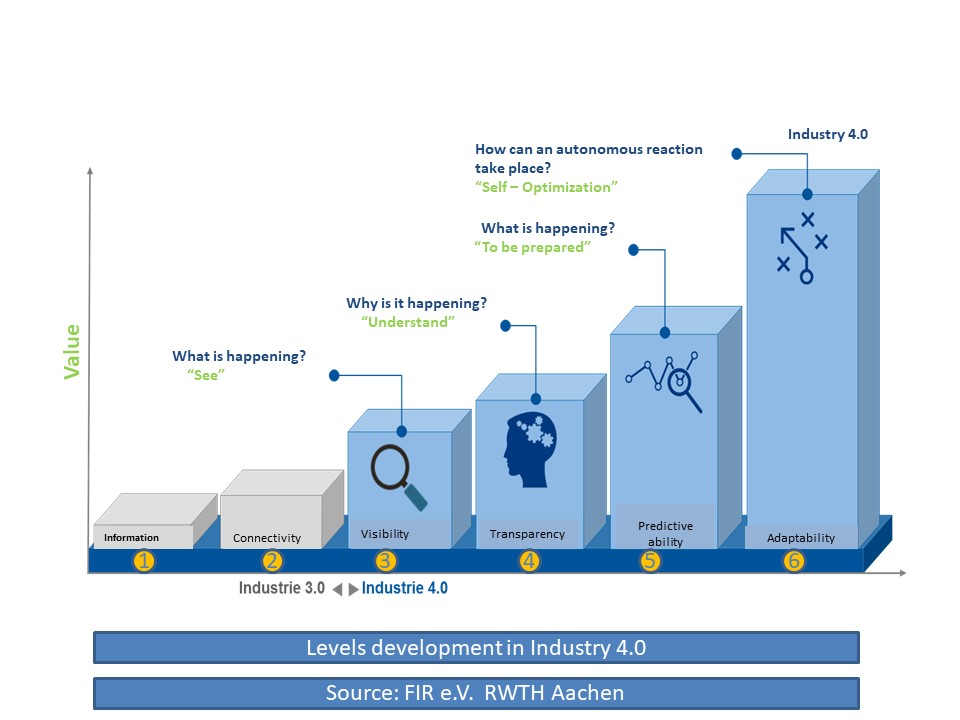 Real-life example
The successful implementation of such a roadmap shows the example of a supplier for energy and signal technology. The company manufactures industrial connectors, device connection technology and network components used for automation at several locations. The product range also comprises RFID solutions. The supplier's high affinity to information technology is expressed in the already existing digital, up-to-date production copy (a so-called digital shadow). The internal Industrie 4.0 project group is already regularly implementing new use cases based thereon. This experience provided a good basis for the implementation of the Maturity Index: in only four days, the production situation was evaluated. As expected, they determined a high maturity stage.
The supplier's pilot project: different die cutters spread over all sites were equipped with structure-borne sound in order to be able to measure vibrations. Thus, their condition can be precisely monitored and the systems maintained as required. The determined measured data provide information on when a cutter is worn out and the components are cut outside the tolerance range. However, this process was locally monitored until the start of the pilot project. The analyses in the framework of the Maturity Index showed the benefits of linked real-time evaluation of data: optimisation measures are only compared across product lines so that particularly successful measures can be implemented comprehensively.
In total, the roadmap comprised more than 30 measures with which the efficiency of the plants could be further increased significantly. Delivery reliability and production flexibility were further improved. With the Maturity Index, it is now possible to select and evaluate single projects much faster. The process now takes only few weeks instead of months. This saves time and costs. This case shows in how far the Maturity Index helps companies to find tailor-made development paths towards Industrie 4.0. The step-by-step implementation allowed fast successes and thus increases the prospects for success for long-term transformation.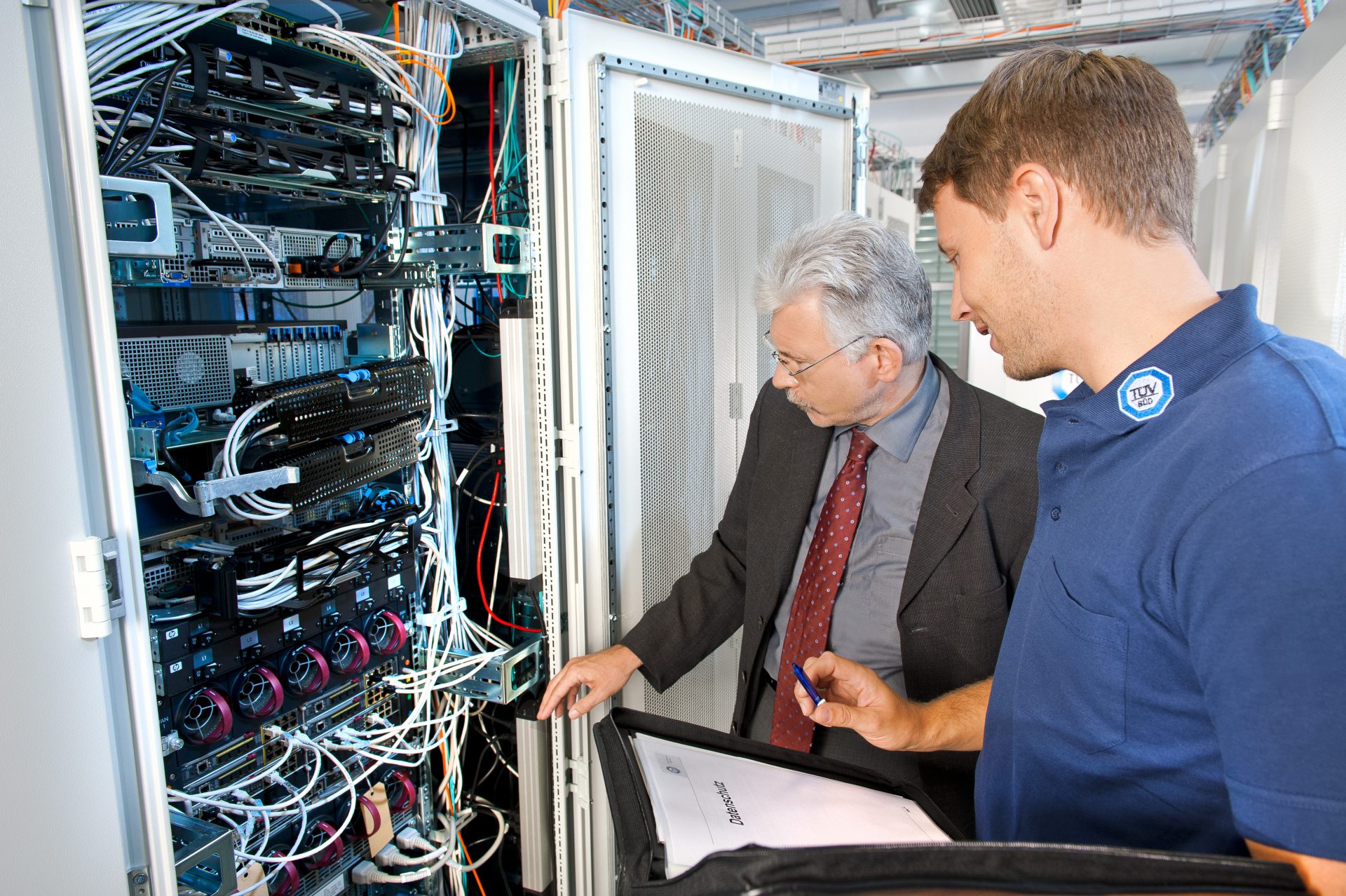 TÜV SÜD takes over provider for high-security cloud solutions
With the acquisition of Uniscon GmbH based in Munich, TÜV SÜD further develops the range of its digital services. With the Sealed Cloud, the company developed a patented technology that allows secure data processing in the cloud, while even the platform operator cannot access unencrypted data saved and processed by the users on his platform – a unique selling proposition of the Uniscon cloud solutions. After the opening of the Center of Excellence (CoE) for Digital Services in Munich in April 2017, TÜV SÜD reached another milestone of its digital strategy with its participation in Uniscon.
Dr. Bertolt Gärtner, President & CEO of TÜV SÜD ATISAE, Industrie 4.0 implementation expert.
Dr. Bertolt Gärtner is a lawyer and he is holding a Master of Business Administration (MBA). Throughout his entire career he has been working for multinational companies. He worked, among others, in different positions at Siemens for 10 years.
Since 2011 he has been working for TÜV SÜD in General Management positions in Germany and as CEO of TÜV SÜD France. Since 2016 he has been President and CEO of TÜV SÜD Spain and Portugal.
TÜV SÜD ATISAE
Avda. de los Artesanos, 20
28760 Tres Cantos, Madrid, Spanien
Phone: +34 918 060 983
bertolt.gaertner@tuev-sued.de
www.tuev-sued.de/digital-service
[1] German Academy of Science and Engineering