The pandemic's effect on the logistics industry was swift – and the tech it turned to is here to stay.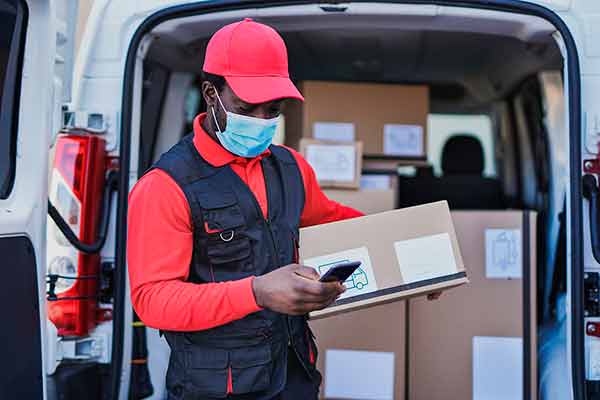 By Aliaksandr Kuushynau, Head of Wialon, Gurtam
The pandemic laid bare the fragility of global supply chains, as the rapid shift to home working, lockdowns, and digital-first, put huge pressure and strain on the world of logistics. According to an EY study last year, 57% of businesses faced serious complications to their supply chains owing to the pandemic – a number likely to have risen since, as the ripple effect of change initially outweighed the new approaches and methodologies being put in place.
Yet, in trying times, the logistics industry proved resilient. The suppliers of vital supporting functions didn't sit quietly as budgets shrank or retainers had to be paused – they found new solutions to the new problems being faced. Those problems were both specific and widespread. With working from home rules, businesses needed enhanced visibility into their fleet operations as vehicles were increasingly left with colleagues rather than returned to depots. Across the board there was a greater investment in technology, with supply chain digital transformation set to rise from $45.6bn in 2020 to a predicted $75.5bn by 2026. In particular, GPS-based telematics solutions came to the fore.
New problems needed new solutions
As an aftermath of the pandemic, suppliers needed to find urgent solutions to new, potentially critical problems. This included more data on the utilization of the fleet and a greater understanding of where there were opportunities to maximize the efficiency of under-utilized resources. Similarly, with greater urgency on a lot of sensitive cargo, which needed to be delivered within a certain time frame – whether food, water or medicines and vaccines – the ability to monitor environments for things like temperature and consistency became paramount.
As the pandemic hit and tech investment grew, many businesses, therefore, sought to leverage solutions in the form of smart sensors that enabled them to glean insights into day-to-day inefficiencies and access the mission-critical data that enabled companies to not just survive, but in some instances even grow through the pandemic. This data might include things like order location, delivery intervals, warehouse working hours, vehicles' carrying capacity, cargo weight and dimensions and building an optimal route.
During Covid, all of these variables were constantly shifting in a way few could have predicted, but technology was able to not just monitor them, but make sense of the data. Hence companies were increasingly looking to such GPS tracking solutions which enabled them to understand their business in a number of key ways.
Lockdown logistics in action
This ability of telematics data to solve supply chain challenges was illustrated a number of times during the pandemic. The recurring themes were a need for greater efficiency, integration and optimisation as businesses weathered the storm.
For example in Spain, when the government declared a state of emergency and mandated the use of masks outdoors, this led to skyrocketing demand and a dramatic shortage of supplies. Yet in times of trouble, people came together to overcome this new supply chain challenge. Volunteer group Asociación Alicante Solidaria worked with the EVOCATI Moto Group motorcycle association to get materials to volunteers with sewing machines who could help with mask manufacturing – but it took a digital network channel to make this work.
That entailed a telematics solution – blending IoT and GPS – which could work from just a smartphone and plan routes and availability to get supplies to those who needed them. It proved that a cost-effective, quick to set-up telematics solution can be achieved – something which many organizations with logistics challenges should be aware of, even as we hopefully return to normal.
We also saw businesses undergo total digital transformation of their existing fleets. In one instance, a supply chain and transportation service provider, which works with the largest manufacturers of heavy machinery, oil and gas in the world, wanted to automate day-to-day operations during the pandemic to increase efficiency and reduce costs. For them, this supply chain transformation required collecting different kinds of data across the fleet, analyzing and automating order dispatching, and displaying all the data to various operators in charge.
Their investment unlocked a number of benefits: route planning, driver assignment, vehicle tracking, order management, performance data, an app for fleet staff to ensure communication in the field, smart tracking for cargo and even financial and accounting management. It enabled them to save time and resources during such a difficult time for business, in addition to these streamlined benefits.
Technology has built resilience for the logistics sector
It's clear that the pandemic fundamentally changed the way we ensure things get from A to B. For the logistics industry, from the initial shockwave of global lockdowns to a return to (relative) normality only took a few months. It's a testament to the skill and determination of the sector, but it's also because the logistics sector is willing to embrace change to meet the needs of customers. Technology coupled with that skill and determination was a force to be reckoned with. And it's the greater implementation of that technology that will be seen as the lasting legacy of the pandemic. Things can and will go wrong in the future, but with a more resilient logistics industry, better enabled to overcome problems, we'll be more prepared than ever before.
Aliaksandr Kuushynau is the Head of Wialon at Gurtam, an international developer of Wialon, the world's largest platform for GPS tracking and IoT. Being a flexible and multifunctional system, Wialon helps deliver any telematics project of any scale and for any industry.
Aliaksandr joined Gurtam in 2009 as the Chief Marketing Officer. In his current role, Aliaksandr directs the entire Wialon division. He is responsible for building product development and commercial strategy, strategic and tactical planning, as well as coordination of all departments within the Wialon division and communication with key customers.
Over his career at Gurtam, Aliaksandr has built and managed a global high-performance team of software development, marketing, sales, and business development professionals. As an accomplished executive with 18 years of overall experience in management, Aliaksandr has ensured leadership for Wialon, Gurtam's flagship product, and pioneered the largest global community of telematics and IoT professionals. https://gurtam.com/en/team