November 25, 2019
Just like most things in life, cutting corners tends to bring a number of risks that may come back to haunt you. Creating your own website for your manufacturing business is no different. If you are serious about building your website then treating it with the serious care and attention that it needs is an absolute must for it to reach its full potential. When looking for a web host, you may be slightly overwhelmed with the number out there available, but rest assured, there is one general rule that can be applied in your pursuit – you get what you pay for. The risks associated with free web hosting far outweigh the benefits and here's why.
Exposing your content to permanent risk
Perhaps the biggest risk of concern is that free web hosting means that your page is never 100% secure. It all comes down to security. Free web hosts don't have the incentive nor the finances to provide your website with the necessary security to protect you from both malware and spam attacks. This means that you are always susceptible to finding yourself in extremely undesirable situations that can have severe implications for your business including being locked out of your account, an online intruder taking over your page and the possibility of pernicious viruses flooding your computer.
From an SEO perspective, content marketing is a key factor to achieving digital marketing success. Free web hosting runs the risk of being shut down at any minute, putting all of your hard work to waste.
You would never leave your front door open or unlocked, so why would you do the same with your website?
SEO suicide
SEO can make or break a website, which is why the industry is expected to be worth around $80 billion by 2020. The closer your website is to the top of the rankings the more exposure it gets. Free web hosting provides its own set of SEO landmines to your website, such as slow website speeds, lots of downtime and database errors, inability to use to valuable SEO plugins and much more. Put it simply, Google pray at the altar of fully optimized and streamlined websites. Everything about free hosting websites communicates very loudly that your website is anything but that, leading to your website spiraling down Google's search page results.
However, choosing to invest some money into a quality web hosting will take you a long way. If you're using WordPress, opting to go with Onyx.io, for example, provides you with all of the luxuries that free web hosts don't have. It will be able to handle more volumes of traffic so that when you experience more customers, your website can handle it. Furthermore, the more traffic your website can handle the further up the rankings you will go. Rather than stay on page 2, 3 or lower on the search engine, you can ensure that with a paid quality web hosting provider, you can boost your website to page 1. You never know, with the right SEO tactics in place, you could even find yourself with the number 1 spot for manufacturing businesses.
Minimal control over design and details
Image and presentation is everything when it comes to websites. Since it's your website, you want to be able to craft every design, manage every template and fill in every little bit of detail that will mold it into your desired look. Well, guess what? Free web hosting services doesn't provide you with this luxury. They tend to have an extremely limited range of design templates, which will only render your pages to being just as generic as other websites. You want yours to be distinguishable.
Besides these shackles placed on art and design, other flaws will make your pages look unprofessional. Not being able to choose your domain name should be enough to get you running since this process is important to your branding. Basic principles on how to pick your domain name include keeping it short and memorable.
It's difficult to make money
Free web hosting won't be the vehicle that takes you to financial success; it's a car crash in the making. Since web hosting is free, they must find other alternatives to making money, one of which is through advertisement. Free web hosting companies include in the small print their right to advertise on your page as they please, meaning that any money made from advertisements will go straight into their pockets, not yours.
Having complete control of your website makes it significantly easier to mold your brand identity and having your pages marred with advertisements that are completely irrelevant to your niche will only taint your image.
In conclusion, if you are serious about your website, then stay away from free web hosting, since you'll be trying to get to achieve your online goals with heavy weight on your back. Paying for a decent web host is certainly not going to break the bank and it will help take you a long way.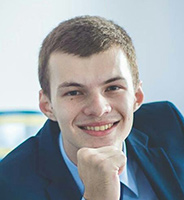 James Daniels is a freelance writer, business enthusiast, a bit of a tech buff, and an overall geek. He is also an avid reader, who can while away hours reading and knowing about the latest gadgets and tech, whilst offering views and opinions on these topics.